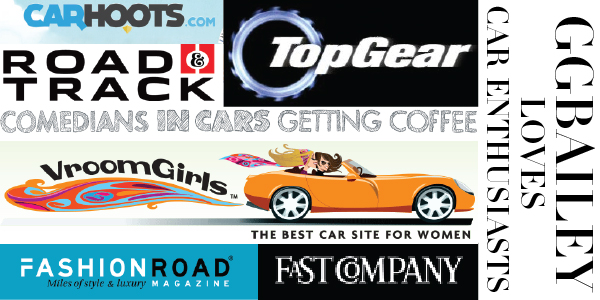 I spend a lot of time exploring and scouring the web for fascinating articles, websites, photos, and car-related inspiration to share with the GG Bailey audience. In my hunt, I've come across all kinds of auto industry resources, ranging from luxury lifestyle and fashion-focused zines to sites devoted to future technologies.
No matter your involvement in the car world, there's something of interest for just about everyone out there on the great wide web. Below, I've put together a quick list of my go-to sites, including a few long-time favorites and some new discoveries. Subscribe, bookmark, or just make mental notes of these sites cause they're full of interesting info, riveting reads, and necessary news for the auto enthusiast. Read on, car lovers!
This one's a must-read for lovers of luxury and anything automotive. Article topics range from
automotive fashion accessories
to product spotlights to
automotive history
. Keep reading -- you may see a little something about GG Bailey in July!
Fast Company is a print and web mag that covers technology and innovation of all kinds. It just so happens that in today's tech world, a lot of the really exciting projects and innovations are originating in the car industry. Follow the link above to browse Fast Company's take on how to jumpstart the auto business in America. Good, thoroughly researched writing abounds, so definitely check it out if you're into science, business, and thinking about the future. Hovercars, anyone?
Life is good when you're a VroomGirl. This site is packed with tips, reviews, blog posts, and well-written features tailored for women. The auto industry can be a bit of a boy's club, so even though I can easily name the last five winners of the 24 Hours of Le Mans off the top of my head and spend a solid hour disputing the best year for Porsche 911s (1968, duh), it's nice to read articles with solid, practical advice that truly applies to the life of an on-the-go lady. You can tell the the writers and editors of VroomGirls know their stuff and love what they do.
While Jerry Seinfeld is most widely known for his comedy, he's also an avid car enthusiast with an impressive private collection. Like the folks here at GG Bailey, Seinfeld is a Porsche fanatic, but in his web series, "Comedians in Cars Getting Coffee," you'll see a full-range of classic and even some modern cars. In the most recent episode, David Letterman joins Jerry for a ride in a 1995 Volvo Station Wagon that belonged to Paul Newman. But unlike the typical Volvo, this one's built with a racing engine.
The unscripted show, now in its second season, is -- big surprise -- all about comedians in cars getting coffee. They talk about cars, comedy, and life in general. Get your celebrity and auto eye-candy in one go. BYOCoffee.
Road & Track is known for its quality content, both on the web and in print. With a snazzy new redesign that makes me almost as giddy as the gorgeous exterior design of Jaguar's new F-Type (*swoon*), online reading has become even more delightful with huge visuals and a graceful, simple user interface. Glad the GUI finally matches the site's guts and gumption! And if you're into style, make sure you browse R&T's fashion section. It's mostly for men, but that doesn't mean us ladies don't like looking.
Step aside, Doctor Who. We heard from a little bird that Top Gear -- everyone's favorite BBC TV show for car lovers -- is gearing up for its most ambitious, jaw-dropping, Brit-tastic, globetrotting season yet. You'll definitely want to follow the TG blog and, of course, watch the 20th season of the show.

Top Gear's most ambitious shoot yet pic.twitter.com/cSXPI8lgSd

— Jeremy Clarkson (@JeremyClarkson) June 23, 2013
Carhoots describes itself as the social way to buy, and sell cars. And that's true. It's also just great way to virtually hang out with other car lovers. You can log in through your Twitter or Facebook account to see opinions, pictures, and video from real people -- not salespeople or manufacturers. Definitely a great resource if you're on the hunt for a new ride.
I could name many other sites deserving to be on this list (AutoBlog and Motor Trend come to mind). Let us know which blogs, podcasts, web series, and sites you think deserve to be on this list! I'm always looking for new and interesting automotive web content.
And, of course, we hope you'll add GG Bailey to your RSS feed. Use the box at the top right to subscribe!