The New York Auto Show, which kicks off today, showcases more than a 1,000 vehicles from around the globe and is America's most popular and most attended automobile show.
Encompassing about 900,000 square feet of space, the New York Auto Show also gives automobile companies and accessory makers the opportunity to showcase the latest and hottest trends in automobile technology and safety.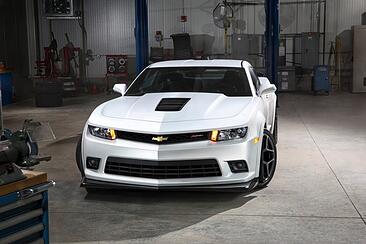 Already, brands like General Motors, Volvo, Subaru, Scion, Honda, Buick and Hyundai have begun debuting the latest models of their vehicles. Chevrolet, for example, rolled out their new Camaro Z/28, a "street-legal track car" that starts at $55,000, according to Mark Reuss, president of GM's North American operations.
Of particular interest to us here at GG Bailey is the news that the 2014 Honda Odyssey will include the first-ever in-car vaccum. Having a tool like that so readily at hand would make it easy to keep your personalized car mats as clean as the day they were installed.
More good news is that fans of the newest vehicles being debuted at New York Auto Show can rest assured that GG Bailey can customize cat mats for all the latest makes and models. When you begin the Design Your Mats™ process, you can even choose 2015 models to design custom car mats for.
Car mats, truck mats, SUV mats, van mats, cargo mats, trunk mats, pet mats ... we have them all. And not only is the custom design process quick and easy, it is also fun, as you can choose up to 10 characters on each mat for custom embroidery, choose personalized carpet color, edging color and heel pad color combinations. With thousands of possible combinations, your custom designed automobile mats are sure to be one of a kind.
So, as the New York Auto Show continues through April 7, we'll keep an eye on the latest news, and in the meantime, you can feel free to request a free carpet swatch kit to get an up-close look at the top-notch quality of our luxury car mat materials.