You take pride in your vehicle, and it should reflect your personality and style. One awesome way to add a custom, one-of-a-kind touch is with personalized auto mats from GG Bailey, and creating your unique mats is an easy, three-step process that starts on our Design Your Mats page. We will create and ship your custom mats in two days, so you can add your own sense of style to your ride in no time.
Step 1
To get started, simply use the drop down menu to the left to select your vehicle's year, make and model, then click the kit you want to customize. Options include (a) the driver and passenger kit, (b) the driver, passenger and rear mats kit, and (c) the cargo kit. In the screenshot example below, the user has selected a 2008 Dodge Nitro. After clicking the kit you want, click the "Design your Mats" button, and you will be taken to ...
Step 2
For the next step, you will shown all the color options, which include carpet, four kinds of edging, the optional heelpad color and shape, logos and embroidery. For detailed explanations about the carpet quality, different types of edging, the benefits of the heelpad, and the embroidery and monogram options, check out this handy page.
As you click the colors you want for the various options, the other squares will disappear and your selections will appear to the right side. For custom embroidery, simply type what you want (up to 10 characters) in the box that appears when you select your color. For monogram, type your initials in the correct order and we will position the final letter as the middle, larger letter.
In the screenshot example below, the user has selected dark grey carpet, hunter green binding-style edging, a hunter green rectangle heelpad, and hunter green embroidery in a script font (the embroidery box is off screen). Next comes ...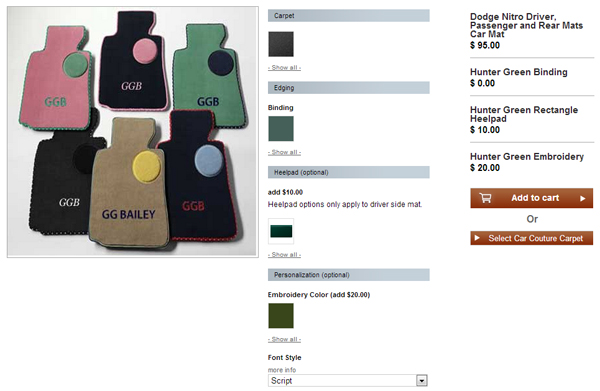 Step 3
Once you have made all your selections, simply click the "Add to cart" button. The next page will give you the chance to review and confirm your choices. On this page you can remove parts of your custom auto mats if you like, you can continue shopping, or you can click the "Next" button to move on to checkout. In the screenshot example below, our 2008 Dodge Nitro driver removed the heelpad option and is prepared to check out.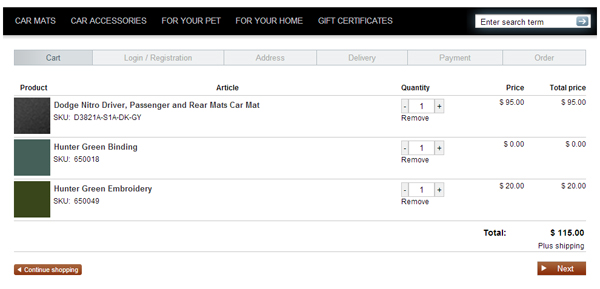 Check out and celebrate!
If you have registered with our site before, all you have to do is enter your user name and password to finish up. If not, just fill out the new user form so we know who to bill and where to ship your brand new custom auto mats. That's it! We will take it from there. In less than two days we will create and ship your custom, one-of-a-kind mats.
Still have questions? Check out our Frequently Asked Questions page for a range of information you might find useful, or simply contact us to get personalized help.