True story: a few months ago, I was in the process of finally completing one of my yearly goals: get rid of junk. I gathered up all the things I couldn't use anymore to take to thrift stores and recycling centers, including an old can of latex paint. It was a quick trip, so I placed the paint in my trunk without thinking and went on my way. One pothole later, my trunk interior was covered in sticky, purple paint. Today, there's still a stain that won't ever go away.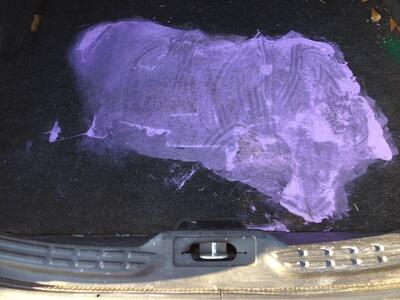 It's not pretty.

Luckily, I don't have to live with this ugly purple stain forever. GG Bailey's custom-fit cargo and trunk mats allow me to cover the entire cargo area with a seamless layer of beautiful carpeting. GG Bailey's mats are truly custom-fit because they are carefully cut from a pattern that follows the exact shape of your cargo area, including variations for subwoofers or tie-downs. The new mat will look like it was made just for your car -- because it was.
Even if you don't have a giant paint stain in your trunk, a custom cargo mat like the monogrammed mat below is a great way to add a personal touch to any vehicle.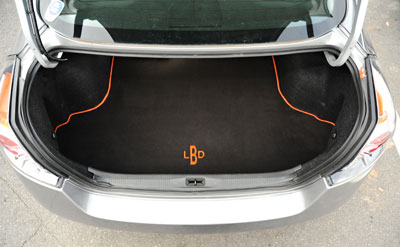 Using GG Bailey's Design Your Car Mats™ option, you can add a monogram or embroidered message to the trunk mat.
This Plaid cargo mat is part of Car Couture™, the GG Bailey line of luxury car products.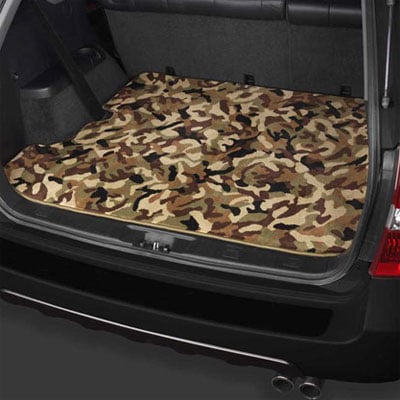 Another custom-fit cargo mat in Camo from the GG Bailey Car Couture™ line.

It's not likely that you'll spill paint in your car -- especially not after hearing my horror story. (Secure those paint lids!) But a custom-fit trunk and cargo mat has many other beneficial uses. Cargo and trunk mats are great for:
Protecting your car's interior from everyday dirt and wear. GG Bailey's mats are made especially for cars from some of the strongest (and stain resistant) fibers available. Naturally resistant to mold, you don't have to worry about getting your new cargo mat a little wet.
Easy clean up. With rubber mats, dirt and water collect on top of the mat, becoming grime that wipes off on your belongings. GG Bailey mats will instead absorb that dirt, which you can clean at your convenience with a car vacuum. Or forget the vacuum; you can also simply pull the mat out to get rid of dust, dirt, or leaves that accumulate.
Keeping pet hair and mud from staining your interior carpet. If your dog is too big for the standard Pet Car Mat, he might enjoy staring down tailgaters while riding in the cargo area of your SUV. A cargo mat will help keep that area clean. Just remember to always drive safely with your pet.
Adding style to an otherwise boring and utilitarian part of your car. GG Bailey makes each mat to fit your car's specifications. But you are in total control of the carpet's style, color, edging, and embroidery. Or you can choose a design from our Car Couture

™

line of luxury carpets. If you need to match your interior exactly, try ordering our free swatch kit first.
Ready to beautify your car and simplify your life?
Visit our online store to browse options for your own cargo or trunk mat.