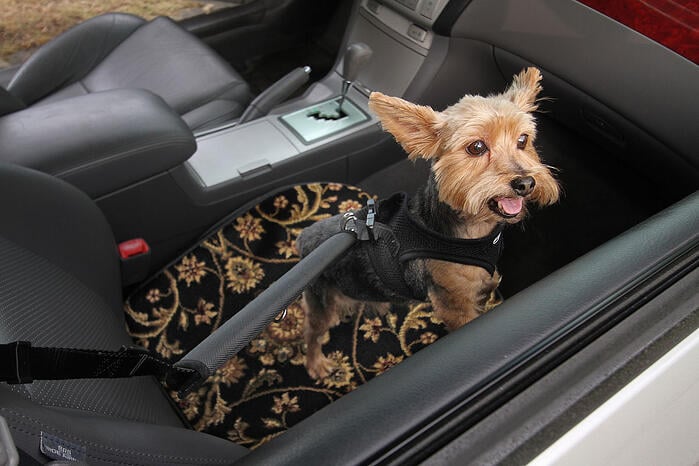 We love our furry, barking, four-legged friends -- all 78 million of them in the U.S., according to this survey from 2011. This holiday season, many of us won't think twice about letting our dogs hop in the car, sit in our laps, or hang their heads out the window while we drive over the river and through the woods. In fact, 65 percent of dog owners surveyed admitted to engaging in at least one distracting behavior like letting their dog sit in their lap, taking their hands off the wheel to restrain or pet the dog, and even taking a photo of their dog while driving.
But in the event of a car accident, even the most well-behaved dog can still present a danger to both pet and driver if the dog is left unrestrained. That's why a recent New Jersey law has made proper restraint a requirement for traveling with a pet. If you disregard the new law, you could be looking at a fine of up to $1,000 and a disorderly person's offense under animal-cruelty laws.
Regardless of your state's laws, safety for you and your dog should always be a priority, especially on the busy holiday roads. Here are a few tips for traveling with your pet in a way that's safe, comfortable, and even stylish.

Suki can travel in both safety and style with a secure car harness and a protective Pet Car Mat in Leopard from GGBailey.com.
Buckle Up to Protect Your Pup
Whenever you drive or ride in a car, you wear a seatbelt. It makes sense that your dog should be buckled up too.
Harnesses that secure around your dog's torso are the safest; don't buckle your dog in by the collar. Special car harnesses will attach to the buckled seatbelt, keeping your dog safe while still allowing some movement. Now you can roll down the window and let your pup feel the breeze.
Remember: if your dog or other pet is traveling in a crate or kennel, make sure the crate is also buckled in. You can find crates and travel harnesses at most pet stores and online.
Protect Your Car
Adorable as they are, no pup is perfect. Wherever they go, they bring hair, claws, a certain odor, a fair amount of slobber, and usually at least one unidentifiable substance. I've tried putting towels and blankets in the back of my car, but they get bunched up and look messy too.
GG Bailey designed and created a unique carpeted Pet Car Mat just for the purpose of protecting the cars we love from the pets we love. The thick, luxurious carpeting -- the same we use for our Car Couture™ floor mats -- is great at catching hair, and it's tough enough to withstand claws and paws. The mat's design has one flat edge and another rounded edge, creating a perfect, snug fit for bucket seats. (And we're already working on a bench seat option!) Visit our store to view our size options.
Here are a few practical reasons why a carpeted mat is a great choice for protecting your car:
We use a patented Open Cell™ foam backing for all mats that will keep the mat from moving around and won't damage your gorgeous leather interior.
Our carpeted Pet Car Mats are better at catching hair and dirt than blankets or drop cloths.
Our carpets are made with high-quality polyurethane and nylon fibers, which makes the mat stain, mold, and mildew resistant.
Clean-up is a breeze. Just give the mat a shake to get rid of loose dirt; a vacuum or carpet brush will take care of the rest.

Meet Snickers the Yorkie who loves riding in the car. His harness lets him move around and look out the window, and his GG Bailey travel mat gives him a comfy place to nap.
Pick Your Style
Don't let function replace style when you can have them both! GG Bailey carpets are thick and luxurious. With 11 different designs in our Car Couture™ collection, you can find the mat that works for you. Even better? Get a set of Car Couture™ auto floor mats to match! Start shopping now for the pet lover on your Christmas list.
Want to see more cute pet pictures? Like us on Facebook, where we'll be posting pictures from our photoshoot with Suki, Snickers and more of our furry friends.