I think we can agree that the lion may be the king of the forest, but leopard the king of animal prints. You can find the popular pattern on all kinds of accessories, high-fashion designs, and even home decor. I've found that leopard is an especially great print for summer, whether you choose leopard accents or a head-to-toe look. Let your imagination do the work -- just don't call it cheetah. Here are some of this summer's most luxurious leopard trends!
Leopard Sunnies
Take the classic leopard print look, add a retro design, and you get these amazing sunglasses -- the perfect summer accessory. These timeless frames are from the European design company, Illesteva.
Illesteva sunglasses
---
Barely Leopard
Look a little closer. This flowing white frock from American fashion designer Carmen Marc Valvo is patterned with pale leopard print. It's a perfect dress for staying chic while beating the heat.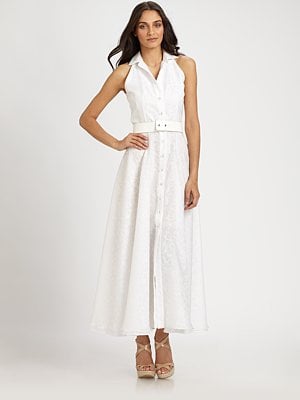 Carmen Marc Valvo Dress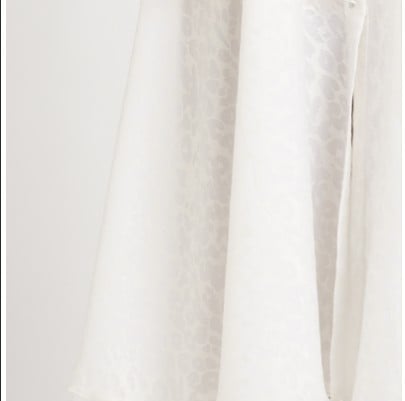 ---
Travel with Leopard
Take a walk on the wild side. Summer is the perfect time for a road trip, and what better way to start a trip than with brand new luxury car mats? Here's what's really great about these car mats from GG Bailey: each mat is custom made to fit your particular car, and the leopard pattern is woven into the carpet -- not printed -- so the design won't wear away, no matter how far you travel.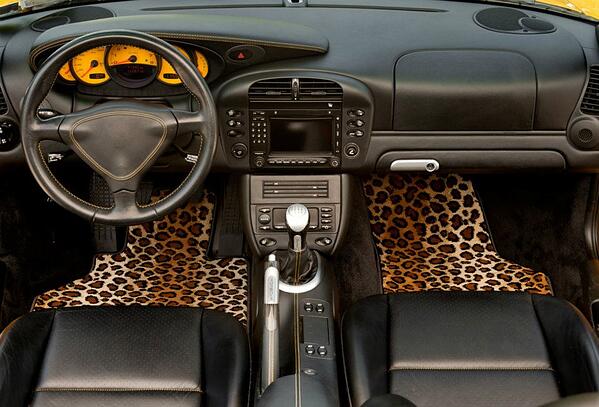 ---
While you're on the go, add a pop of leopard with a Tory Burch leopard iPhone case.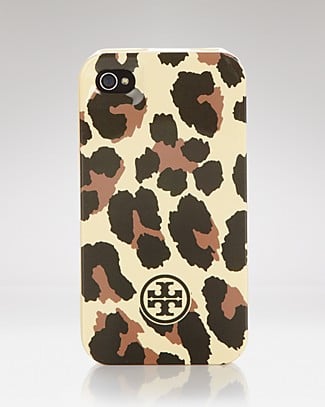 Tory Burch iPhone Case
---
Leopard Sandals
When it comes to shoes, you'll find leopard print on everything from heels to brogues. These strappy leather sandals are easily my favorite summer shoe trend. Neutral colors work great with any outfit, but the leopard print makes these stand out from the pack.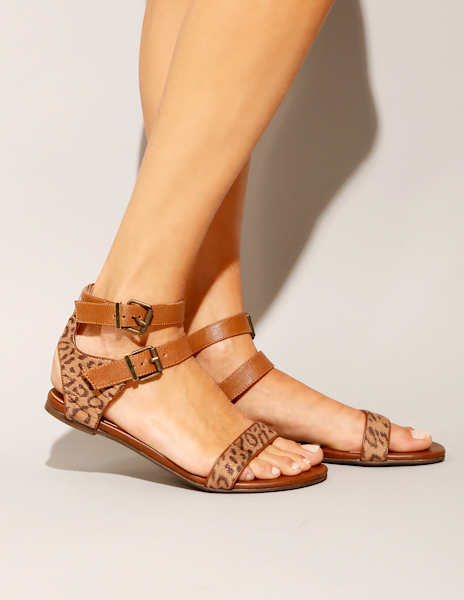 Leopard Leather Sandals via PixieMarket
---
Leopard + Leather
Fashion blogger and designer Keiko Lynn is brilliant at turning any piece of clothing into amazing, creative outfits. Here, she pairs a sheer leopard print with leather accessories -- and they make great companions. The Rebecca Minkoff clutch even has leopard cutouts!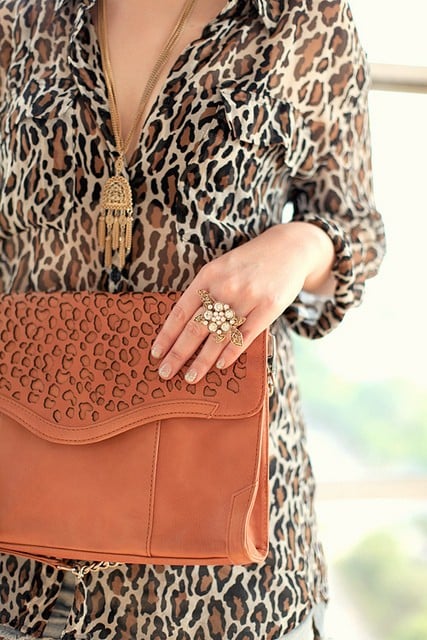 Rebecca Minkoff clutch / Equipment blouse worn by Keiko Lynn
---
Leopard Collars
Leopard accents are always a great way to add a touch of class to an outfit. This summer, the trend is delicate leopard collars paired with bright solid colors like the orange dress and shirt below.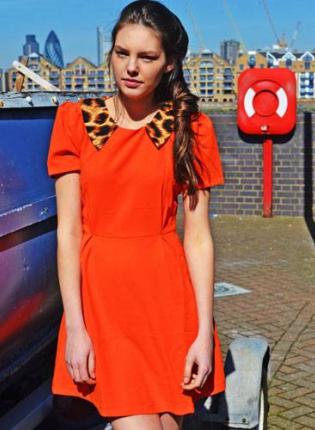 Orange Dress with Leopard Collar via Indie Fashion Marketplace
---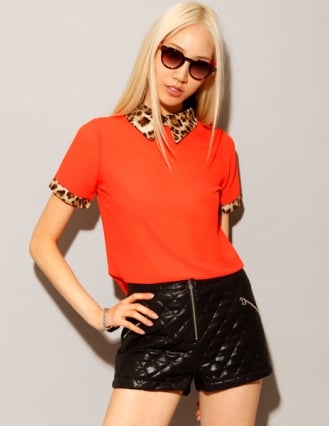 Leopard Collar Orange Shirt via PixieMarket
---
Related Products
Take a look at GG Bailey's luxurious line of leopard print car mats, kitchen mats, bath mats, and pet placemats!
Related Reading
6 Best Zebra Fashion and Decor Trends for 2012. How should you integrate zebra print into your home and wardrobe? We've got the answers.
Our Leopard Pinterest board! We've got even more leopard trends, fashions, and inspiration over on our Pinterest page. Check us out!