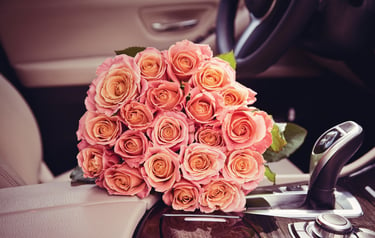 Cupid's holiday is fastly approaching. It's that time when you scramble a gift together for your significant other. Do you have gift ideas in mind for your loved ones?
Boxes of chocolate and bouquets of flowers have an expiration date and simply won't hold their value. So, what do you do?
Choosing the right gift for the right person can be a difficult task. Gifting can be particularly difficult when you want to make the gift unique and practical for the recipient's everyday use.
Have you ever thought about a personalized car mat for a gift? Below, we will expand upon why this is a great and unique gift for your loved ones, as well as the GG Bailey difference.
Custom-Designed, Personal Car Mats
Who doesn't love receiving gifts that have a personal touch? GGBAILEY knows how valuable your car and your personal styles are. Having custom-fit car mats in your car is a great way to protect the original materials and finishings of the car while adding a dash of personal style and comfort for any season of the year.
Car mats generally come in two types: carpet and a rubber or thermoplastic material. Next, we will cover the differences between each so you can decide which is best for your gift.
Rubber and Thermoplastic Car Mats
These mats usually come with grooves. While these grooves may sound great, they house debris such as snow, leaves and dirt and make it difficult to remove. If liquid is on the mats, they can sometimes house puddles that can wreak havoc on your footwear and not look very appealing. These types of car mats are good for extreme weather conditions for off-road vehicles, construction etc.
This type of car mat design:
Usually offered in three color options- black, grey and beige with no customization
Universal or Custom Fit
Best for extreme weather conditions, not everyday use
Personalized Car Mats
A custom fit car mat not only protects the entire floor pan of the car, but it also absorbs harsh weather debris and moisture protecting your shoes from damage.
GGBAILEY uses highly engineered automotive carpet designed to repell stains while maintaining a beautiful appearance and protecting your footwear in all weather condition.
At GGBAILEY you can:
Select from our Design Your Car Mat line or our Luxury Car Mat line

Choose ten carpet

color options from Desing Your Car Mats
Choose eleven color options from the Luxury Car Mat line

Four styles of edging

(serging, binding, ribbon or reflective)

Personalized embroidery
You can choose between block or script lettering, eighteen colors, and logos representing sports, causes, patriotism etc.
Lastly, you can design the heel pad. Like the carpet material for a custom fit car mat, this feature is unique to GGBAILEY designs. The purpose of the heel pad is to extend the life of your car mat by preventing uneven wear and tear on the spot where your heel shifts the most- under the gas and brake pedals. You can choose the heel pads shape and color.
With Tender Love and Care
Having a GGBAILEY custom fit car mat embodies luxury and durability to handle the harshest weather debris during all seasons, add personal style and comfort, and protect both your shoes and car's floor pan. This is a car mat that is practical, unique and a personalized gift for any time of year.
You can view a top ten list of unique gift ideas here that GGBAILEY compiled to help you out during your seasons of gifting.
When it comes to the top ten list of unique gift ideas, it is no wonder why GGBAILEY listed custom-designed, personalized car mats as their number one unique gift item- they are personalized with unique and custom designs.
Below are some easy tender love and care cleaning tips for your easy to clean unique gift.
First and foremost

NEVER put a GGBAILEY car mat through any washing machine cycle

. The carpet fibers are not designed for the washing machine.

To remove spills or debris, all you need to do is

vacuum

them up; also, be mindful and follow manufacturer's instructions for further cleaning care and any stubborn stains a residential carpet cleaner is recommended.

If you choose a

ribbon edging design

, and it has a spill stain on it,

simply spot clean

the stain with water and mild soap by hand.
For any further questions you may have about GGBAILEY car mats, you can check out their FAQ page here.
GGBAILEY Carpet Car Mats are for All Weather All the Time
Proudly MADE IN AMERICA for over 40 years and currently providing luxury in millions of vehicles around the world.