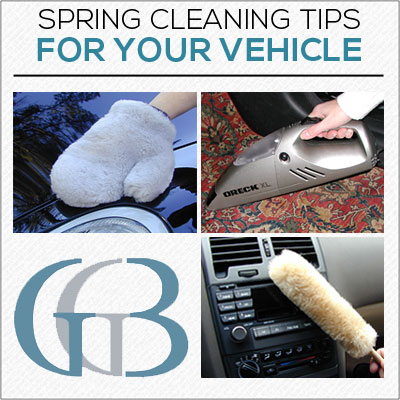 Now that spring has sprung and warm weather is returning, it's time to begin that annual tradition of spring cleaning. And while you might already be tidying up your home, we suggest you clean up your car too.
Winter is rough on your vehicle, especially if you live somewhere with really harsh weather. Road salts, ice, wild temperature swings, potholes, and neglect are not a great combination for your car, truck, or SUV. Taking good care of your vehicle will allow you to get the most out of it in terms of performance, economy, emissions, and longevity. With these tips and tools from GG Bailey, you'll have a sparkling ride in no time.
After your vehicle is clean, you might be inspired to add some style and luxury to your vehicle, and the most unique way to upgrade your interior is with custom fit, custom designed car floor mats from GG Bailey. If you want to create a custom look, then our Design Your Car Mats™ section is the place for you. If you prefer a luxurious woven pattern, then you should browse the oriental and animals designs of our Car Couture™ line.
Check out our vehicle spring cleaning tips below and comment at the bottom with your own suggestions.
Clean out the clutter
To get started, remove any clutter from inside the car, including items that have accumulated in the trunk that can add extra weight and reduce fuel efficiency. When you're cleaning any car, and especially after winter weather, start by removing all the junk you've been ignoring. Have a garbage bag handy, as well as a box for the stuff you might want to keep. Be thorough: get under and beside the seats and in the trunk.
Dust the interior
Once you have the clutter out of the way, you can focus on the little dust bunnies. Beyond dust, most vehicles have a certain amount of interior toxins which are emitted through its plastics, leather, and vinyl. These toxins often float around the vehicle and end up clinging to various points inside your vehicle, such as dashboard, windshield, seat, etc.
To get rid of the dust, dirt, and toxins, use a Sheepskin Car Duster. All of our Sheepskin Car Dusters are made from 100% Marino Sheepskin and are ideal for dusting and polishing your car's interior. Sheepskin Car Dusters are 13 inches long and have a unique ability to hold dust rather than shifting it from one place to another. Our genuine, soft, durable sheepskin will not scratch or harm any surface and the compact size is perfect for cleaning your dashboard and vents. Sheepskin Car Dusters are long lasting and can be easily rinsed and dried as needed.
Vacuum the interior
The next step is to thoroughly clean and vacuum the seats and floorboards. Work from the top down, because gravity dictates that stuff stirred up works its way toward the floor. Also, yank out the salt-caked floor mats for a quick pass with the vacuum. For the ultimate convenience, consider using an Oreck XLAuto Car Vacuum.
This lightweight sleek silver vacuum plugs into the cigarette lighter and has a 15-foot cord for reaching into the trunk and other hard to reach places. This product comes with a 1 year warranty and includes a brush and crevice tool.
Clean the windows
Have you ever noticed how your windows fog up during damp spring weather? Part of that has to do with how dirty the inside of your windshield is, but you can take steps to prevent this. Wash your windows with a good car-window cleaner; the ammonia in household stuff will make the fogging worse. Fog has a harder time clinging to a clean surface, and you can go a step further by wiping down the interior of the glass with an antifogging agent.
Wash the exterior
Although this seems obvious, there are some subtleties. As with the interior, you want to clean the car from the top down, rinsing ­frequently. Don't start at the rocker panels and move to the roof—it drags dirt around and scratches the clear coat. When the body is clean, spend a few dollars at your local automatic car wash and get the underbody flushed. This will dislodge the road salt that is doing its best to turn the underbody into Swiss cheese.
To make sure you are taking great care of your vehicle paint, use a Sheepskin Car Washmitt. All of our Sheepskin Car Washmitts are made from the highest quality 100% Merino Sheepskin. The softness of the sheepskin is ideal for dusting, polishing and washing your automobile's interior and exterior. These can be used both dry or wet with any soap that you use for your automobile. All of our Sheepskin Car Washmitts are long lasting and can easily be rinsed and dried after each use.
Get a simple tune-up
Many people get their vehicle serviced before winter because they know it can be a particularly hard season on a vehicle's electrical and heating system. What they don't always consider is that the summer can be just as difficult, only straining different parts of the vehicle.
Heat can be a huge enemy to any engine and the hot temperatures of summer, compounded by stop and go traffic, can cause a lot of wear and tear. To make sure your vehicle is ready for the hot weather, make sure your air filter is clean, spark plugs are functioning properly, oil is changed, and that there is no excess material blocking air from gaining access through the radiator.