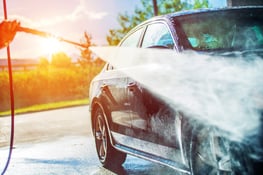 When it comes to cleaning your car, there is an abundance of car care products to choose from. There are many reputable brands that will leave your car as luxurious and clean as the day you purchased it - if not better.
However, with so many options available, how can you possibly pick which car cleaning product is the best for your car?
GGBAILEY Picks 6
Below are GGBAILEY's top 6 picks for car cleaning products that will help preserve your car's appearance.
1. Turtle Wax® Performance Plus Carnauba Cleaner Wax $7.49

Turtle Wax is a popular household name in the automotive cleaning industry. Their product lines range from car shampoos to tire care, performance plus and Ice® for driving performance.
This cleaning wax cleans, polishes and protects your car's paint coat for a luxuriously sleek shine. This wax is a unique pairing of Brazilian carnauba wax and Turtle Wax's advanced protection chemistries which are blended together to maintain your car's natural shine.
2. Meguiar's Hot Rims® All Wheel & Tire Cleaner $5.87

Meguiars is another player in the automotive appearance industry and has been around since 1901. When you are sprucing up the shine of your car, details are important; you can't forget about the rims.
Meguiar's Hot Rims® All Wheel & Tire Cleaner is ideal for removing road residue. This cleaner is a foam that is designed to cling to vertical surfaces and break down road residues that get stuck on wheels and tires.

3. Rain-X 2-in-1 Glass Cleaner with Rain Repellent $5.99
This solution is great because of its double action cleaner and proactive rain repellent formula. When you have a rain repellent coating on your windshield, it improves wet weather driving visibility.
There is no buffering required-- just spray and wipe away for a streak free surface.

4. Sheepskin Dusters $8.00
When you're dusting or polishing your car's interior, use 100% Merino Sheepskin. These car dusters are 13 inches long and have the unique ability to hold dust rather than shift it from one place to another.
Each duster is genuine, soft, durable sheepskin that will not scratch or harm any surface. Its compact size is ideal for dusting your dashboard and vents. The best part is that these dusters can be rinsed and dried as often as needed.
5. ARMORALL CLEAN-UP Wipes $6.47
If you have plastic, vinyl or cloth surfaces in your automobile and want to polish off your sheepskin dust work, then ARMORALL CLEAN-UP WIPES are perfect for you.
These wipes are ideal for on the go interior polishings to remove dirt, dust, and grime. It doesn't leave your hands or interior surfaces with greasy residue. Also, it conveniently fits in your glove box or your cup holder.
6. Oreck XLAUTO Car Vacuum $39.95

After you've polished your paint, tires, and vinyl, don't forget to vacuum up any debris inside. Keep your car and car mats clean with the #1 rated Oreck car vacuum car vacuum.
It's lightweight, sleek, silver and plugs into the cigarette lighter. It is equipped with a 15- foot cord for reaching into your trunk and has a 1-year warranty.
What's Your Must-Have Cleaning Product
There are many car cleaning products that claim to do wonders for your car which makes it difficult to decipher which one is best for your car. Hopefully, our top 6 picks help you on your quest for a sleeker and cleaner car.
As the online extension of Racemark International, a global leading tier one OEM supplier and designer of automotive interiors, we at GGBAILEY only provide the highest quality products for you. Tell us below what your must have car cleaning product is that you can't live without.
GGBAILEY Carpet Car Mats are for All Weather All the Time
Proudly MADE IN AMERICA for over 40 years and currently providing luxury in millions of vehicles around the world.
Prices may vary depending on location and distributor