Car mats take the brunt of debris your shoes track into your car. Plus, they provide protection for your original flooring.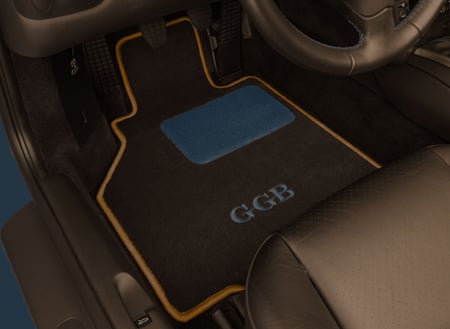 Even if the purpose of car mats isn't on the forefront of your mind, it is always on ours at GGBAILEY. Our parent company, RACEMARK International, created the first custom-fit car mat over 40 years ago.
Since our sole purpose is providing you with functional and high design car mats for your vehicle, it's no wonder that we are continuously pursuing ways to make our car mats even better.
5 Things Your Car Mats Do for You!
The following are 5 things that GGBAILEY car mats do for you and your vehicle.
#1 High Design
GGBAILEY Custom Fit Luxury Car Mats made in the latest designs and materials improve the look of your car's interior plus, it's another way to extend your personal style.
#2 Keep Your Car Clean
You've probably had to eat breakfast on the go or had to fuel up on some caffeine which can end up on your car's floor. This is why stain resistent automotive carpet car mats are important and easy to clean.
#3 Preserve Your Car's Value
Car mats help preserve your car's value by reducing and preventing wear and tear on the floor. The most common place this happens is where your heel rests to step on the gas and brake pedals. As luxury car mat gurus, we have an optional extra layer of protection called a heelpad for additional protection.
#4 Drive Comfortably
Having a luxurious, carpet car mat adds comfort to your drive.
#5 Stay in Place
A quality car mat will also stay in place and not slide around under your feet. Our mats are reinforced in 3 ways, including:
Mat-Loc™ Clips which lock the mat in position

Anti-slip backing

Custom-fit to match the contours of your car
GGBAILEY
Carpet Car Mats are proudly MADE IN AMERICA for over 40 years and currently providing luxury in millions of vehicles around the world - Function + Design.