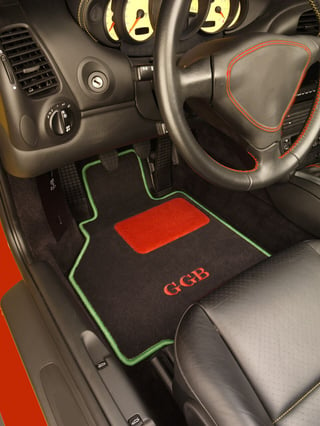 Monumental landmarks such as the Statue of Liberty or the Eiffel Tower tell a unique story and are staples to a country's history. Likewise, you are the author of your own story--from the traditions you create to the styles you wear. As a storyteller, you want to catch someone's eye with your unique style preferences.
For instance, your car is also an extension of you, so wouldn't you want it to reflect that?
There are many ways you can accessorize and personalize your car. One of the most personalized touches you can have in your automobile is a car mat. Car mats are intended to be functional by protecting the carpet of your car, but when you mix utility with personalization, the result is a custom fit GGBAILEY car mat with four eye-catching features, which are listed below:
The 4 Eye-catchers
Designing a car mat with GGBAILEY is a unique and fun shopping experience offering many ways to create a personalized accessory to showcase in your car.
1. Carpet Collections
The first step in designing your car mat is choosing the carpet color. GGBAILEY has two carpet collections: Design Your Car Mats and the Luxury Car Mat Collection. The first carpet collection mentioned offers ten solid color options from shades of pink and cream to chocolate and dark grey.
The Luxury Car Mat Collection offers woven pattern such as zebra and camouflage designs for a total of eleven different designs. Both carpet collections are made of durable fabrics that have built-in resistance to soil and stains while embodying the appeal of a European velour look.
2. Get Edgy
The next designing step is to choose how you would like the edging of your car mats. You have a choice between Serging and Binding Edging styles. Edging gives a finished look to the car mat, and it keeps the carpet edges from fraying.
Both the serging and binding edges are designed with quality materials. The difference, however, is that binding is a smooth fabric edge, while serging is a stitched yarn edge.

Serging Edges
Available in 21 solid colors

One pair of two-tone options
Binding Edges
Black, Burgundy, Caramel

Chocolate Brown, Beige, Grey

Hunter Green, Khaki, Navy
L.A. Bindings include a couple of options:
Silver and Black Reflective

Camouflage
Ribbon Bindings
come in many different patterns, including:
3. An extra pad of protection: the heelpad
A heelpad extends the life of your car mat. It does this by providing an extra thick carpet pad that goes under the heel area of the driver's side mat. This feature comes in the shape of a rectangle or a circle. The heelpad is available in 19 different colors to match your carpet color selection, and it's both functional and aesthetically appealing.
4. Add a dash of personal embroidery
Here is where you can finalize your custom designing car mat process. Create your embroidered design with fonts and logos that are directly embroidered into the carpet. Both script and block letterings are available with your choice between eighteen color options.
Also, you may add a custom word or slogan up to ten characters or select the timeless look of a monogram or your initials. If you want to support a cause or sports team, you can choose between one of the many embroidered logo designs available.
Uniquely Yours, GGBAILEY
There are many monumental stories that catch our attention and are symbolic to nations. You create your own story with your personal style and decor. A car will always have a car mat, but if you want to catch someone's eye, then you should design a custom fit car mat with GGBAILEY to tell your story.