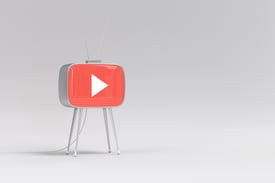 Chances are that if you are searching for a video, one of the top ten links that show up first will be a YouTube clip. Founded as a video distribution platform for people to connect and share ideas and content, in the spring of 2005, YouTube has become the most popular online hub for videos.
Like many tech companies, YouTube was started in a garage and rapidly gained traction in its first year. Google wound up buying this online video platform start-up in 2006 for $1.65 billion - that's 1 year after its start. Shortly after that, YouTube enhanced its design and integrated HD videos while broadening its international reach to 9 different countries.
In 2009, viewers were able to watch the TV shows they missed on Demand through Catch-up TV on YouTube. This online video platform has been a game changer for television and media, and for the car enthusiast, this is a treasure. You are now able to narrow your video searches to a category and uncover hundreds to thousands of channels that are tailored to your choosing.
Our Favorite 5 YouTube Channels
As car enthusiasts, we have a few of our own favorite automotive YouTube channels from classic cars to pop culture comedic shows. Below are our 5 favorite channels to suit your inner car enthusiast.
The Classic Car Enthusiast
My Classic Car TV walks you through the American love affair with automobiles. This channel has over 23,000 subscribers and over 4,000,000 views. It's a weekly show hosted by Dennis George who is known for his handlebar mustache and it's ideal for the most passionate automotive enthusiast.
The Autonomous Driving Enthusiast
Google Self-Driving Car Project channel follows Google[x] "moonshot factory" through the process of Google's self driving car. You can watch some of the first passengers of the car explain their self-driving car experience and how autonomous cars can safely improve driving making traveling more enjoyable.
The Tech Savvy Automotive Enthusiast
Delphi Auto is a leading global technology company that aims to make automotive and commercial vehicles safe, green and connected. Their YouTube channel takes you inside their upcoming projects and recent automotive technology shows.
The Comedic Pop Culture Car Enthusiast
Comedians in Cars Getting Coffee is a YouTube channel directed and hosted by Jerry Seinfeld and is in its 7th season. Each show features Jerry Seinfeld driving around town with a guest comedian in a vintage car. This show lets you listen to comedic banter and conversation throughout their drive.
The Need for Speed Car Racing Enthusiast
Racing Cowboys is hosted by 24 Hours of Le Mans winner Justin Bell. This YouTube channel has a perfect pairing of humor and speed. It's the spot for car reviews and those automotive enthusiasts who enjoy car shows, music, travel and extreme sports, including car racing.
What's Your Must See Channel?
YouTube has made monumental strides in the past 11 years, and will make many more; they have designed a space for you to share your ideas, how-to tutorials, inspirational testimonies, artistic talent etc. for every niche including custom channels for car enthusiasts. We want to know which YouTube channel is your must watch station - leave us a comment below or tweet us at @GGBaileyLLC.
GGBAILEY Carpet Car Mats are proudly MADE IN AMERICA for over 40 years and currently providing luxury in millions of vehicles around the world.