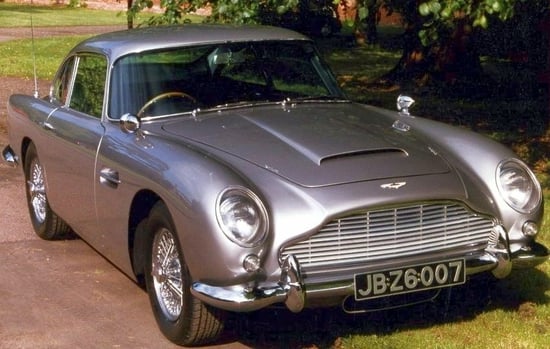 There have been many Bond films throughout the famous 007 franchise, and each has rendered a suspenseful prelude for the next film. While each Bond character is carefully selected, the props and Bond cars are just as key to the film's success and story.
James Bond 007 originated from the literary works of Ian Fleming and his inspiration for the Bond character stemmed from his numerous encounters with the Naval Intelligence Division during WWII. No one could have predicted the mass following and fans who can't seem to get enough of these suspenseful plots.
The 007 series has become the third-highest-grossing film series to date with twenty-four successful productions.
The Films
Every 007 film made is known for it's leading James Bond, Bond Girl and the need for speedy getaway vehicles. The 007 series made its debut in 1962 with Dr. No starring Sean Connery, Honey Ryder and the Ford Anglia as their featured vehicle.
Below are five of our favorite 007 cars throughout its twenty-four film span.
Diamonds Are Forever (1971)
With Sean Connery as Bond and a story line built around diamonds and gems, you can only expect an array of luxurious Bond cars involved. Bond had six Ford vehicles at his disposal for this feature film including:
Ford Econoline

Ford Thunderbird

Ford Custom 500

Ford Galaxie 500 Sedan

Ford LTD
Live and Let Die (1973)
Full of magic and wonder Bond's mission is to put an end to a heroine who has a complex organization and a reliable psychic tarot card reader on her side. She may have had people on her side, but Bond had the help of his souped up engines. 007 drove:
Cadillac Fleetwood 60 Special Brougham

Chevrolet Impala

Chevrolet Chevelle

Chevrolet Nova

Corvorado in this film
For Your Eyes Only (1981)
Roger Moore plays a spectacular Bond in this film with the help of a Citroen 2CV used in a plot riveting car chase after his own Lotus Esprit Turbo explodes. This plot thickens as Bond begins his pursuit of a nuclear submarine control system that was cargo on a sunken British ship.
GoldenEye (1995)
This film starred Pierce Brosnan as Bond and his mission was to save the world from a spectacular space weapon that could destroy the earth. Bonds car was the BMW Z3 that was equipped with 'Stinger' missiles which were never used. Bond did, however, make use of the deployable parachute and auto-HUD.
Fun Fact - we made the custom car mats for Bond's BMW z3 for the film GoldenEye with the special OO7 logo below directly embroidery on the car mats for the z3 used in the Bond film. We also did a limited edition run of the same car mat design for BMW z3 owners offered exclusively through BMW.

Die Another Day (2002)
Between Bonds romancing NSA agent Jinx and uncovering a lethal scheme involving a highly destructive laser, James Bond managed to make use of two distinguished Ford automobiles including the Ford Thunderbird and Ford Fairlane
The Legend
This movie series has captured the hearts of those who crave the secrecy and mystery.
The London Film Museum has made it possible for these fans to get up close and personal with memorabilia, such as props, rockets, planes and cars from various James Bond films. Bond cars are iconic to this legendary film series and are a part of British history.
The Bond in Motion Exhibit at the London Film Museum opened in early 2015 to a wave of popularity and will be open 7 days a week for the foreseeable future excluding holidays and special events dates.
Check out the largest collection of original James Bond vehicles. Tweet us what your favorite 007 films and Bond car are.
GGBAILEY Carpet Car Mats are for All Weather All the Time
Proudly MADE IN AMERICA for over 40 years and currently providing luxury in millions of vehicles around the world.
Image
Chilterngreen at the German language Wikipedia [GFDL (http://www.gnu.org/copyleft/fdl.html) or CC-BY-SA-3.0 (http://creativecommons.org/licenses/by-sa/3.0/)], via Wikimedia Commons