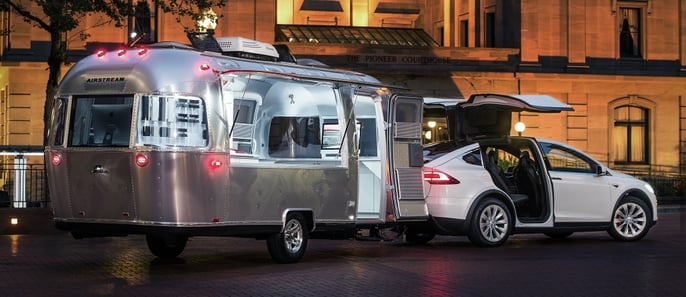 TESLA continues to race towards changing the future with their latest launch of TESLA Explores. This is an initiative that brings their rEVolution on the road.
TESLA's quest uses six Airstreams equipped with TESLA's complete design studio which are towed by a Model X.
This fleet is designed to travel across the country and have a face to face with you providing "best in class" customer experience. They will bring their interactive design process straight to you so you can design your very own TESLA.
The first stop on their tour for the mobile design studio will be at New York City's 1 Hotel Central Park beginning on Wednesday. This particular stop for the Airstream design studio will expire in one week.
TESLA Explores
Do you want to have TESLA come to your town or city? If so, you can go directly to the Tesla Explores website and RSVP your city by clicking on their map and submitting your request from there; or, you can click on the existing pins on the map to find planned tour locations and dates .

photo above: Map of Tesla Mobile Design Studios First Stops
Currently, on the map the traveling design studio will be visiting
New York - 1 Hotel Central Park - September 7-14
New York - Smyth Hotel - September 16-18
Venice, CA - Abbot Kinney - October 7-16
Princeton, NY - Palmer Square - October 14-30
Boston, Ma - October
Seattle, Wa - October
Portland, Or- October
San Francisco, CA - October
Santa Barbara, CA - October
Atllanta, GA - November
Tampa, FL- November
While TESLA's showrooms, which have popped up across the US via Nordstroms and other storefronts, have been garnering attention, they don't reach everyone.
With the addition of the mobile design studios, TESLA hopes to bring the rEVolution to a more broad scope of drivers by bringing their design studio directly to you.
TESLA + RACEMARK
As a supplier to TESLA, RACEMARK International is proud to be a part of the acceleration of sustainable transport.
GGBAILEY Carpet Car Mats are proudly MADE IN AMERICA for over 40 years and currently providing luxury in millions of vehicles around the world.
Resources