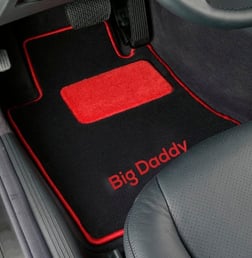 What does your car's interior look like?
4 Ways to Customize Your Car Mats
There are so many options for customizing your car.
You don't have to settle for generic car mats. Instead, customize your car mats online to match the rest of your car interior providing superior design and protection.
The following 4 areas are completely customizable to match your car's interior.
The Carpet
You can select a pattern carpet for your car or trunk mat from our Luxury Car Mat - CarCouture™ collection, or you can choose a solid color and Design Your Car Mat with our Virtural Car Mat configurator.
The Edging
When you choose to design your car mat, you are empowered to truly customize your car mat, from the carpet color to embroidery or a logo.
The purpose of your car mat edging is important to giving it a finished look and ensuring your carpet edges don't fray.
We offer a variety of edging styles: serging, which is a stitched yarn edge, and binding, a smooth fabric edge. Our binding edging also offers a choice of ribbon or reflective styles. With over 21 edgings to design from, you are sure to find the perfect one to customize your car interior.
The Heelpad
Customizing your car mat to include a heelpad is an optional step in the design process. The heelpads function is to provide an additional layer of protection for your car mat right where it gets the most wear and tear, under the driver's heel.
You can choose from over 19 color options and 2 shapes - round or rectangle.
Logos and Embroidery
For embroidery you can choose between block or script lettering and 18 colors to embroider anything up to 10 characters for a truly customizable experience.
Or, you can personalize and customize your car mat with one of our embroidered logos.

Customize Your Car Mat to Match Your Car's Interior
With so many car interior custom options available, don't forget about customizing your car mat.
We want to know how you would customize your car mat to match your car interior. Take a photo of your car with its matching car mat and tag us on Instagram, or tweet us how you would customize your car mats.