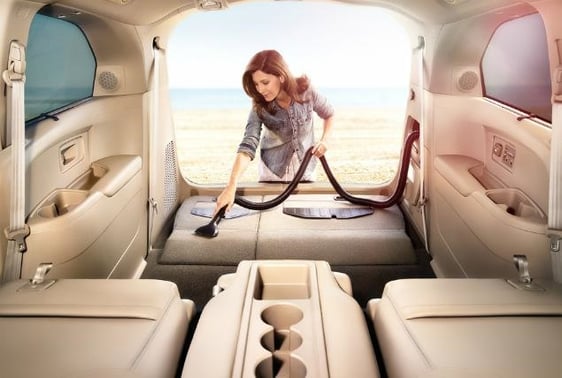 Car accessories are typically luxury items that enhance your car's functionality-- and some of them are pretty cool. Companies are making them more user-friendly and integrating advanced technology into newer accessories.
Highlighted below are some of the coolest car accessories included with your vehicle and add-on accessories for purchase.
Built-in Accessories
Have you ever thought about some of the accessories that car manufacturers are adding to their automobiles for an added boost of convenience for their driver? Below are three convenient accessories that a few car manufacturers added to some of their newer models.
Built in Car Vacuum
Honda designed the Odyssey Special Edition to include a standard feature-- the HondaVAC®. Honda kept the busy driver and the vehicle's functionality in mind with this new feature. The HondaVAC® is integrated into the back left corner of the vehicle and has a lengthy reach with a removable waste bin to make cleaning the entire interior a breeze.
Truck Bed Speakers
If you are a truck owner, you understand the variety of functions your truck bed is used for tailgates, moving etc. Honda just released an advertisement during the Super Bowl 2016 for their Ridgeline truck.
This isn't any ordinary truck, the Ridgelines truck bed turns into a sound sensation. This is the first truck bed to have speakers built-in to its truck bed. You can play music from any source or use a Bluetooth® enabled device to remotely control it.
Umbrella in Your Car Door
Ever forget your umbrella in the office or at your home when you need it the most? Don't worry, Rolls-Royce has thought of that for you. Their Phantom model was the first to offer a hidden compartment in the front cab door with their "RR" logo umbrella for your convenience. Now many of their models are equipped with this convenient and strategic branding accessory.
Spice Up Your Ride With Some Essential Accessories
Maybe you drive an older car or your car is just missing a must-have accessory. There are plenty of accessories you can purchase to add some cool and functional features to your vehicle.
Viper Remote Car Starters $150.00

Winters can be numbingly cold and summers can be blistering hot; neither climates are driver friendly. Many cars are now manufactured with a remote car starter on their key; however, some cars may not have this feature.
There are many different brands that offer a remote car starter, for example VIPER, uses cutting-edge technology to provide you an array of features, from vehicle security to remote car starters, you can count on .
Valentine One Radar $494.98

This radar has the ability to detect up to 9 different radars simultaneously. It includes rear detection receivers and notifies you when you've passed a radar and it's safe to start accelerating again. You can also manually adjust the brightness and volume on the Valentine One Radar detector.
Dashboard Video Recorder $19.99 - $200.00

Car accidents or incidents are unexpected and can happen by surprise and often make certain accidents hard to recall. You have the ability to record any accident and all the interactions related to have an exact recount of what happened and possibly save you from paying hefty fines.
You can record any accident using a dashboard video recorder which can be purchased for as little as $39.99 or as much as $200.00 depending on your brand and buying platform-- Amazon, BestBuy, etc.
Antigravity Battery Micro Battery Charger $83.00

You don't have to be stranded on the side of the road with a dead battery again if you have ANTIGRAVITY BATTERIES Micro-Start. You can jump start your car, phone, tablet etc. with this pocket-sized micro battery charger.
Oreck XLAUTO Car Vacuum

Keep your car mats clean with the #1 Rated Oreck car vacuuum. This lightweight sleek silver vacuum plugs into the cigarette lighter and has a 15 foot cord for reaching into the trunk and other hard to reach places. This product comes with a 1 year warranty and includes a brush and crevice tool.
What's Your Favorite Car Accessory?
There are many more accessories that you can design and create yourself to enhance your car and add a unique personalized touch to your car. We want to know what your must-have car accessory is-- tweet us at @GGBaileyLLC or leave us a comment below.
GGBAILEY Carpet Car Mats are for All Weather All the Time
Proudly MADE IN AMERICA for over 40 years and currently providing luxury in millions of vehicles around the world.
Prices listed may vary.

Image:
http://automobiles.honda.com/odyssey/features.aspx