Above: Steve McQueen and The Manx Dun Buggy
Iconic stars like actor, Steve McQueen, Pink Floyd's Nick Mason and rock singer, Janis Joplin have designed and collected some of the most legendary automobiles in the classic car world.
Steve McQueen
McQueen served the entertainment industry and his country. He is best known for his roles in Bullitt, The Cincinnati Kid, and The Sand Pebbles, but he was also enlisted in the U.S. Marine Corps in 1947. His duty to his country is a pivotal aspect of his career in Hollywood.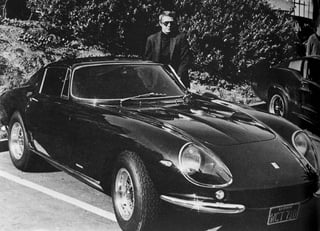 He used the financial assistance from the G.I. Bill to study acting at Sanford Meisner's Neighborhood Playhouse. He soon became an iconic legend in film.
In the 1970's, Steve McQueen was known as "The King of Cool" and so were his cars. You may recall the infamous Meyers Manx dune buggy from McQueens role in The Thomas Crown Affair.
This dune buggy was partly designed by McQueen, and was explicitly customized, Corvair-powered and was set on a Volkswagon chassis.
He owned four remarkable cars, but he had a passion for Ferrari's including his 1967 Ferrari GTB/4 as shown here.
1967 Ferrari 275 GTB/4

1956 Jaguar XKSS

1970 Porsche 911S

Ferrari 250 GT Berlinetta Lusso
Nick Mason
Famous for his consistent drumming loyalty to the music group Pink Floyd, Nick was the only band member to be featured on every one of Pink Floyd's 37 plus albums since 1965. However, Nick has another loyalty-- his cars. When he wasn't a part of the rock star scene, he was certainly a part of the automotive one.
Nick Mason was known to compete in popular auto racing events, such as the 24 Hours of Le Mans. He has two hangars where he stores his car collection. Some of the cars from his collection include:
| | | | |
| --- | --- | --- | --- |
| 1927 Bugatti T35 | 1930 Aston Martin | 1957 Maserati 250F | Ferrari 312 T3 |
| Ferrari F40 | McClarren F1 | Porsche 962 | Ford Model T |
Janis Joplin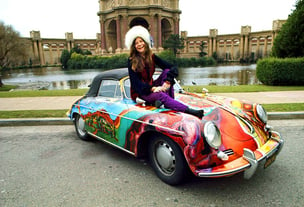 Joplin's custom painted Porsche is a piece of artwork. Infamous for her free-spirited lifestyle and 1960's rock band,
Janis Joplin was widely referred to as the Queen of Rock; however, that's not the only legacy she left behind.
Her 1965 Porsche 356C 1600 Cabriolet is an artistic expression of her.
Painted in a myriad of colors and psychedelic designs, the San Fran natives would frequently recognize Joplin when she drove her infamous custom painted Porsche around town.
Janis bought her Porsche in 1968. Her friend painted it to suit her style and personality, and she proudly drove it for five years until her death at age 27 in 1970.
This 1964 Porsche became the most expensive Porsche 356 sold at auction. Her Porsche sold for $1.76 million at a Sotheby's auction in late 2015, the new owner is still a mystery. We think these GGBAILEY custom car mats would look great in this special Porsche.
Janis Joplin was known for her free spirit and love of rock and roll. She used her Porsche as a platform for personal expression and drive it every single day.
If you would like to design and personalize your custom car mats to express your personality like Janis Joplin you can Rock your car with your own style at GGBAILEY. We think these GGBAILEY custom car mats would look great in this special Porsche.
GGBAILEY Carpet Car Mats are for All Weather All the Time
Proudly MADE IN AMERICA for over 40 years and currently providing luxury in millions of vehicles around the world.
Image