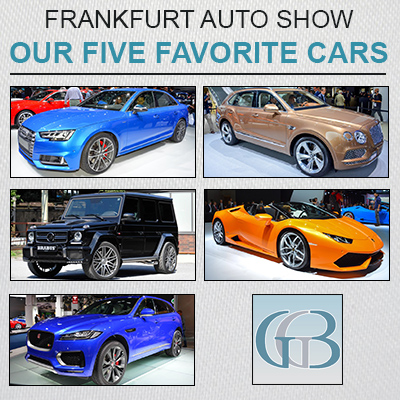 The International Automobile Exhibition has wrapped up in Germany, and while the show might be over the talk about it will continue for at least a couple of weeks to come.
From the latest concept cars and crossovers, to the newest electric vehicle offerings, the Frankfurt Motor Show (another oft-used name for the event) has plenty of auto candy for enthusiasts to devour. There is a lot to consider, but we at GG Bailey have our eyes on luxury, style, and design, and we have compiled a few of our favorite vehicles on display from the show.
This year in Frankfurt the hardware ran the gamut from the very real Audi S4 and very practical VW Tiguan to the outrageous Brabus 850 6.0 Biturbo. Somewhat predictably, Citroën cornered the market on quirk with its Cactus M concept, and the Bugatti Vision GT hinted at a mega-hypercar to come.
Scroll on down to read about our five favorites.
2015 Jaguar F-Pace
At long last, Jaguar has begun its foray into the lucrative SUV market with the new F-Pace, which represents a distinctly sporty take on the entry-luxe crossover.
The F-Pace will be available with two engine options. The so-called 20d is a 2-liter turbodiesel four-cylinder that spins to the tune of 180 horsepower and 318 pound-feet of torque. There's also the 35t, which is a 3-liter supercharged gasoline V-6 that makes 340 horsepower and 332 pound-feet of torque -- and which seems oddly named. A top-spec S trim level bumps the V-6's power to 380 horsepower, thanks to a revised management software.
In the cabin, the F-Pace's dashboard is dominated by a new suite of Jaguar InControl tech. The instrument cluster is a 12.3-inch display with virtual gauges or a full map display. When equipped with the optional InControl Touch Pro infotainment option, the main display is a 10.2-inch capacitive screen with 3D graphics powered by a quad-core processor and a high-speed 60GB solid-state drive.
2016 Lamborghini Huracán LP610-4 Spyder
The new Lamborghini Huracán LP610-4 Spyder, a follow-up to the successful Gallardo Spyder, drops its top at the 2015 Frankfurt auto show and and joins the coupe.
The Spyder continues the aggressive and angular design of the standard Lamborghini Huracán, but with two buttresses above the engine cover rather than the coupe's large rear window. The fabric roof can be raised or folded into place in as little as 17 seconds at speeds up to 31 mph. The small glass rear window can also be electrically raised or lowered to serve as a wind blocker at speed. Special ducting in the rear buttresses helps quell air turbulence in the cabin, and pop-up roll bars deploy automatically should things go badly on the road.
As in the coupe, the Lamborghini Huracán LP610-4 Spyder uses a 5.2-liter V-10 engine rated for 602 hp and 413 lb-ft of torque. With the 7-speed dual-clutch automatic transmission sending power to all four wheels, Lamborghini claims the Spyder will hit 62 mph in just 3.4 seconds on the way to a 201-mph top speed.
Brabus 850 6.0 Biturbo Widestar
Brabus has taken the wraps off their new 850 6.0 Biturbo Widestar.
The model is based on the Mercedes G63 AMG and features a wide body kit that includes a front spoiler, extended fender flares and a ram air hood. It also has tinted xenon headlights and 23-inch forged alloy wheels. The styling changes continues in the cabin as the model features Mastik leather seats, an Alcantara headliner and velour floor mats. The SUV also has aluminum pedals and illuminated stainless steel sill plates.
Under the hood, the twin-turbo 5.5-liter V8 engine has been bored out to displace 5.9-liters. It has also been equipped with new pistons, a billet crankshaft, billet connecting rods and modified exhaust manifolds. The engine also has new turbochargers, an optimized air intake, a stainless steel sports exhaust system and special ECU.
The all adds up to 850 horsepower and a mountainous 1069 lb-ft of torque. That's enough to send it to 62 mph in a claimed 4.0 seconds—which is about as quick as the new Mercedes-AMG C63 sedan. Top speed is a claimed 162 mph.
2017 Bentley Bentayga
The world's fastest, most expensive and most luxurious SUV has arrived, and it was shown in the metal for the first time. It's the new 2017 Bentley Bentayga, and if you have at least $230,000 it can be your ride to the country club next year.
At launch, power comes exclusively from the Volkswagen Group's W-12 engine, routed through an eight-speed automatic transmission. Tuned in this application to crank out 600 horsepower and 663 lb-ft of torque, the updated W-12 now features cylinder deactivation. Bentley claims the Bentayga will hit 60 in four seconds flat and press on to 187 mph. This gives it claim as the most powerful luxury SUV available, but the special stuff is in the inside.
Fifteen veneered pieces of wood trim go into the cabin, and customers can choose among seven different varieties of wood to accent one of 15 shades of naturally tanned bull hide. The leather covers 22-way adjustable front chairs with massage functionality, as well as 18-way adjustable rear seats in the four-place models.
Bentley's extra-care Mulliner division offers a host of further customizations at the buyer's request. As of launch, the opulence includes a "hamper set," with custom Linley china, utensils and crystal, a fridge, and a storage area for dry goods. Sections of it can be removed and used for seats for impromptu al fresco dining.
2017 Audi S4
Audi debuted the 2017 S4 at the Frankfurt motor show, and it's impressive. The heart of the new S4 is a 354 hp 3.0-liter V6 that will rocket the sedan to 60 mph in under five seconds. Audi moved away from supercharging, and instead going with turbocharging and direct-injection. The move to turbocharging helps the A4 sip fuel, coming in at 31.8 mpg, according to Audi.
Behind the V6 is an eight-speed tiptronic transmission that's sending power to the wheels via the quattro all-wheel-drive system. The AWD system's center differential normally separates power 60/40 with the majority going to the rear, but is capable of transferring up to 70 percent of power to the front or 85 percent of power to the rear, depending on circumstances.
A redesigned front suspension features a five-link setup on all four corners, allowing for optimum handling. Variable speed-dependent dynamic steering is optional, with the standard equipment being electromechanical. Five-spoke 18-inch wheels roll around on 245/40-18s as standard, but 19-inch wheels are available from GmbH.
We're always excited about new models hitting the market, because can we make custom floor mats and personalized floor mats for
all makes and models
, and if you don't see the vehicle you are looking for already listed,
contact us
to let us know. We look forward to working with you!