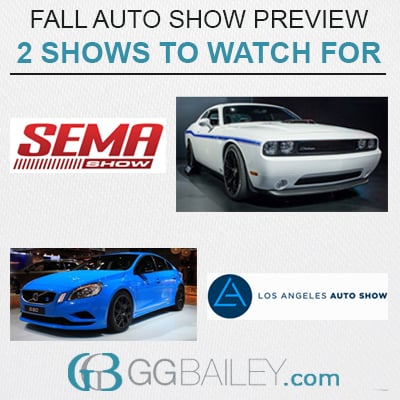 At GG Bailey we make custom fit, custom designed car floor mats for all makes and models, as well as auto accessories like sheep skin seat covers.
Because our main focus is on the automotive world, we like to pay attention to all the big car shows, because new vehicles and new technologies are often introduced during these events. The good news, the next few months will features several important auto shows.
We have done the research and have included details about two of the shows you will want to pay attention to during the up-coming season. There are plenty more on the calendar, of course, but these are the auto shows that have the best potential to make an impact on the automotive landscape.
Even if you can't attend any of these shows, you can still follow the headlines generated by each event. We'll be writing about each one as they happen, so be sure to visit our blog again.
Check out the list below, and check out our Design Your Car Mats™ system to custom design your own personalized car floor mat, or pick a pattern from our luxury quality our Car Couture™ collection.
The SEMA Show
The SEMA Show is a trade show produced by the Specialty Equipment Market Association (SEMA), a nonprofit trade association founded in 1963. Since the first SEMA Show debuted in 1967, the annual event has served as the leading venue bringing together manufacturers and buyers within the automotive specialty equipment industry. Products featured at the SEMA Show include those that enhance the styling, functionality, comfort, convenience and safety of cars and trucks.
It takes place each year at the Las Vegas Convention Center. This is an industry show and is not open to the public. Split into 12 different sections, the show brings together more that 100,000 industry leaders from more than 100 countries. There are product demonstrations, educational seminars, networking opportunities and more.
The Los Angeles Auto Show
The Los Angeles Auto Show was founded in 1907 and is one of the most influential and best-attended auto shows globally. The show's trade days (Press Days) draw more than 12,000 auto industry decision makers and influencers including 4,000 media from more than 50 countries. ANSA Productions recently launched the Connected Car Expo (CCE). CCE is a three-day trade show held in conjunction with Press Days that brings together the entire eco-system driving the convergence of technology and the automobile. Following Press Days, the show opens its doors to the public and hosts approximately 900,000 guests over the course of ten exciting days.
At this show, you can see many concept cars, hybrids, models that use alternative fuels, project cars and aftermarket cars. You can test drive many cars, play games and even see art exhibits on cars. There are sessions in which you can meet famous drag racers and other famous names from racing.This show has world premiers as well as North American premiers of new cars, so this will be a good place to see what new vehicles the automakers will be rolling out next year.
Winter car shows
After fall ends and winter creeps in, there are several more big car show events to look forward to.
The North American International Auto Show (also called the Detroit Auto Show) is in January. The Cincinnati Auto Expo is in February. The Geneva Motor Show is in March.
Check out this list for a complete calendar of auto shows and find one in your area to check out. And remember, we'll be writing about all the big auto shows in the future, so bookmark our blog and check back often.
Thanks, and enjoy!