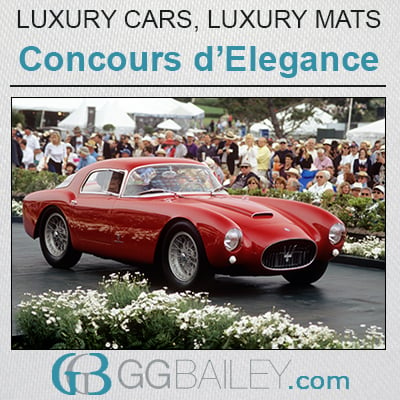 Once each year in August about 200 of the most prized collector cars and motorcycles in the world roll onto the fairway of what is often called the best finishing hole in golf — the famed eighteenth at Pebble Beach Golf Links. Tire meets turf and transformation occurs: the stage is set for one of the most competitive events in the automotive world. The occasion is the Pebble Beach Concours d'Elegance.
Originally a small social event paired with a road race through the pine and cypress forests of Pebble Beach, the Pebble Beach Concours has grown into the top-ranking collector car competition in the world. People from all over the globe come to compete in or simply witness and enjoy the Concours here at Pebble Beach.
The Concours is not a contest of speed, but of elegance. Automobiles and motorcycles are judged for their historical accuracy, their technical merit and their style — and the best garner reward and recognition.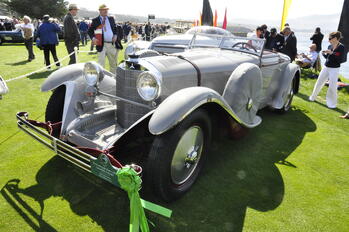 The 2015 Pebble Beach Concours d'Elegance, which takes place this weekend, will feature the following marques and special classes:
• Ferrari
• duPont
• Pope
• Designs by Carrozzeria Touring
• Postwar Cunninghams
• Mercury Customs
• British Prewar Sports Cars
• Lincoln Continental 75th Anniversary
• Shelby GT350 Mustang 50th Anniversary
A concours d'elegance is, quite literally, an automotive contest
of elegance.

To contend in the Pebble Beach Concours d'Elegance, an automobile must be a well preserved or accurately restored vehicle still quite capable of doing what it was meant to do—be driven. It will almost certainly have some historic value—perhaps in its day it served to debut new technology or new styling trends or it has an amazing racing record. And it will be rare—possibly a singular example of a special chassis bearing a respected coachbuilder's art.

After these criteria have been met, a concours car must be one thing more. Above all, it must be elegant. And elegance is a matter of the eye and the heart.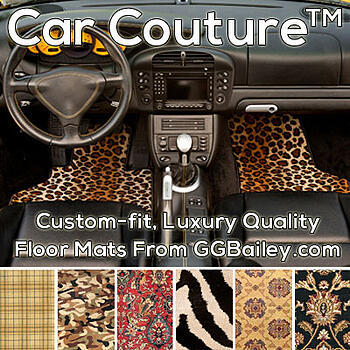 At GG Bailey, we love elegance and we love automobiles, so this is an exciting event. It was the combination of those two passions that led to the creation of our Car Couture™ style of car floor mats.
Our Car Couture™ section features nine luxury carpet options, from animal inspired patterns to a pair of oriental options, with a few others in between. These are woven carpets, not printed, which means the designs won't fade. Printed designs merely sit on top of the carpet and will fade or disappear entirely as time goes on. On the other hand, woven designs like ours permeate the entire carpet.
Each set of mats is custom made to fit each year, make, model, and sub-model perfectly using factory quality materials that are safe and durable.
We work with the best carpet makers in the world to design our own carpets, ensuring a top quality product that will last. Every mat features an exclusive foam backing and grommet holes that work with your vehicle's existing locking system, or for those vehicles that do not have a locking system, we include our exclusive Mat Loc Clips™, which allow you to secure the mats in place.
Right now, we are offering FREE ground shipping* on all orders, including our couture car mats. Every order is processed and shipped in two business days, so your luxury car mats could be in your car before the end of the week. Simply pick the free ground shipping option as you check out and we'll custom make your luxury floor mats and ship them for free within two business days.
And remember, the Pebble Beach Concours d'Elegance takes place this weekend, so be sure to check out the event and the luxury cars featured there. We'll write more about it next week.
*Free shipping good for the contiguous U.S. only.