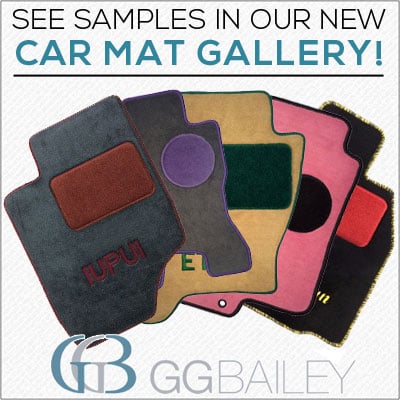 Seeing is believing, and at GG Bailey we want you to be able to see as much of our product as possible before you custom design your own personalized car floor mat.
That's why we have launched a new gallery of custom fit car mats actually designed by our customers. Check it out here.
At GGBailey.com, we make custom fit car mats custom designed by our customers, and we have so many options that creating a custom floor mat to compliment your car is fun and easy. The new gallery will allow you to see real examples of color combinations, carpets, edgings, heelpads, and embroideries.
We also put a form on the page that you can fill out to receive a 10 percent discount. Use the link above to check out the gallery, and feel free to comment on this page about the mats you see.
We will also be adding to the gallery on a regular basis, so check back often to see what you think of the newest mats.
Car Couture
If you would rather pick a patterm than Design Your Own Car Mats, check out the selection in our Car Couture™ section.
We have nine luxury carpet options, from animal inspired patterns to a pair of oriental options, with a few others in between. Each of these design options are woven carpets, not printed, which means the designs won't fade or wear out. Printed designs merely sit on top of the carpet and will fade or disappear entirely as time goes on. On the other hand, woven designs like ours permeate the entire carpet and will last as long as the carpet does.
About GG Bailey
GGBailey.com is part of the Racemark International group of companies that include manufacturing plants located in Georgia, Switzerland, and Hungary. Our plants are dedicated to the production of the finest automobile floor mats in the world, supplying the premier brands in the automotive industry.
In 1974, we were the first floor mat company to create a carpeted auto floor mat and through our continuous innovations, we have added value to our car mats with the development of a safer backing, a carpet heelpad to decrease wear, thickly serged edges, elegant binding, embroidery logos, and computer controlled embroidery for our personalized car floor mats.
We design our own carpet, working with the leading yarn suppliers in the world. We have also produced the first European velour carpet car mats in the U.S. Custom-Fit patterns for each vehicle are done to our high engineering standards and fit the exact contours of your vehicle. At GGBailey.com, we do not cut corners to speed up production.
As a division of Racemark, GGBailey.com is founded on the principles of innovation, which subsequently drives our products to new levels of functionality and design. Our products are proudly Made in the USA and ready to ship in two business days.
Online, our goal at GGBailey.com is to combine the quality of our car floor mats with the best and most convenient shopping experience possible. We continuously strive to improve the online consumer's shopping experience through website maintenance and product development.
GGBailey.com was founded by Ginger Cannon Bailey, CEO of Racemark, and Emily Bailey Berry in the fall of 2001. Our family owned and operated business includes over 40 years of devotion to the finest automobiles and accessories in the world. Racemark International's founder, Bob Bailey, a former world class racecar driver for the Porsche of America Racing Team, continues to be actively involved in all aspects of the automotive world, from collecting classic cars to vintage auto racing. He is also one of the founding members of the Saratoga Automobile Museum, which opened in 2002.
Emily now runs a kids clothing company, called Bailey Berry.
Our innovative, entrepreneurial team of auto enthusiasts is dedicated to making floor mats for the automobile consumer who understands the importance of safety and style. We welcome your ideas and suggestions to enhance and expand our product offerings.