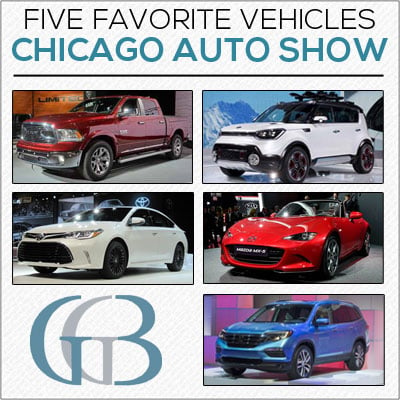 After more than a week at McCormick Place, the Chicago Auto Show wrapped up Sunday night. Whether you were looking for some of the hot cars, the cool concept cars or something in between, it was there.
We make custom fit, personalized car floor mats, so to make sure we have all the patterns for the newest models, we like to keep an eye on the vehicles that are being released. With the show wrapped up, GG Bailey has picked our five favorite cars from the 2015 Chicago Auto Show. These are cars we'd love to put our custom fit, custom designed car floor mats in.
Remember, we can make custom car mats for all makes and models, but if you have a new or unique vehicle you don't see listed in our drop down menus, you can use the form on this page to request a pattern for mats that will fit your car perfectly.
Visit our Design Your Car Mats™ page to begin designing your own custom floor mat, or check out the options in our Car Couture™ line if you prefer a patterned design.
Keep reading below to see which five vehicles we picked as our favorites from the Chicago Auto Show.
2016 Honda Pilot
Crossovers are trending right now, and Honda is looking to cash in on the trend by reworking the Honda Pilot for the first time since 2009.
The new Pilot, which is set to go on sale this summer, will be larger, lighter, more powerful and more fuel-efficient than the vehicle it replaces. It will have a new curvaceous body and pick up the 3.5-liter, direct-injected V-6 engine available in the top version of the Honda Accord.
The new design sheds the boxy, truck-like look that once characterized all SUVs. Honda is the last automaker to make that switch. Styling of the new Pilot took place at the automaker's design studio in downtown Los Angeles. It will be built at a Honda factory in Alabama.
Depending on trim level, the new Pilot has up to five USB ports, including four that provide faster recharging through their 2.5-amp output, allowing them to power up iPads or smartphones, even while in use.
The crossover also has an auxiliary jack for other audio players, an HDMI port for a video gaming console, two headphone jacks, two 12-volt power outlets and a standard 115-volt outlet.
Kia Trail'ster Concept
The crossover generating the most headlines from the Chicago Auto Show was the Kia Trail'ster Concept vehicle, a rugged version of its Soul model.
With off-road tires, a smidge more ground clearance and all-wheel-drive courtesy of an electric motor at the rear axle, the Soul Trail'ster concept is both hatchback and wagon, neatly disguised as a mini-SUV. The Trail'ster boasts increased ground clearance, Pirelli winter tires and the requisite skid plates armouring its underside against rock damage.
Power primarily comes from a 1.6-liter turbocharged four-cylinder engine, which produces 185 horsepower and 185 pound-feet of torque, and is mated to a six-speed automatic transmission.
Thanks to the hybrid system, as well as engine start-stop and an electric air conditioning compressor, the carmaker expects fuel-economy improvements of 25 to 30 percent in highway driving and 5 to 10 percent in city driving compared to a 2.0-liter 2015 Soul.
2016 Ram Laramie Limited
Fullsize trucks are big business in America, and Ram has been gaining a bigger share of the market in recent years. The company hopes to continue that automotive trend with the introduction of its newest luxury model -- the Laramie Limited.
The Laramie comes with lots of chrome; polished chrome on the exterior and satin chrome on the interior. It also means French-stitched, high-quality leather and real wood components on the inside, and painted silver on the outside.
On the interior, the trucks feature an all-black leather cockpit, 8.4-inch Uconnect system with standard navigation and newly redesigned, deep and double-stacked center console with a French-stitched full-leather lid featuring a pronounced "Limited" badge.
The Ram Laramie Limited will be available in all Ram Truck models. The Ram 1500 Laramie Limited will be available in the second quarter of 2015 as a 2015 model, and the 2500 and 3500 versions will be available in the third quarter as 2016 models.
2016 Mazada MX-5
The 2016 Mazda MX-5 isn't even on sale yet and the company already has a few accessories ready to go. This Chicago Auto Show concept gets black BBS wheels, an aero kit, Brembo brakes and a carbon fiber luggage rack.
The aero kit gives the roadster an even more aggressive look. It includes a front air dam, side sill extensions, a rear bumper skirt and rear lip spoiler. The BBS wheels measure 17 inches and get a coat of gloss black paint. They have a 45-mm offset and are wrapped in 205/45R17 tires. Those wheels hide the red caliper Brembo brakes, which increase the swept area of the disc and reduce heat under hard conditions.
Finally, the luggage rack, which could have been a chrome-plated throwback, is instead made from carbon fiber. The removable piece weighs less than 2 pounds and can carry luggage and other equipment, and features a center-mount brake light.
2016 Toyota Avalon
Toyota's largest sedan, the Avalon, received a facelift for 2016 that debuted at the 2015 Chicago Auto Show. Changes in store for the 2016 Toyota Avalon include an exterior update with new headlights and taillights, a retuned suspension, and a new Touring trim level.
The first thing to notice about the 2016 Toyota Avalon's new look are its LED accents for the headlights and taillights. The front grille was also reshaped, each trim level receives updated wheels, and there is some extra chrome trim out back. On the inside, the Avalon's cabin gains slightly different accent stitching and a revised 7-inch Entune infotainment screen on XLE models and up.
There aren't any changes for the 2016 Toyota Avalon's available powertrains, which still include a 3.5-liter V-6 as standard and a gas-electric drivetrain that uses a 2.5-liter Atkinson-cycle four-cylinder on Avalon Hybrid models. We also don't expect pricing to change much from the 2015 Avalon's $33,175 starting price.
If you end up behind the wheel of any of these vehicles, remember that GG Bailey makes custom fit, custom designed car floor mats for all makes and models.