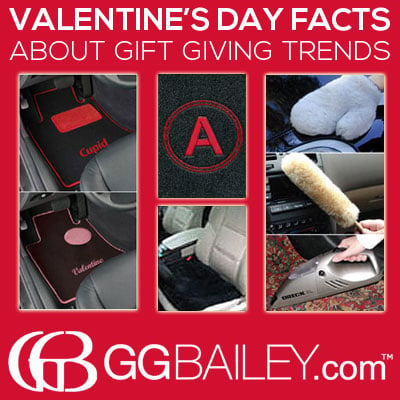 By most estimates, more than half of the population of the United States celebrates Valentine's Day each year, and holiday spending is usually around $18 to $19 billion every year.
That's a lot of gift giving for Valentine's Day. That number may surprise you, and there are other statistics and facts about the holiday that you may not know. Take a look at the list to learn more.
And remember, GG Bailey is offering free ground shipping* on all orders between now and Valentine's Day, so whether you want to Design Your Car Mats™ or pick a pattern from our Car Couture™ line, we'll ship it for free. We also have car accessories, products for your home and pet, and gift certificates.
Our personalized car mats make great gifts for Valentine's Day, and we can make custom-fit floor mats for all makes and models. You can even personalize a trunk mat or cargo mat with a custom message or monogram. All mats are made and shipped within two business days.
Even if you aren't interesting in giving the gift of car floor mats, you can still take advantage of free ground shipping if you order before the holiday is over. Speaking of the holiday, check out the 10 Valentine's Day gift giving facts below.
1. Average spend: $142.31
Cupid is being generous this year, as the average person celebrating Valentine's Day in 2015 is expected to spend about $141.31, according to the National Retail Federation's Valentine's Day Consumer Spending Survey conducted by Prosper Insights and Analytics. They also found that men will spend nearly double what women will spend on Valentine's Day this year.
Click here to read more.
That's a a lot of candy, jewelry, and flowers. For less you could get your Valentine a one-of-a-kind set of custom designed car floor mats that will last longer than flowers or candy. Designing a personalized gift shows someone you took the time to think about their tastes and style.
2. Second most popular holiday for cards
According to the Greeting Card Association, about 190 million Valentine's Day cards are exchanged annually, making Valentine's Day the second most popular greeting card–giving occasion, after Christmas. Hallmark alone makes about 1,400 different Valentine's Day cards.
Most cards are given along with candy and flowers, but gift certificates make great Valentine's Day gifts too. If you give a GG Bailey gift certificate, your Valentine can visit our site and design their own custom car floor mats, ensuring they get the perfect fit for their vehicle and the style and design they will love. Our gift certificates do not expire and can be used at any time for anything on our website
3. Men give flowers
Men account for a full 73 percent of Valentine's Day flower sales, and it should come as no surprise that roses are the best seller. The rose was thought to be the favorite flower of the Roman goddess, who was the goddess of love, and the flower has since been a symbol of strong romantic feelings.
About 225 million roses will be given for the holiday in 2015, and spending on all flowers for Valentine's Day is expected to exceed $2.1 billion this year.
4. 25 percent will shop online
One-quarter (25.1 percent) of people surveyed say they will shop online this year, and about 40 percent said they will use their smartphones to look for ideas. In 2014, about 24 percent of Valentine's Day shoppers used their smartphones.
We're big fans of online shopping because it's the easiest and best way to find custom designed gifts for any occasion.
5. So much candy
Of the people surveyed, 53.2 percent plan to buy something sweet for Valentine's Day this year, spending about $1.7 billion on candy alone. That works out to about $22 per person. According to the National Confectioners Association, about eight billion candy hearts were made in 2009, and that was five years ago!
Interesting side note: The first Valentine's Day box of chocolates was introduced by Richard Cadbury in 1868. Cadbury, of course, has remained a hot name in Valentine's Day chocolate ever since.
6. Gifts for co-workers on the rise
Spending on Valentine's Day gifts for co-workers took a big jump in 2014, with Americans spending an average of $53.68 on their colleagues last year. That number was up from $38.63 in 2013.
See the numbers for more years here.
If you are thinking about giving a co-worker a gift, our car accessories and home sections have reasonably priced items that will prove useful for a long time to come. From sheepskin seat covers and cushions to home mats made from our luxury weight woven carpet, a gift from GG Bailey would add style and comfort to your co-worker's life.
7. Gifts for spouse or significant other
Of those spending money on Valentine's Day gifts, 89 percent will be buying something for their spouse or significant other. A little more than 31 percent will be spending on plans for a night out on the town, including dinner and movies, for a total of about $3.6 billion.
We've noticed that people who buy custom fit car floor mats as Valentine's Day gifts are most often buying for their spouse or significant other, and it shows the recipient that the gift giver took the time to think about gift.
8. Kids, other family members
The second largest group of giftees are kids and other members of the family. About 61 percent of the people surveyed said they intended to buy a Valentine's Day gift for their children or someone else they are related too.
Additionally, 21 percent of spenders say they will be buying cards and maybe candy for their child's classmates and teachers.
9. Gifts for pets too
Americans spent about $815 million on Valentine's Day gifts for their pets in 2013, and that trend is expected to rise this year, according to the National Retail Federation. From heart shaped dog treats to clothing and toys, there is no shortage of ideas.
May we suggest something from our pet section? We have three shapes and sizes available, and each mat is made from the high quality woven carpet from our Car Couture line. There are a variety of styles available to suit your taste -- or your pet's taste.
10. Don't forget jewelry
About one in five people surveyed (21.1 percent) said they plan to buy jewelry for Valentine's Day, to the tune of $4.8 billion. Those numbers are up significantly from just three years ago when 17.3 percent said they would buy jewelry at a cost of $3.5 billion.
*Free ground shipping offer includes contiguous U.S. addresses only.