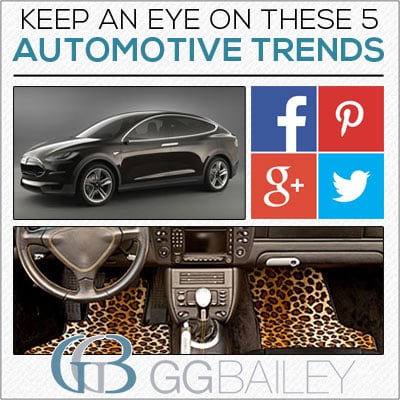 Because we make custom fit, custom designed car floor mats for all makes and models, we at GG Bailey like to keep an eye on the automotive marketplace.
Now that we are a couple weeks into the new year, and with the first major auto show of the year underway in Detroit, now is a good time to look ahead and see what trends will be important in 2015.
And remember, if you buy a new car this year or simply want to make some upgrades to your current ride, personalized car mats from GG Bailey add a touch of luxury and style to any vehicle.
And whether you want to custom design your own set of floor mats with our Design Your Car Mats™ tool or pick one of the patterns from our luxury quality Car Couture™ line, we have something that will fit any style.
1. More online car shopping
Most people already get most of their vehicle information online, but in 2015 you'll be able to complete an entire car purchase on the web. After getting a price, you will be able to finish the whole transaction online, including your financing and trade-in.
You can already get auto financing from online lenders, and dealerships will follow suit or partner up this year. Same goes for your trade-in, you can already go to AutoTrader and get a free online appraisal valid for 72 hours, and a service like this will be offered at the point of sale through local dealerships.
In some cases (if you don't have a trade-in) you won't even have to visit a dealership to pick-up your car. You'll be able to sign everything on line and the car will be delivered to you.
2. Social media gains importance
Post purchase feedback will become much more social. After a sale, car dealers are currently rated through a CSI survey or WSI survey where feedback can be directly tied to their bonuses. In 2015, we will see more surveys and ratings like these shift into social media to take advantage of the marketing element.
Dealers have always pushed for positive feedback, but when results are public, they may even try things like offering a free oil change in exchange for "liking" a dealership or posting survey results on your Facebook wall after you buy a car.
Have we mentioned GG Bailey is on Facebook, Google+, Twitter, and Pinterest?
3. More vehicle personalization
Now more than ever, shoppers demand customized and personalized options for just about everything, and that is true in the automotive market too. It used to be enough to be able to choose your vehicle's color and trim package, but nowadays car makers offer a wealth of options to choose from so that your vehicle is truly unique.
Buyers can now pick from multiple engine and transmission options, wheel size and styles, trim packages, technology packages, sound systems, body add-ons, and more, and that's just from the dealership. The business of car customization is a huge one, and it looks to continue to grow in 2014.
We're excited about this, of course, because at GGBailey.com we make custom-fit car floor mats that you design yourself. There are only four steps to design a set of personalized floor mats but thousands of possible design combinations. You pick from one of 10 carpet colors, choose one of 41 edging options, then pick an optional heelpad shape and color, and then personalize it.
You can add an embroidered name, or message of up to 10 characters (including spaces), or add a monogram or initials. We have two font styles available -- block text or script -- and 18 color choices. If you prefer an embroidered image instead of custom text or a personalized monogram, we also have 16 logos to choose from. Click here to see more details and examples for each step.
Every set of designed mats is one-of-a-kind, and we can make custom-fit floor mats for all makes and models. You can even personalize a cargo or trunk mat with a custom message or monogram! All of our mats are made and shipped within two business days, so you won't have to wait long to get your custom floor mats. Design Your Car Mats™ to get started.
Another stylish option, our Car Couture™ floor mats are perfect for anyone who likes patterns. Our luxury quality, woven patterns include: zebra, leopard, camouflage, plaid, oriental floor mats, and more. We have 10 patterns to choose from and every order is custom made to custom fit the vehicle perfectly.
If you choose Car Couture™ floor mats, then you should know we also make Car Pet Mats in the same patterns. Available in two sizes and same 10 patterns, our Pet Car Mats give your pet a cushy seat that protects vehicle seats in style from dirt, debris, and claws in style.
4. More technology
A lot of vehicles produced in 2015 will have more technology than ever before, including autonomous parking and Wi-Fi hotspots.
Thanks to cameras and sensors, some vehicles can steer themselves into a parallel or perpendicular parking space while the driver operates the transmission and the foot pedals.The new 2015 Lincoln MKC crossover SUV can extract itself from a space, which is helpful if you return to the SUV and other vehicles are sandwiched tight to the MKC's bumpers.
Audi, BMW, Chrysler, Mercedes-Benz, and other automakers have started offering Internet access in selected models, but General Motors has effectively raced ahead with the technology for 2015. For the upcoming model year, nearly all of its cars, trucks, and SUVs will be equipped with the latest OnStar services technology, which includes a 4G LTE Wi-Fi Internet connection.
5. More fuel efficient vehicles
Even with falling gas prices, carmakers are experimenting with new powertrain technologies to meet tough new laws on fuel economy. Honda will show a new FCV fuel-cell concept at the Detroit Auto Show this week, while Toyota will start selling its Mirai fuel cell vehicle in California in the fall.
Tesla aims to release another all electric vehicle this year. The Model X is one of 10 vehicles we're excited about in 2015.
Meanwhile Chevrolet has introduced the Bolt EV concept and has extended the range of the electric motor in the Volt. The 2016 Volt has a 50-mile range on the electric motor and gets 41 miles per gallon from the gas motor. Chevy claims the Bolt EV will get upward of 200 miles on a total electric motor.
What trends are you excited about in 2015?