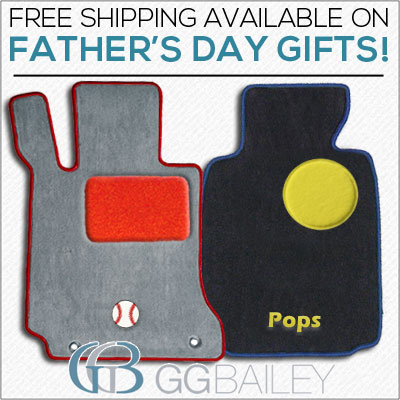 We have been offering free ground shipping* for Father's Day for a few weeks now, but you still have time to order free custom car floor mats, have them shipped for free, and get them on time depending on where you live.
FedEx Ground service from Northwest Georgia takes 2-3 days for delivery for most of the country, four days to the Western states, and five days in a few places. You can use this map to determine how long a shipment from GGBailey.com should take to your location.
Free shipping will continue through Father's Day next week, but we also have FedEx Two Day shipping, and FedEx Standard Overnight available, if you want to be extra sure your custom car mats arrive on or before June 20.
Our custom car floor mats make great gifts for Father's Day. And whether you want to custom design your own set of floor mats with our Design Your Car Mats™ tool or pick one of the patterns from our luxury quality Car Couture™ line, we have something that will make your dad happy.
We also have home mats, pet mats, and car accessories that can be shipped quickly and at lower costs the same day you order. All of the items in those sections make for great last-minute gift ideas.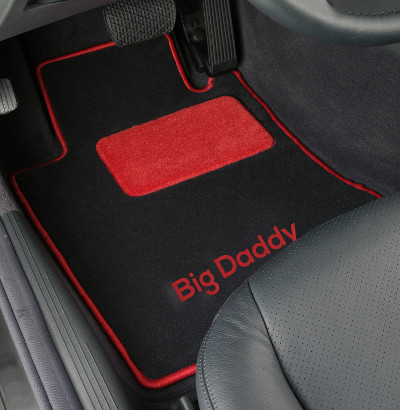 There are only four steps to design a set of personalized car floor mats but thousands of possible design combinations. You start by picking one of 11 carpet colors, then you choose one of 41 edging options, add a heelpad by picking the shape and color, and then personalize the front mats with embroidery. You can add an embroidered name or message of up to 10 characters (including spaces) or choose a monogram or initials. We have two font styles available -- block text or script -- and 18 color choices. If you prefer an embroidered image instead of custom text or a personalized monogram, we also have 16 logos to choose from. Click here to see more details for each step.
Our Car Couture™ section features nine luxury carpet options, from animal inspired patterns to a pair of oriental options, with a few others in between. These are heavy weight, woven carpets, not printed, which means the designs won't fade. Printed designs merely sit on top of the carpet and will fade or disappear entirely as time goes on. On the other hand, woven designs like ours permeate the entire carpet.
Gift Certificates available too
If you are worried about getting your custom car floor mat on time, or if you don't know all the details about the vehicle, we also offer gift certificates.
Our gift certificates are available in various amounts that can be used on anything we sell.
If you give a gift certificate, your loved one can visit our site and design their own custom floor mat, ensuring they get the perfect fit and style for their vehicle. Our gift certificates start at $50 and there is no limit to the number you can purchase. They do not expire and can be used at any time for anything on our website.
*Free shipping good for the contiguous U.S. only.