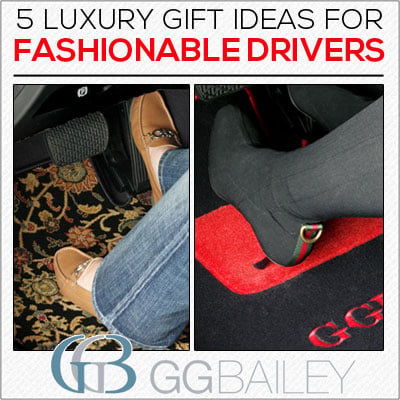 At GGBailey.com, we make custom designed, personalized car floor mats to be a fashionable accessory for your vehicle, so if you are looking for stylish gift ideas to give the fashionable driver in your life, then we have a great list for you.
Our Design Your Car Mats™ section is the only place where you can custom design all the elements that comprize your car floor mat to match your personal style, then add a custom embroidered message, initials, or monogram to complete the look.
But if you prefer a stylish oriental, plaid, or animal pattern, the luxury woven car mats from our Car Couture™ line are perfectly suited for your fashion sense.
Both styles make great gift ideas, but we're going to focus on the Couture side of things for our luxury gift ideas list. Scroll on down for five ideas that would perfectly please the fashionable driver in your life.
If you decide to shop GGBailey.com for your holiday gifts, then keep in mind that we are offering FREE ground shipping* on all orders during the holidays. So if you buy anything on our website you get free shipping. Not only is GGBailey.com the only place on the internet where you can custom design and personalize your car floor mats, but we can make custom-fit floor mats for all makes and models.
We process our custom car mats orders in about two business days, and free shipping is provided via FedEx ground service. Click here to see the FedEx Ground delivery schedule so you can be sure you place your order in time.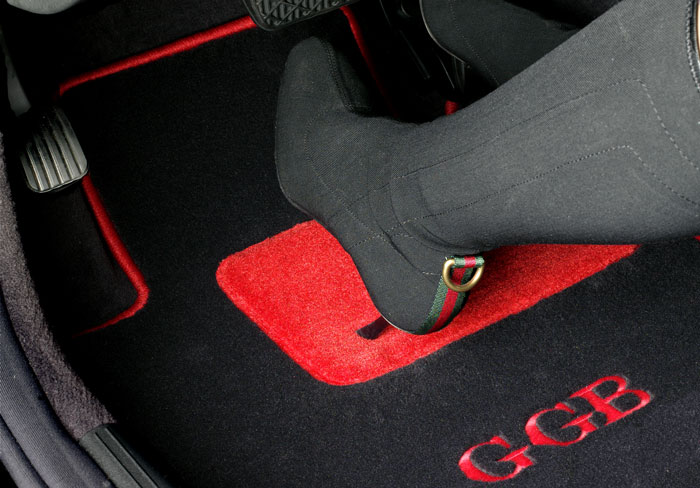 1. Car Couture car mats
If someone on your holiday gift list loves fashion and their vehicle, then our custom designed car floor mats make the perfect gift. Our Car Couture™ section features nine luxury carpet options, from animal inspired patterns to a pair of oriental options, with a few others in between.
These are woven carpets, not printed, which means the designs won't fade. Printed designs merely sit on top of the carpet and will fade or disappear entirely as time goes on. On the other hand, woven designs like ours permeate the entire carpet. Each design comes with a matched serged edge and specially engineered foam backing to prevent mat movement.
If you want leopard or zebra car floor mats, we are your source. We also have black oriental, red oriental, beige plaid, beige chariot, camouflage, and our subtle style two-tone carpets in grey and beige with which to make your luxury floor mats. The choice is yours!
We work with the best carpet makers in the world to design our own carpets, ensuring a top quality product that will last. Every mat features an exclusive foam backing and grommet holes that work with your vehicle's existing locking system, or for those vehicle that do not have a locking system, we including our exclusive Mat Loc Clips™, which allow you to secure the mats in place.
We also have sheepskin care accessories -- like SeatVests, cushions, and washmitts -- in our Car Accessories section. Our thick, deep Sheepskin pile provides natural springy comfort allowing air flow, making seating cool in summer and warm in winter. The patented trim cut allows your seat to show, which pleasantly accents your leather or fabric seats.
And remember, all orders are shipped for free during the holiday season.
2. Driving shoes, gloves
The idea of driving shoes was first introduced by an Italian company in 1963. The thought was that gentlemen would put on the flexible leather shoes while driving so as to not wear out the soles of their nicer shoes. The driving shoe later morphed into a leather moccasin with little rubber pebbles on the bottom, which made the shoe flexible and allowed for a solid grip on the pedals.
Today the driver shoe is as much about fashion and style as it is about function, representing a bold fashion sense that harkens to a different era.
Zappos.com offers a diverse selection of men's and women's driving shoes in leather and suede and in a variety of colors and styles. You can shop for a gift by size, brand, color, material, or a long list of other factors. The site offers free shipping, and perhaps more importantly, free returns should the fit not be perfect.
If you want to give driving gloves to match, Suixtil, which has several collections of auto racing inspired clothing, makes two types of driving gloves: the leather Endurance Race Gloves and the leather, knit, and suede Grand Prix Race Gloves. Inspired by classic auto racing, both styles are exceeding stylish and highly functional.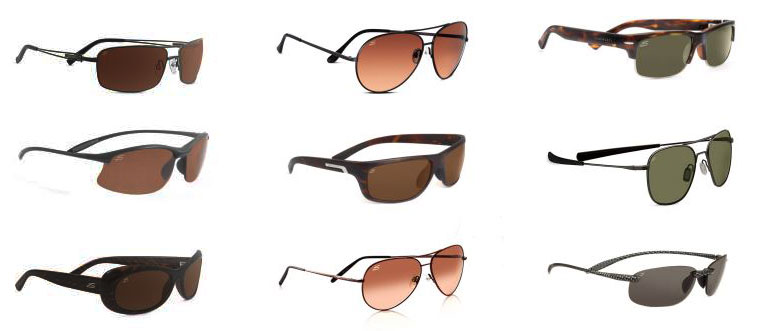 3. Driving sunglasses

Driving sunglasses serve two important functions -- allowing you to safely see the road in bright conditions, and allowing you to look stylish while do so. Many drivers do not realise it, but some styles of sunglasses are unsuitable for wear while behind the wheel of a vehicle. Some sunglasses may not allow enough light to enter the eyes, impairing visibility, while others may have a certain lens color which negatively impacts the spectrum, and contrast, of colors distinguishable for a driver.

The best thing to consider is buying sunglasses that are specifically designed for use on the road. This means the lenses will usually be black or brown or yellow,and designed with special filaments that absorb blue light to help reduce glare.

Serengeti makes a line of top quality driving glasses, and FramesDirect.com offers dozens on their styles in a varity of colors.
4. Seat protection
If your fashionable driver is also a pet owner, then they would certainly enjoy a GG Bailey Pet Car Mat. Available in two sizes and 10 patterns, our Pet Car Mats give your pooch a cushy seat that protects vehicle interiors from dirty paws and debris in style.
Made from the same carpets as our Car Couture™ line, the pet car mat can be matched to a set of custom-fit, luxury floor mats or purchased as a stand alone item. Choose any of the 10 designs of luxury-weight, stain-resistant carpets. For a bold look, our woven polyurethane carpets come in both traditional and contemporary designs. Our Subtle Style carpet, available in beige or grey, is specially made with high-quality nylon yarn that is cut to create a simple and elegant two-tone texture. All our mats are made with the best materials to resist stains
We also have pet placemats available in the same patterns.
5. Gift certificates
Show the fashionable driver that you care about their style by giving them the gift of a GG Bailey gift certificate so they can design their own custom car floor mats? We offer gift certificates of various amounts that can be used on anything we sell.
If you give a gift certificate, your loved one can visit our site and design their own custom floor mat, ensuring they get the perfect fit and style for their vehicle. Our gift certificates start at $50 and there is no limit to the number you can purchase. They do not expire and can be used at any time for anything on our website.
That completes our five gift ideas for the fashionable driver. Comment below to let us know what you think or to share you own. And don't forget, we have FREE ground shipping* on all orders for the holiday season!
*Free ground shipping offer includes contiguous U.S. addresses only.