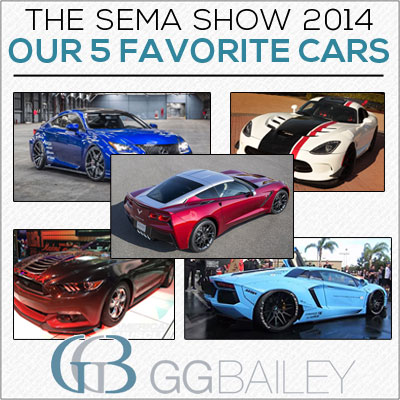 The Specialty Equipment Market Association Show is best known for the wildly engineered cars put on display during the industry-only event, and SEMA 2014 was no different.
Tuners from around the world paired with automakers to churn out custom cars with mind-bending performance figures and eye-popping looks. Fans of automotive tuning can find everything from 1,000+ horsepower muscle cars to retro-inspired takes on modern models.
With the showed wrapped up, GG Bailey has picked our five favorite cars from the 2014 SEMA Show. These are cars we'd love to put our custom fit, custom designed car floor mats in.
Remember, we can make custom car mats for all makes and models, but if you have a brand new or unique vehicle you don't see listed in our drop down menus, you can use the form on this page to request a pattern for mats that will fit your car perfectly.
Visit our Design Your Car Mats™ page to begin designing your own custom floor mat, or check out the options in our Car Couture™ line if you prefer a patterned design.
Keep reading below to see which five vehicles we picked as our favorites from The SEMA Show 2014.
2015 Chevrolet Corvette Stingray concept
Designed by Paul Stanley of the band KISS, this 2015 Chevrolet Corvette Stingray concept was met with a mixed reception. Some weren't sure what to think about it, while others loved it. We fall into the latter group.
The silver paint on the Chevrolet's roof extends to a portion of the rear hatch panel and contrasts nicely with the Candy Red paint. Inside, quilted leather and dark red accent stitching make the cabin look upscale, and don't feel out of place with the rest of the Corvette's vastly improved-for-this-generation interior.
This unique 2015 Corvette Stingray coupe wasn't as heavily modified as some other Corvettes at the show, but the fact that it was tied to someone as famous as the lead guitarist of KISS makes it a star attraction at the 2014 SEMA Show.
We at GG Bailey are big fans of the Corvette Stingray, because our parent company -- Racemark International -- makes the car mats for the vehicle. At GG Bailey, we offer the same high quality products offered to the best automakers in the world, so you can trust you are getting the best when you get our custom car mats.
Lexus RC F by Gordon Ting
There were just a handful of Lexus RC F coupes at this year's SEMA show, but expect that to change next year as the sporty two-doors become more widely available. This, the RC F by Gordon Ting and Beyond Marketing looks great with its sharp blue paint and custom body kit. You can see all the specs here.
Highlights include a carbon fiber front splitter and carbon fiber side diffusers. The model also has a coilover suspension, Brembo brakes and 20-inch alloy wheels with Yokohama Advan Sport tires.
Under the hood, the 5.0-liter V8 engine has been equipped with a high-performance air intake, a sports exhaust system and a Nitrous Express 100-shot wet nitrous system. There's no word on how much power is added but the standard model produces 467 bhp (348 kW) and 389 lb-ft (526 Nm) of torque.
The Mustang King Cobra
Ford Racing debuted the King Cobra -- the name originated on a special edition of the 1978 Mustang II -- to wild enthusiasm in person. Online, the giant cobra on the hood and scaly snakeskin wrap drew barbs from some writers. Either way, it's got that wow factor. Custom designed black carpet car mats with red edging and red embroidery would only add to the look.
The car is powered by a supercharged 5.0 engine producing 625 hp. This one-off concept is a showcase for Ford Racing's first performance packages available for the 2015 Mustang. It is equipped with Ford Racing's "Drag Pack," "Handling Pack," and "Super Pack" supercharger kit that helps the King Cobra produce the 600+ horsepower.
All the parts are bolt-on from Ford Racing's bin: There's the FR2 Drag Pack on the chassis, the FR3 Handling Pack, heavy-duty half-shafts, bushing kits, six-piston caliper brakes, anti-roll bars, dampers, springs, and Recaro seats. All of it adds up to a sub-11-second quarter mile.
Lamborghini Aventador Widebody
Liberty Walk has finally whisked the wraps off its widebody Aventador at SEMA 2014, wearing a gorgeous baby blue paint job. The impressive ride has been caught on camera while revving its engine and shooting flames through its exhaust.
The Lamborghini Aventador, customized by Liberty Walk, received a wide body kit which has added features such as the large rear wing, the new front bumper with front canard, the side diffuser and several other tweaks.
Besides the visual tweaks, the Lamborghini Aventador Liberty Walk has also received the lowered sports suspension system and the modified exhaust helps the Bull's V12 deliver a brutal soundtrack and spit out some flames.
Dodge Viper ACR
The Dodge Viper ACR Concept is a track car and, as such, has been stripped-out and been put through a weight-loss program. After all, ACR stands for American Racing Club.
Unnecessary equipment was ditched and that even includes the sound deadening, while on the outside the ACR gets a massive rear wing, carbon fiber front splitter, mean black painted 19-inch alloys and 15.4-inch carbon ceramic brakes and six-pot Brembo calipers. Painted in white with a red-edged black stripe up the center of the car, the ACR was one of the more "subtle" cars on display at SEMA 2014. A new ACR sill badge and a Stryker nose badge identified the Dodge Viper ACR Concept.
The ACR Concept's aerodynamic modifications were determined largely by hours of wind-tunnel development. The result, says Dodge, is optimal downforce generation on the track for more planted handling at high speeds. Rumor has it Dodge will make this version available for purchase next year.