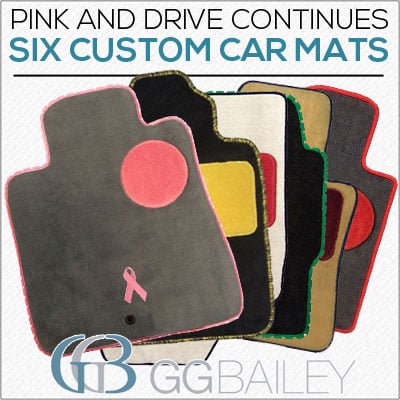 Our Pink and Drive event, which raises money for the Breast Cancer Research Foundation, continues through the end of the month, and you can get involved by custom designing your own car floor mats using any of our pink options.
All throughout the month of October, whenever you order a set of our custom car mats with a pink ribbon logo, pink carpet, one of three pink edging options, a pink heelpad, pink embroidery or monogram, pink ribbon home mat, or pink ribbon pet placemat, GG Bailey will donate 10 percent of the sales price to The Breast Cancer Research Foundation. And you also get free ground shipping*!
There are only four steps to custom design your own car floor mat when you use our Design Your Car Mats™ tool. You start by picking your carpet from one of 11 color choices. Next you pick an edging style and color from more than 40 different options. Then you can choose to add an optional heelpad in one of two shapes and 19 different colors. Lastly, you can personalize your car floor mat with an embroidered name, monogram, message, or a logo. There are 18 colors to choose from and you can pick any combination of letters, numbers, or symbols up to 10 characters long.
And remember, during the month of October, if you choose to use pink in your design, we will donate 10 percent of your total to the Breast Cancer Research Foundation. According to BreastCancer.org, about one in every eight women in the United States will develop invasive breast cancer during their life, which is why research, and funding for such research, is so important.
We make custom fit car floor mats for all makes and models, including brand new and rare vehicles. If you have a vehicle you don't see listed yet in our drop down menus, use this form to request a custom pattern to fit your car.
Check out the six recent designs below to see how other fans of GGBailey.com have recently designed their custom car mats.
Pink Ribbon car mat
This car floor mat was designed early during our Pink and Drive event. The designer picked our grey carpet and wrapped it with a pink and white polka dot ribbon binding edge. Both are popular choices. The finishing touchs were a round pink heelpad and a Pink Ribbon logo.
All of our carpets options, including our pink carpet, are made of the highest quality material available. Each choice has a European velour look and is made of the strongest, most durable and trouble-free carpet fibers available. At GG Bailey, we design our own carpet, working with the top yarn suppliers in the world. Our company produced the first European velour car floor mats in the United States, and our mats have become the standard in the world's most elegant vehicles. All of our car floor mats are made with superior stain resistance and backing to prevent mat movement.
While this custom mat has three different pink elements -- the edging, the heelpad, and the Pink Ribbon logo -- only one item is required for the design to become part of our Pink and Drive event. So add a bit of pink when you Design Your Car Mats™ to get involved.
Black and yellow car mats
This particular car floor mat design began with black carpet, followed by the yellow and black edging. Next came a yellow rectangle heelpad and then a yellow monogram in our script font.
The second step when you custom design your own car floor mats is to pick an edging. The person who designed this personalized car mat picked the yellow and black serging option, which blends two colors into one sewn edge. This two-tone option is also available in red and black.
Serging is a stitched edge and we have 21 serging colors available for your mats. Binding is a smooth fabric or ribbon edge. Serging appears thicker when finished and offers more color choices, including the two-tone options, but the bindings have a smoother appearance and are popular too. There are three different varieties of binding: the solid color bindings, of which there are nine colors available; the Saratoga bindings, which include polka dot and striped options; and the LA bindings, which include reflective and camo options.
You can learn more about the edging options by clicking here.
Dark grey and red car mat
This custom car mat represents one of our most popular combinations of design elements. After picking our dark grey carpet, this customer choose red for everything else -- red and yellow are two of our most popular colors.
The third Design Your Car Mats™ step is to pick a heelpad, and the person who designed this floor mat picked a red round heelpad.
Adding an optional heelpad is the best way to protect your custom floor mat because a heelpad is an extra thick carpeted pad that goes under the heel area on the driver's mat. All of our heelpads are applied with a special finished edge. They come in two different shapes -- rectangular or round -- and both shapes are available in 19 colors.
All GG Bailey carpets are engineered to be tough and durable, but by picking a heelpad you will help ensure your personalized floor mats will last much longer and look much better for the life of the mat. You can learn more about our heelpads and why they are important in this blog post.
To finish this dark grey and red design, the customer selected a red block embroidery and entered the name Paige. You can have any name, monogram, or message embroidered up to 10 characters.
Monogrammed car floor mat
The custom floor mat was designed using a unique combination of options. The customer began by choosing the cream carpet, a light tone good for lightly color car interiors. The next choice was a black binding edge. You might notice the bound edge is somewhat thinner than the red serged edge of the mat above.
Next, a red rectangle heelpad was added to enhance the protection and add some color. Lastly, this designer chose a monogram for their car mat by selecting red, then monogram script and entering the initials RBS. Because it is a monogram, we moved the last letter to the middle and made it larger than the other two.
With the black and yellow cat mats above, the designer entered the initials DLJ to achieve the proper monogram look. If you prefer the initals to be the same size and in the natural order, simply make your font selection without including the monogram tag.
We also have a new single letter monogram you might be interest in. All embroidery selections are stitched directly into the carpet for a high quality finished look. You have 18 colors to pick from, so you can match it to your other elements or go with something that contrasts. The choice is yours when you Design Your Car Mats™.
His and Her car mats
When you add embroidery to your custom designed car floor mats, GG Bailey allows you to personalize each of the two front mats. So, if you prefer to have different names, initials, monograms, or messages on each side, you can do so.
In this example the customer decided to have HIS and HERS added to the driver and passenger mat, respectively.
The design began when the customer picked our camel carpet, then chose a black bound edge. Next came the rectangle heelpad in burgundy, followed by the burgundy embroidery selection. This is our block font, and this person decided to enter HIS for the driver mat and HERS for the passenger mat.
Green and silver elements
This fun car floor mat features some unique choices. This design began with a black carpet and the green and white polka dot ribbon binding edge. The designer decided to skip the additional protection of a heelpad, but did opt for an embroidered monogram to add some extra personalization.
This monogram was done with our silver thread, which is a bright and fun option that pops against the black carpet.
You might have noticed how differently shaped all of our car floor mats are in this post. That is because we custom make all of our mats to fit your vehicle perfectly. We have designs for almost all years, makes, and models, but we can custom make a pattern for any vehicle we don't already have.
Design Your Car Mats™ today to take advantage of free ground shipping* and add a pink element to your custom design to have 10 percent of your purchase price be dontated to the Breast Cancer Research Foundation.
*Free ground shipping good for the contiguous U.S. only.