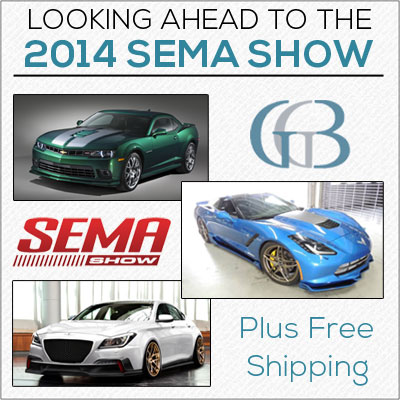 The annual custom auto show that is the Specialty Equipment Market Association Show in Las Vegas starts Nov. 4 and for the first time ever, media attending the SEMA Show can get a head start on their coverage before the show's official opening.
At the SEMA Light-Truck Accessory Alliance (LTAA) Media Preview registered and credentialed journalists can avoid the rush of 60,000 buyers to get a sneak peek at some of the newest parts and accessories for the truck & SUV segment of the automotive aftermarket, including those for the very popular and newly redesigned 2015 Ford F-150 pickup and Chevy Tahoe and GMC Yukon SUVs.
A limited number of LTAA manufacturers will have their new products on display and representatives will be available for interviews from 1:00-5:00 P.M. PST on Monday, November 3 in the SEMA Show Media Center located in room N110 of the Las Vegas Convention Center.
The 2014 SEMA Show, which is not open to the public, is set to take place Tuesday-Friday, Nov.4-7, in Las Vegas, Nevada. The annual trade show is where manufacturers of automotive parts and accessories gather to connect with buyers from all over the world.
Read below for
Because GG Bailey makes custom fit, custom design car floor mats for all makes and models, we like to keep an eye on all the major auto shows to see what trends are emerging. Our Pink and Drive event continues all through the month of October. When you custom design your car mats using pink carpet, a pink ribbon logo, or any other pink element, we will dontate 10 percent of the purchase to the Breast Cancer Research Foundation. We are also offering free ground shipping* right now, so you can get your car mats delivered for free.
Below are a few other things we're looking forward to at the SEMA Show.
Special Edition Camaro SS
Chevrolet has announced it will debut a special edition Camaro SS during the SEMA Show. They released photos and details ahead of the show.
The special edition Chevrolet Camaro SS will be available as both a coupe and a convertible and is finished in a unique color called Emerald Green Metallic. The paint scheme also includes silver racing stripes across the bonnet and rear decklid. Further differentiating this special Camaro SS from others are revised headlights, LED taillights as well as a tweaked upper front grille.
This edition of the Camaro SS will be powered by the same 6.2-litre naturally aspirated V8 engine as the typical Camaro SS. As a result, it delivers an equal 426 hp and 420 lb-ft of torque with the six-speed manual gearbox.
Chevy hasn't named the special edition yet, and the company is asking fans to submit ideas via Twitter and Facebook. The winning name will be revealed during the SEMA Show.
Hyundai's Monster Genesis
Hyundai has surprised and impressed SEMA attendees for a couple of years now, and this year the automaker aims to do so again with a 550-horsepower modified Genesis.
Tuned by ARK Performance Inc., Hyundai's SEMA vehicle is a supercharged Genesis sedan dubbed the AR550. Using the 2015 Genesis' 420-hp 5.0-liter V8 as a starting point, ARK has added a Rotrex supercharger kit, a race-spec driveshaft, a performance intake, and an upgraded engine management system to produce 550 horsepower.
The car's suspension and aesthetics have been heavily modified as well (the wide-bodied Genesis wears an AirRex air suspension system and lightweight forged wheels), but Hyundai paid special attention to the soundtrack of this car.
In addition to the Genesis AR550, fans should look out for the radical, 708-hp Hyundai Sonata crafted by Bisimoto Engineering. The Sonata may not have as much power as the 1000-hp Genesis from last year, but given that its 708 ponies have been extracted from a 2.4-liter Theta-II four-cylinder, its spec sheet is quite impressive.
Revorix Corvette Stingray
There is a new version of the Corvette Stingray heading to the 2014 SEMA show, dubbed the first Revorix Corvette Stingray, which is on its way courtesy of a newcomer to California that's planning on taking this year's SEMA by storm.
2014 will mark the first official outing of Revorix, which has been quiet about exactly what their own take on the vehicle will deliver, though from the images released it appears a ton of work has been done on the body. From the new rear wing to the diffuser to the side skirts to the grilled and so much more, it's a wall-to-wall overhaul that's hard not to be impressed by.
The tuner says they seek performance not through raw power, but rather lightness and agility, which is why they opted for these advanced wheels. That is also why the wheels are the only performance modification.
We at GG Bailey are big fans of the Corvette Stingray, because our parent company -- Racemark International -- makes the car mats for the vehicle. At GG Bailey, we offer the same high quality products offered to the best automakers in the world, so you can trust you are getting the best when you get our custom car mats.
And remember, we are offering free ground shipping right now on all orders.
We'll be posting more about the SEMA show next month, so stay tuned and let us know what you are looking forward to.
*Free shipping in contiguous U.S. only.