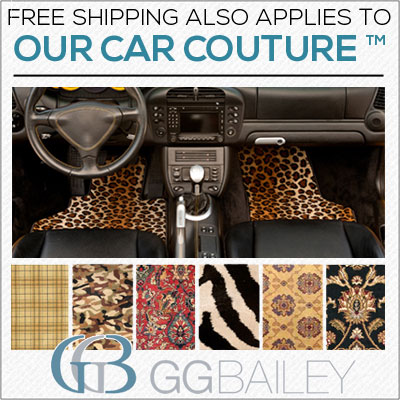 GG Bailey is known for two things: custom fit car floor mats you can design yourself, and our Car Couture™ line that features a range of high quality, woven carpet patterns.
And while our Pink and Drive event continues all month long for our Design Your Mats™ section, you can also get free shipping on our Car Couture™ car mats too.
Our current Car Couture™ options include leopard, zebra, camouflage, black oriental, red oriental, beige chariot, beige plaid, two-tone grey, and two-tone beige.
Our Car Couture™ carpets are different from our Design Your Mats™ offerings in a couple of ways, including density and design. Scroll down to read more about Car Couture.
If you prefer to custom design your own car floor mat, remember that our Pink and Drive event continues all month. During the month of October, any custom car mat order that includes a pink element will result in a contribution to The Breast Cancer Research Foundation. We also have home mats and pet mats that include the pink ribbon.
So, during the month of October, if your order includes a pink ribbon logo, pink carpet, one of three pink edging options, a pink heelpad, pink embroidery or monogram, pink ribbon home mat, or pink ribbon pet placemat, GG Bailey will donate 10 percent of the total price to benefit breast cancer research.
What is Car Couture?
GG Bailey's Car Couture™ section features nine luxury carpet options, from animal inspired patterns to a pair of oriental options, with a few others in between. Each of these design options are woven carpets, not printed, which means the designs won't fade or wear out. Printed designs merely sit on top of the carpet and will fade or disappear entirely as time goes on. On the other hand, woven designs like ours permeate the entire carpet and will last as long as the carpet does.
Other features include:
Elegant, luxurious heavy weight carpet
Woven carpets are 100% polypropylene fiber for superior stain resistance
Two-tone mats are produced from 100% nylon that meets factory specifications
Matching serged edge
Specially engineered backing to prevent mat movement
Ready to ship in two business days
As with our Design Your Mats™ option, we custom fit all our floor mats to your exact year, make, model and sub-model of vehicle. We can custom make car floor mats for all makes and models, but if you have a rare, unique, or brand new vehicle you don't see listed in the drop down menus yet, you can use this form to request a custom pattern.
At GG Bailey, we work with the best carpet makers in the world to design our own carpets, ensuring a top quality product that will last. Every mat features an exclusive foam backing and grommet holes that work with your vehicle's existing locking system, or for those vehicle that do not have a locking system, we including our exclusive Mat Loc Clips™, which allow you to secure the mats in place.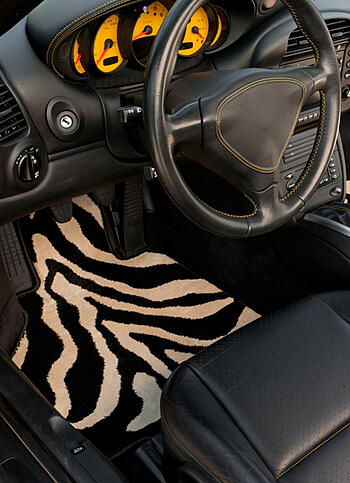 To get started, simply visit our Car Couture™ page and choose your year, make, model, and sub-model, then decide if you want a full set of floor mats, fronts only, or a trunk or cargo mat. Then choose the pattern you like best.
If you like the carpets of our Car Couture™ line, then you should know we also have Car Pet Mats, Home Mats, and Pet Placemats in the same carpets. You can coordinate your style in your vehicle and around your home!
To see samples of our Car Couture™ carpets in person, simply use this form to request a free swatch kit. We'll send you samples of all the carpets that we currently offer at no charge.