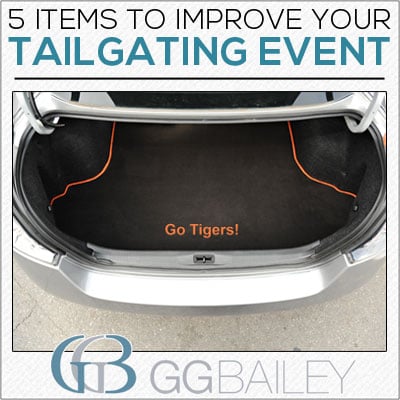 Are you ready for some football? We are! It's August, and that means football season is back.
The college season kicks off at the end of the month, and professional football pre-season action begins this weekend. Depending on your location, we're only a couple of weeks away from high school football action as well under the Friday night lights. For football fans, fall is the best time of year.
Speaking of fall, we've decided to celebrate the season with free ground shipping*! You can get free ground shipping on all orders, including our custom fit, custom designed car floor mats.
GG Bailey's U.S. headquarters in located in the Southeast, where football and tailgating are serious business and just as important as the game whether you are at the game in person or at home with family and friends. If you're in charge of the tailgate party, you just might have taken on a bigger responsibility than you know. Seasoned tailgaters always come prepared. There are a few basics of course, such as a hot grill, a cold drink, chairs, and music or pre-game commentary, but there are a lot of other ways to enhance your tailgate experience.
Because we make custom fit, custom designed car floor mats for all makes and models, as well as other car accessories, we'll leave the cooking tips up to other websites and focus on the gear you can get to make your tailgate something people will be talking about for seasons to come.
Below are five items you can add to your tailgate to class it up and make it an unforgettable experience.
Custom cargo mat
When you tailgate, you may not always have an actual tailgate. If you are working from the cargo area of an SUV or the trunk of a vehicle, one way to add some style to the tailgate is with a custom cargo or trunk mat from GGBailey.com.
Just like our floor mats, we make custom fit cargo mats and trunks mats that you can design yourself using our Design Your Mats™ tool. There are only three steps when you design a custom fit cargo or trunk mat, but there are thousands of design combinations so that you can create something truly unique. We have 11 carpet colors, more than 40 edging options, and 18 embroidery colors in two fonts. We also have a football logo you can add to your custom mat!
You can style your car mat any way you choose, including using team colors and mascot names or team slogans. Check out these samples we designed recently for five college football programs. Is there a more unique and creative way to add some team spirit to your tailgate than with a custom design cargo mat to match team colors?
If you prefer something a bit more upscale, our Car Couture™ line features ten different patterns of luxury weight carpet, including animal patterns, oriental, plaid, camo, and more. These are woven carpets, not printed, which means the designs won't fade. Printed designs merely sit on top of the carpet and will fade or disappear entirely as time goes on. On the other hand, woven designs like ours permeate the entire carpet.
Either way you go, a custom designed, custom fit trunk or cargo mat will add some style and class to your tailgate. And you can get free shipping right now!
Blacktop 360 Party Hub
Fans of this circular grill, griddle, deep fryer and warming plate say it is a must have and a real attention getter. Fueled by a one-pound propane canister, the Party Hub boasts 452 square inches of cooking space, independent temperature controls, a cutting board and carrying bag. This all-in-one cooking device is so popular that it is currently sold out on the official website, but a quick search on Amazon will allow you to find a few still available.
GoBar Portable Bar
You can play mixologist on the move with the Go Bar portable high-top bar, which sets up in 60 seconds and comes with a decorative gridiron skirt. The GoBar is an ultra-portable high top bar that is perfect for any event including tailgates, backyard parties and formal parties. The bar includes three interchangeable skirts (football, tiki and formal) so it will fit in at any occasion. The bar folds up and includes a carrying case for maximum portability.
Insta-bench
Never run out of seating again with the Insta-bench. This fold out bench can seat up to six adults and then collapse back into an easy-to-carry size. Touted as the perfect portable, affordable seating solution for sporting events, it folds out in seconds and will take up very little room when you are loading your vehicle in preparation for your tailgating event.
Meat Mark-It
We like to personalize things at GG Bailey, so we really like the novelty of the Meat Mark-It Personalized Steak Branding Iron. Using single letters that slide into a branding clip, you can create custom messages to brand onto your steaks, burger, hotdogs and more. Each letter is made of high-temperature aluminum, and the iron is comprised of a 16" long, flame-resistant cast-iron with a wood handle and leather hanging loop.
These are just a few ways you can add some style and fun to your tailgate. What is your go-to gear when you party for the pre-game?
*Free shipping offer good in the contiguous U.S. only.