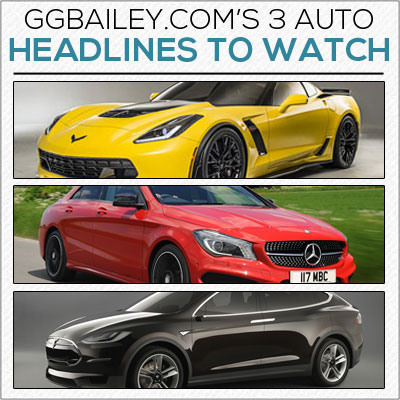 At GGBailey.com, we always follow the latest automotive news so that we know what is trending, what is coming, and what our customers are interested in.
We make custom fit, custom designed car floor mats for all makes and models, so it is important for us to know as much as possible about the automotive marketplace. Whether it is automakers announcing a new vehicle, a redesign, or a recall, the latest news about cars and trucks can always have an impact on customers.
Below we rounded up three recent headlines we think you might be interested in. Check out those topics and read why we are keeping an eye on the developing stories.
While you are on our site, you might want to check out the woven designs in our Car Couture™ line, or look at all the options available when you Design Your Car Mats™.
Our car mats are made to fit your year, make, and model perfectly, and our carpets are second to none. We make custom fit car floor mats for all makes and models, including brand new and rare vehicles. If you have a vehicle you don't see listed yet in our drop down menus, use this form to request a custom pattern to fit your car.
1. Tesla planning new models
Tesla, the fast growing brand responsible for the electric Model S sedan, is planning to roll out its second model in the lineup next year. The Model X crossover has already been delayed twice, but production is currently set to begin late this year. The new model will have "falcon wing" doors and be the first electric production vehicle with a dual-motor all-wheel-drive system.
But the Model X is just one of several vehicles on the Tesla slate. The Model III sedan, planned for 2017, is planned to be the size of a BMW 3 series and start at about $35,000. Tesla is preparing for the Model III by building a factory in Nevada that will be solar, wind, and geothermal powered.
Other models on Tesla's agenda include a Model III crossover, a roadster, and a maybe a pickup truck (though that one is much further down the line). Check out this post from AutoNews.com to read more about Tesla's future plans.
Tesla has been making waves for a few years now, changing the way people think about cars. The parent company of GG Bailey -- Racemark International -- is a leading producer of car floor mats and is proud to work with Tesla. The custom designed car floor mats you get from GGBailey.com carry that same level of quality that the top automakers in the world expect.
2. Corvette Stingray gets caught in recall
GM has been forced to press pause for the moment on the delivery of the new 2015 Corvette Stingray. The road-ready American supercar has been recalled for two problems.
Automotive News is reporting that GM is issuing these recalls to address problems with the Corvette Stingray's airbags and parking brake cables. All in all, 2,800 models are affected by these problems, but most of these models have yet to leave dealerships. These issues are why GM sent stop-delivery orders to dealers late last week.
The airbag recall, in particular, affects around 2,000 Corvettes, most of which are still in Chevy's plant in Kentucky. The problem centers on the driver-side airbag that could separate from the steering wheel in a crash, resulting in the potential injuries. An additional 800 2015 Corvette Stingray models have also been found to have defective parking brake cables that are not "fully seated and engaged" and could cause a significant drop in operational capability.
Both recalls have yet to be announced publicly because certain parts, especially for the airbags, are currently not available. GM CEO Mary Barra said recently that the automaker has completed a months-long comprehensive safety review, which has spurred a mass of recalls for her company.
These minor issues are not expected to dampen demand for the iconic vehicle. Like Tesla, GG Bailey has a connection to the Corvette Stingray, as our parent company, Racemark International, makes the cargo mat for the car, which features a large image of an actual stingray.
3. Mercedes-Benz increases CLA production
Mercedes-Benz is reacting to high demand for the popular CLA by increasing production and sending more of the entry-level sedan to the U.S. The initial U.S. allocation sold out, a good problem for the German automaker to have. AutoWeek.com reports executives say they sold twice as many vehicles as they planned for.
The new CLA four-door coupe has helped the German automaker grow unit sales of its compact vehicles by 29.1 percent this year. Mercedes has definitely hit the mark with the CLA-Class, especially with younger buyers here in the U.S. who are responding in a big way. That's exactly what Mercedes was hoping for when they designed the new luxury compact CLA. "This is our best launch in 20 years," Steve Cannon, head of Mercedes's U.S. sales, said.
Mercedes-Benz wouldn't say exactly how many more CLAs the company will be making, or how many of those will be bound for the U.S., but they did mention that disappointed customers who have sought out the CLA only to find it sold out have often upgraded to the C-Class anyway, so the company is still coming out on top.
Mercedes-Benz is another partner of Racemark International, so you can trust that the custom car mats you get from GGBailey.com are the best available. Visit our Car Couture™ section to browse the woven designs or Design Your Car Mats™ to get the custom look that will be perfect for your vehicle.