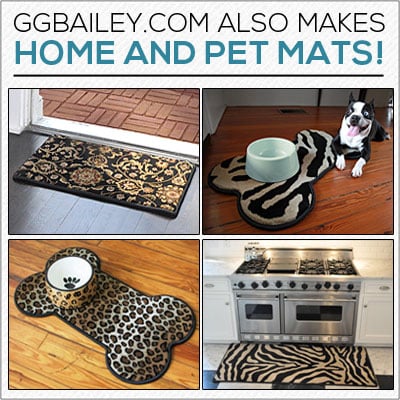 At GG Bailey, we are more than just custom fit car floor mats -- we also make home and pet mats using our woven Car Couture™ carpets.
In addition to sheepskin rugs, we have home carpet mats available in medium (30"x17"), large (48"x25"), extra large (57"x25"), and double door sizes (72"x32"). There's no need to sacrifice fashion for utility when you can get a GG Bailey mat that protects your floors in high-traffic areas while adding style that complements your fine decor. Whether the desired style is traditional, contemporary, or a little of both, you'll find the right fit among our 10 designs of Car Couture™ luxury-weight carpet.
The same patterns and carpets that we make our home mats with can also be used to make pet placemats. The rectangle pet placemats come in two sizes: small (10.5"x19") and medium (13"x24"), and we also have a dog bone shape with our Bone Pet Placemat (29"x17"). Our pet placements feature all the same benefits as our home mats and treat your four-legged friends to an upgrade in style.
Sisal!
Our new man-made Sisal home mats are made of luxury quality polpropylene that will resist signs of wear thanks to long lasting fibers. Polypropylene does not absorb moisture, meaning this mats are great for indoor or outdoor use, with no overhead covering required. The fibers are 100 percent UV stabilized, so you don't have to worry about the color fading, and the special rubber backing means the mats will stay in place while being safe in all weather conditions.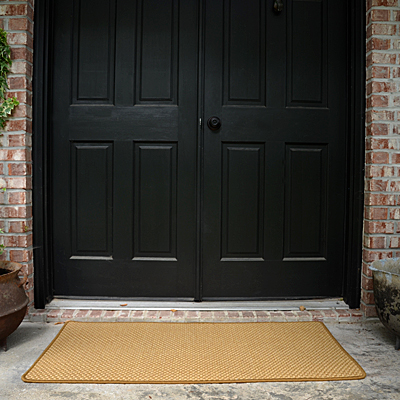 Other features of the new sisal material include:
Natural Look: The material has the natural look of sisal, but is man-made and more durable.

Anti-Static: Carpets made from polypropylene fibers are permanently anti-static. No more electric shocks.

Anti-Microbial: Carpets made from polypropylene fibers do not support the growth of mites or bacteria.

Non toxic and environmentally friendly: All fiber carpets are free of toxic elements. Because the color is added during production of the fiber, it eliminates the traditional use of large quantities of water for dyeing, contributing to the preservation and the quality of our water.
Our woven, strain resistant polyurethane carpets come in Beige Chariot, Topkapi, Red or Black Oriental, Beige Plaid, Camouflage, Leopard, and Zebra. Our Subtle Style carpet, available in beige and grey, is specially made with high-quality nylon yarn that is cut to create a simple and elegant two-tone pattern. See examples of all the patterns by clicking here.
And just like our custom designed, personalized car floor mats, we ship our home and pet products in two business days or less.
Why do I need a home mat?
There are two important ways you can care for the floors in your home: regular vacuuming, sweeping, and mopping, especially in high-traffic areas, and floor mats. Our home mats are made for the entrance and exits from your home for those areas of transitions from a hard surface to a carpeted area. You can also use them in places where you would prefer a plush surface underfoot, like in the bathroom or in the kitchen as chef's mat.
Home mats are important for keeping the outside dirt from tracking into your home. Mats should be placed at all entryways to be truly effective. The floor mat's main function is to remove the small particals of dirt as well as oils and other liquids that can be tracked from the outside.
Floor mats are also useful wherever there is a transition from a hard surface to a carpeted area. Locating home mats in these areas addresses two concerns. One is the difference in height between a carpeted area and hard surface. Typically, the carpet fibers are a little higher than the hard surface and as a result, feet scrape across the fibers creating excessive wear. The other consideration is oily and loose particles on the hard surface being carried onto the carpet fibers. This is especially important if the hard surface is the kitchen.
An internal mat, whether on the hard surface or the carpet, can minimize both concerns.
While the function of doormats and internal mats within the home is beneficial, they can sometimes create a conflict with the visual presentation and feel you want to achieve. But when you get your home mats from GGBailey.com, you can choose from 10 different high quality designs to ensure you get the perfect look.