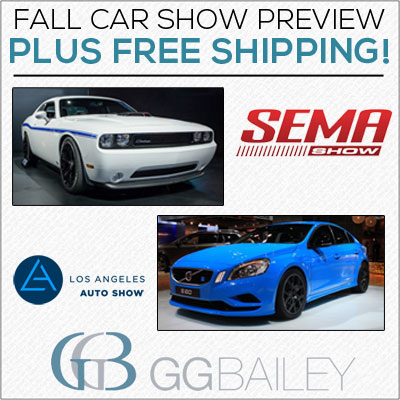 Going to car shows is a great way to learn about new vehicles, new technology in the automotive industry, and new trends in auto design. If you are in the market for a new car, there is always plenty of useful information about the newest makes and models at the big shows, and seeing so many different vehicles in one place can help you make up your mind.
If you can't make it to a show, you can always read the news and browse the photos that come from the events. Because we make custom car mats for all makes and models, we like to pay attention to the shows so we can stay on top of the latest trends and new vehicle announcements.
Most of the biggest U.S. auto shows are in the winter or spring, but there are two still on the calendar for the fall that will be fun to watch: The SEMA Show will be Nov. 4-7 in Los Vegas, and the Los Angeles Auto Show will be Nov. 21-30. Read more about the two shows below.
If you have already purchased a new vehicle, or would simply like to add some style and quality to your current car, GG Bailey car mats are the way to do so, and beginning today, you can have your custom fit mats shipped for FREE*.
So whether you to want to custom design your own floor mats using our Design Your Mats™ tool or pick one of our luxury patterns from our woven Car Couture™ line, you won't pay for shipping. Both options are made using the highest quality materials, and every order is made to custom fit the year, make, and model perfectly.
If you don't see your new car listed among our drop down menus, you can use this form to let us know what you drive and we'll create a custom pattern to fit your ride. If you are still in the market for a new car, the two car shows below might be a way for you to find the car of your dreams.
The SEMA Show
The SEMA Show is a trade show produced by the Specialty Equipment Market Association (SEMA), a nonprofit trade association founded in 1963. Since the first SEMA Show debuted in 1967, the annual event has served as the leading venue bringing together manufacturers and buyers within the automotive specialty equipment industry. Products featured at the SEMA Show include those that enhance the styling, functionality, comfort, convenience and safety of cars and trucks.
It takes place each year at the Las Vegas Convention Center. This is an industry show and is not open to the public. Split into 12 different sections, the show brings together more that 100,000 industry leaders from more than 100 countries. There are product demonstrations, educational seminars, networking opportunities and more.
Highlights from SEMA in 2013 included the debut of the 2014 Mopar Dodge Challenger, of which Dodge only made 100, and the Chevrolet SS performance sedan inspired by NASCAR's Jeff Gordon. More than 60,000 buyers attended the show last year, and more than 2,000 newly introduced parts, tools, and components were introduced during the new products showcase.
The Los Angeles Auto Show
The Los Angeles Auto Show was founded in 1907 and is one of the most influential and best-attended auto shows globally. The show's trade days (Press Days) draw more than 12,000 auto industry decision makers and influencers including 4,000 media from more than 50 countries. ANSA Productions recently launched the Connected Car Expo (CCE). CCE is a three-day trade show held in conjunction with Press Days that brings together the entire eco-system driving the convergence of technology and the automobile. Following Press Days, the show opens its doors to the public and hosts approximately 900,000 guests over the course of ten exciting days.
At this show, you can see many concept cars, hybrids, models that use alternative fuels, project cars and aftermarket cars. You can test drive many cars, play games and even see art exhibits on cars. There are sessions in which you can meet famous drag racers and other famous names from racing.This show has world premiers as well as North American premiers of new cars, so this will be a good place to see what new vehicles the automakers will be rolling out next year.
And remember, when you need custom car mats for your car, GG Bailey is your source. Order today to take advantage of free shipping*.
*Free shipping offer good in the contiguous U.S. only.