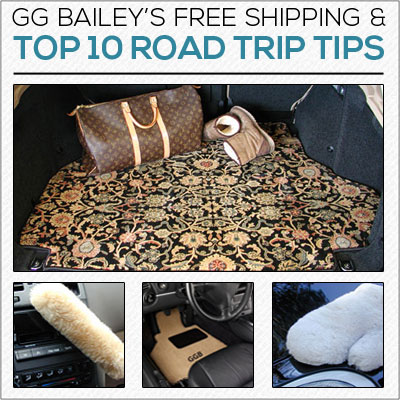 The summer travel season is officially under way now that the Fourth of July has come and gone. That means millions of drivers will be taking to the roads to drive to the beach, the lake, or visit family wherever they may be. Summer road trips can be fun, but they can also be stressful.
Your road trip this summer doesn't have to be a headache though. With a little bit of preparation and some planning ahead, GG Bailey can help make your travel experience a pleasant one. Scroll on down to read our 10 Road Trip Tips to see various simple things you can do to make sure everyone has a good time on your summer road trip.
Also, we have extended our Independence Day offering of free ground shipping* on all orders for one more week. So whether you want personalized car mats from our Design Your Mats™ section or one of the luxury quality, woven patterns of our Car Couture™ line, you won't have to pay for shipping.
All orders are custom fit and made to order, and we make car mats for all makes and models. If you have a brand new or unique vehicle that you don't see listed among our options, you can let us know by filling out this form.
Check out our road trip tips below and comment to share your own ideas.
1. Make your car road trip ready
With the heat of summer already settled in, there are a few steps you can take to make sure your car is ready for the road. There are five key things to look at, or to have someone look at for you, but you can read more about preparing your car for summer in this blog post:
Tires -- Check for uneven wear and make sure they are properly inflated -- including the spare.
Battery -- Make sure the terminals are corrosion free and the connections are tight.
Fluids -- Check the levels of the engine coolant, the oil, and transmission and brake fluid. Change or top off each fluid as needed per your owner's manual.
Belts -- Look for cracking or fraying and replace them if needed.
Brakes -- Rubbing or scrubbing noises are signs your brake pads need to be replaced, but even if you don't hear any noise, it is still a good idea to make sure they are at least 3 millimeters thick. Any thinner and they need to be replaced.
2. Clean your car
The best way to create a sense of driving peace is to get behind the wheel of a freshly cleaned car. This is one reason why you should consider making sure your interior and exterior are freshly cleaned. There are plenty of products out there for achieving this goal. But at GG Bailey we prefer to suggest a few products that will get the job done with luxury and style while protecting your surfaces as much as possible inside and out.
First, for the outside, our Sheepskin Washmitts, made of 100 percent Merino sheepskin, are soft enough to be ideal for dusting, polishing and washing your car without worrying about damaging the paint or finish. Available in black, grey and navy, our washmitts can be used both wet and dry and with any soap that is safe for vehicle paint. Simply rinse your mitt afterward and it will last a lifetime.
For the interior, we also offer a Sheepskin Duster, ideal for safely removing dust and debris for your car dash, and our Oreck XLAUTO Car Vacuum. This lightweight sleek silver vacuum plugs into the cigarette lighter and has a 15-foot cord for reaching into the trunk and other hard-to-reach places. Plus it's small enough to store in your trunk or cargo area, so you can take it along on your road trip to clean up as needed.
3. Consider your seat
If you are going to be riding in or driving a car for a few hours or longer, then you are going to want to be as comfortable as possible. For the driver, this starts with the position of the seat, which most experts think you likely have wrong.
The back of the seat should be positioned between 90 and 100 degrees, and the driver should place their rear and lower back as far back in the seat as possible. This takes the strain off your lower back and ensures as much as of the spine as possible is being supported by the seat. It may feel uncomfortable at first, but it will result in much less pain down the road.
Slide the seat forward so that you are close enough to fully depress the pedals and still have a slight bend in the knee, but not so close that your knees touch the dash. When you reach for the steering wheel you should be able to comfortably control it while still having a slight bend in the elbows and wrists. You can adjust the tilt of the wheel to your liking, but be sure it does not obstruct your view of the instruments.
Additionally, you can add a Sheepskin Seat Vest Cover or Sheepskin Bucket or Bench Seat Cushion to increase your driving comfort and add some luxury to your vehicle. Available in multiple colors, our sheepskin seat accessories are universal fit for all seat types and they are every bit as durable and elegant as they are comfortable. They are great for summer heat and winter cold.
Finally, with your driver's seat properly adjusted, adjust your mirrors. There are lots of ideas about the best way to do this, but the best answer is to make sure you have the most visibility from each mirror. Blind spots are going to happen, so know where yours are and always glance in that direction before changing lanes.
4. Plan your route
Few things are as dangerous as trying to adjust the GPS or adjust the map on your cell phone while driving, so be sure to plan your entire route ahead of time and allow your passengers to be in charge of navigation. Because the roads are likely to be extra crowded, especially around summer holidays like the Fourth of July, build in some time for congestion and unexpected stops so that are sure to show up at your destination on time. If you get lucky and the trip is mostly traffic-free, you can use that extra time to check out a roadside attraction or skip the drive-thrus and sit down to a nice meal.
5. Pack your car early
Far too often the hour before your planned road trip departure is a hurried scramble to get everything loaded and make sure nothing is left behind. All that stress can be avoided with a bit of proper planning. Plan to pack your bags the day before and load up the trunk or cargo area of your vehicle before you go to bed. This will allow you to skip the mash dash to get on the road. Imagine leaving on time and with little to no stress.
Simply pack the night before and you can make that a reality. You won't feel as rushed, which means you are less likely to forget something and more likely to load your vehicle in an efficient way. Speaking of loading your trunk or cargo area, we can help you protect your vehicle and add some style with one of our cargo mats. Pick an animal, Oriental, or plaid pattern from our Car Couture™ line, or design your own custom cargo or trunk mat complete with personalization in the Design Your Mats™ section of our website.
6. Create a checklist
Assuming you packed your bags and loaded your vehicle the night before, the morning of your road trip will be a breeze. But to avoid being so relaxed and carefree that you forget something you really need to take (like a cell phone charger, for example), be sure to make a list of the things you need to do and the items you need to bring before heading out.
Because most of the big things are already loaded, this will likely be a short list, but keep in mind the things you haven't packed ahead of time. For example, te digital devices and their necessary accessories, anything to keep the younger travelers in the backseat occupied, the toiletries you might not have packed the night before because you needed them in the morning, pillows, snacks, and any last minute things you'll want for the ride.
7. Make sure everyone is comfortable
If you are planning a long trip some of your passengers might be sleeping along the way, be sure to carry a pillow. A blanket is a good idea too because some of the passengers might be cold when the AC is cranked up. Think about entertainment for everyone, whether that means books, toys, music players, or portable gaming devices. If you keep the passengers occupied you might not have to listen to a chorus of "Are we there yet?!"
You can also add some luxury and style with a custom touch by putting personalized car floor mats from GG Bailey in your vehicle. We allow you to Design Your Mats™ or pick a pattern in our Car Couture™ section. Our custom-fit floor mats will protect your vehicle while also adding comfort and class. There are only four steps to custom design your own car mats, but thousands of possible design combinations.
8. Take your pet
Many pet owners consider their furry friends more family member than possession. If this describes you, then why not take your pooch along for the trip? It's better than boarding your animal and few things make most dogs as happy as a road trip. More and more hotels are pet friendly, and if you are staying with family then surely they would be glad to see your whole family, including the four-legged members.
Remember to pack treats and a leash and plan ahead for the pit stops your pet might require. Also, you can protect your vehicle seats from eager paws with a GG Bailey Pet Car Mat. Available in two sizes and nine patterns, our Pet Car Mats give your pooch a cushy seat that protects your interior from dirt and debris. We also have pet placemats available in the same patterns.
9. Be careful
We probably don't have to tell you to drive the speed limit and obey the traffic laws, but we're still going to: Obey traffic laws and be safe. You should expect the roads to be crowded with summer travelers, and most won't be as prepared you, so they will be stressed and rushing, which can lead to car wrecks. Take your time, enjoy the trip, and be safe. After all, we don't want all this preparation to be for nothing, so you need to arrive at your destination, and home again, safely.
10. But be prepared
Driving safely is the best way to avoid a crash, but sometimes wrecks happen that aren't your fault, so it is a good idea to always be prepared.
Three things you should think about doing: Keep a first aid kit in the vehicle, and make sure the products inside are up-to-date; tell someone at your destination your travel plans, including your planned route and anticipated arrival time; and be sure to have the auto insurance and the medical insurance of everyone in your vehicle handy. No one ever expects to be in a wreck, but you can still be prepared just in case.
At GG Bailey, we take safety seriously, and our custom car mats are engineered to be the safest available. Special foam backing and our exclusive Mat Loc Clip™ system ensure your mats won't move under foot. Click here to read more about our focus on safety.
Comment below to let us know what you think and to share your own tips If you want to equip your vehicle with custom car floor mats, get started by clicking one of the buttons below. Remember, we are offering free ground shipping* through the end of the week.
*Free shipping offer good for the contiguous U.S. only.