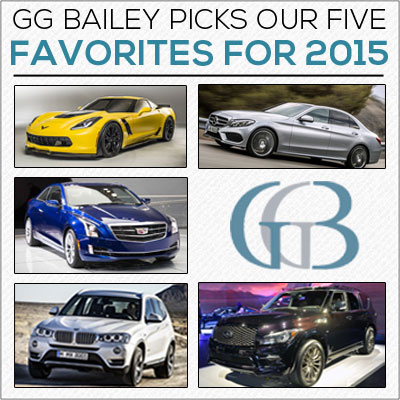 Believe it or not, we are almost halfway through 2014. It has been a great year in the automotive world so far, with a lot of exciting new vehicles hitting the market featuring new technology and style.
Because we make custom car floor mats at GG Bailey, we like to stay on top of the news related to new 2015 models, vehicle redesigns, and pretty much anything automotive related. This includes keeping tabs on the new year models as they become available to our customers, because we know new car owners like to add their own style to their vehicles, and our car mats are a great way to do that.
We already make custom floor mats for just about all makes and models, and we are always working to add the new models as they are introduced by vehicle manufacturers.
Visit our Design Your Car Mats™ section to custom design your own car mats, or check out the luxury quality, woven carpets available in our Car Couture™ line. If you are unsure which carpet will work best in your vehicle, you can see samples in person by requesting a free swatch kit.
If you have a brand new car and don't see it listed among our options, visit this page to let us know what you are looking for. We have already added some of the 2015 models to our offerings, and we will continue adding more throughout the year, but you can help us meet your need by filling out the form on that page.
Check out our list below and then comment at the bottom to share your own.
1. Chevrolet Corvette
Chevrolet rolled out the first official look at the 2015 Chevrolet Corvette Z06 during the Detroit Auto Show and received nothing but praise. Just like its more high-profile cousin, the Stingray, the Z06 has an aluminum frame, but what sets it apart is the 6.2-liter supercharged V8 and custom-made eight-speed automatic transmission. This 'Vette has 625 horsepower and is the fastest vehicle General Motors has ever made for the street.
The car boasts a tremendous amount of "downforce," an engineering term describing a car's ability to hug the road when it barrels around corners. Most mass-market vehicles are exactly the opposite: they have too much lift when cornering. This, combined with larger tires, gives the car a great deal of control even at high speeds. Add in lots of carbon fiber and a seriously aggressive style and you've got one heck of a street legal car.
We're also big fans of the Corvette because our parent company, Racemark International, manufactures the floor mats for the Chevrolet Corvette Stingray, which means you can trust that GG Bailey car floor mats meet the qualifications of the finest auto makers in the world.
2. BMW X3
BMW unveiled its updated 2015 X3 crossover in Chicago, and while the changes in styling and appearance are modest, the power train options were upgraded, including an optional diesel planned for released in the United States. Like previous editions, the X3 will be available with 2-liter 4-cylinder and a 3-liter in-line-6 gasoline engines and all-wheel drive. BMW decided to liven up the offerings with a 180-horsepower 2-liter turbodiesel engine and an optional rear-wheel-drive setup available on the diesel and 4-cylinder gasoline models.
BMW's new diesel offering shouldn't be a surprise when you consider the range of full-size diesel models produced by competitors like Audi and Mercedes-Benz, and considering BMW introduced a diesel version of its big 7 Series sedan for sale in the United States. The 255-horsepower 3-liter turbodiesel in-line-6, which is paired with a ZF 8-speed automatic transmission and an all-wheel-drive system, produces 413 pound-feet of torque and will carry the vehicle from zero to 60 mph in a swift-for-its-size 6.1 seconds.
3. Mercedes-Benz C-Class
Mercedes-Benz's best selling model, the C-Class, got an aggressive facelift for 2015, with the addition of the sporty grill and swept-back headlights of some of Benz's more expensive models. The new C-Class also benefits from upgraded technology, borrowing some of the high-tech features of the S-Class, including active collision avoidance, adaptive cruise control, and even a cabin perfuming system.
A glass roof, a slightly longer body, and a lighter curb weight round out some of the modernized upgrades. Under the hood, the 2015 C-Class will take a run at being the most powerful car in its category with a 329 horsepower turbo V6 that produces 359 pound feet of torque. There is also be a turbo four-cylinder version with a bit less power, and an all wheel drive version will be hitting U.S. roadways later this year. Read more from CNet.com.
4. Cadillac ATS Coupe
At GGBailey.com, we appreciate subtle style, luxury, and elegance. The new Cadillac ATS Coupe has all this and more, along with two powertrain choices: the standard turbocharged inline-four, or the V-6. A six-speed automatic transmission will be standard with either engine, but a six-speed manual will be optional with the 2.0-liter four cylinder. GM has plumped up the torque curve such that all 295 lb-ft are available from 3000 rpm. That's a 13-percent boost compared to the sedan, which should help offset the 45 extra pounds the 3418-pound coupe is carrying around.
General Motor's new luxury compact, featuring the brand's new Cadillac crest and a wider stance, aims to attract more youth into the Cadillac market. The ATS coupe does boast a wider front and rear track than the sedan, which combined with its available FE3 sport suspension with magnetic ride control and a mechanical limited-slip differential, should make it a blast to drive. It represents just one of 10 new or overhaul models the automaker plans to debut by 2015. Read more from Motor Authority.
5. Infiniti QX80
The 2015 Infiniti QX80 made its debut at the New York Auto show, and GG Bailey had a special connection to the vehicle as it featured a set of special double bound mats in custom color and design made by Racemark International, our parent company.
The SUV was treated to an updated appearance and interior enhancements for the new model year. Starting with the SUV's exterior, the new QX80 gets a redesigned grill, new bumper with an integrated lower grille and flush-mounted sonar, LED headlights and fog lights, and a standard rear bumper protector. Other upgrades include new 20- and 22-inch wheels, as well as new paint colors called Hermosa Blue, Graphite Shadow, and Majestic White.
Inside, Infiniti makes its darker Mocha Burl wood trim standard, and adds it to the steering wheel, and at the New York Auto Show, Racemark's double bound floor mats were part of the package too. All Infiniti QX80s include a high-stiffness frame structure that enhances ride comfort while reducing noise, vibration and harshness.
The vehicle will see no change to the 5.6-liter V8 engine, which produces 400 horsepower and 413 lb.-ft. of torque, good for a towing capacity of 8,500 pounds. A seven-speed automatic transmission with Adaptive Shift Control and manual shift mode with Downshift Rev Matching comes standard on all models.