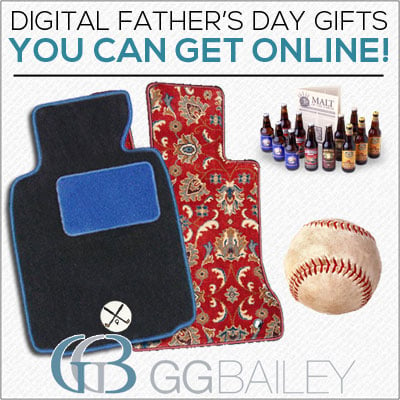 Father's Day just a few days away, and if you haven't gotten a gift yet, paying extra for overnight shipping might be the only way to receive your present for dad on time. That is, unless you go the digital route and get your father a gift he can redeem himself.
At GG Bailey, we will continue to offer free ground shipping* through the holiday, but without expedited shipping you are not likely to receive your order in time, since Father's Day is only three days away. Not interested in getting a gift but want to take advantage of the free shipping deal? Get started now!
If you do need a great Father's Day gift, no worries. We have assembled five great ideas for gifts you can buy online that your father can redeem himself. Gift cards, subscriptions and more, our digital Father's Day gift guide is sure to have something your dad will love.
Check out the options below and comment at the end to let us know what you think or share your own ideas.
1. GG Bailey gift certificate
If you have purchased GG Bailey car mats below, then you know the sort of quality our floor mats provide, and you know your dad would enjoy a set of floor mats for himself. Get a gift certificate from GG Bailey for Father's Day and your dad can custom design his own personalized car mats himself, which means he can get exactly what he wants.
At GG Bailey, we offer gift certificates of various amounts that can be used on any of our products, from our custom car mats in the Design Your Car Mats™ section and the luxury floor mats of our Car Couture™ line to our home and pet products.
If you give a gift certificate, you can rest assured that your dad can design his own custom floor mats himself and get the perfect fit for his year, make, model, and sub-model. We have thousands of vehicles in our database, and it is continuously being expanded. We can even make custom car mats for rare and specialty vehicles, if your dad has a classic car that could benefit from some luxury quality floor mats.
Click here to see gift certificate options.
2. Tickets
If your dad is a big sports fan, one way to get some instant gratification and to schedule some quality time together is to buy tickets online. Tickets for most sporting events can be found at ticketnetwork.com. They also offer an assortment of other hand-selected, top events in live entertainment such as concerts, theater shows, wrestling, and more.
While they do not have any current Father's Day specials, they do feature several hard-to-get ticket packages. TicketNetwork provides a secure exchange for buying tickets online, but you can also call their live ticket agents, and they offer a 125% money back guarantee.
3. Beer of the Month
Hmmm. Beer. Whether your dad considers himself an aficionado or just a casual sipper, a Beer of the Month Club membership makes a great gift. Memberships to The Microbrewed Beer Club of the Month start at only $24.95 (plus $15 for shipping) per month for the U.S. package, which includes 12, 12-ounce beers from lightly distributed microbreweries each month. Each shipment comes with three bottles each of four different beers and the monthly newsletter that details tasting notes, brewery profiles, and more.
There are six package options total, including international options and rare beer selections. You can buy as many months as you'd like, but you must buy at least two months, and payment is due in in full when you sign up. They are offering a $10 discount for Father's Day when you sign up for three months or longer.
4. Cheese of the Month
Dad doesn't drink? No problem! There are plenty of food of the month club options. One of the more robust options, and certainly one that would provide a lot of variety, is the Cheese of the Month Club. It's quick and easy to sign up your dad as a Father's Day gift, and like our car mats, you can design your own program. Gift memberships are available from 2 to 12 months and can be sent monthly, every other month, quarterly or even on specific months that you choose. So your gift will be remembered for months to come.
The site also allows you to print off a certificate instantly that you can present to dad this weekend, or you can have it emailed to him if you won't be seeing dad in person. The club promises a variety of traditionally made, artisanal and farmhouse cheeses made from the best natural ingredients. They do not have any Father's Day specials, but they do offer a 100 percent satisfaction guarantee.
5. Magazine subscriptions
One gift that has plenty of options available to meet the tastes of just about every dad out there are magazine subscriptions. Magazines.com is currently offering a $5 discount for Father's Day. They have more than 170 titles to choose from covering everything from current events and sports to pop culture and travel.
Most titles are at least 68 percent off the cover price, and you can even save as much as 94 percent on some titles. They have a special section of Father's Days deals that include such titles as Men's Health (10 issues for $15), Drag Racer (six issues for $17), Popular Science (12 issues for $6) and 44 more options. The $5 discount can not be used on the specials in that section though.
Comment below to share your own ideas or let us know what you think about our list.
*Free ground shipping offer includes contiguous U.S. addresses only.