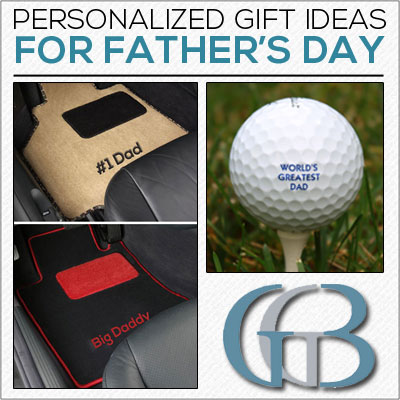 Father's Day is just a couple of weesk away, so if you haven't already settled on an awesome gift for dad, now is the time. At GGBailey.com, we love giving personalized, custom gifts, and Father's Day is a great time to practice this gift giving tactic.
That is why we have assembled five gift ideas that will allow you to personalize your celebration of your dad. A custom gift is not only fun and unique, but it shows your father that you took the time to design a gift just for him.
Should you decide to give your dad a set of custom car mats for Father's Day, please note that we are currently offering free ground shipping* on all orders through the holiday. Most orders are processed and shipped in two business days, and you can see our FedEx shipping schedule here to see how long shipping would take to your location. If you want to get custom floor mats for yourself and not as a gift, you still get free shipping.
So check out our five personalized Father's Day gift ideas below and let us know what you think in the comment section.
1. Personalized car mats
A GG Bailey personalized Father's Day gift list has to include our own personalized car floor mats from the Design Your Car Mats™ line. The only thing you need to know is the year, make and model of your dad's vehicle to design custom car mats he will love.
There are only four steps to design a set of personalized floor mats but thousands of possible design combinations. The process starts when you pick from one of 10 carpet colors, choose one of 41 edging options, pick a heelpad shape and color, and then personalize it. You can add an embroidered name or message of up to 10 characters (including spaces) or choose a traditional or single letter monogram. We have two font styles available -- block text or script -- and 18 color choices. If you prefer an embroidered image instead of custom text or a personalized monogram, we also have 16 logos to choose from. Click here to see more details for each step.
Our personalized car mats make great gifts for Father's Day or any holiday, and we can make custom-fit floor mats for all makes and models. You can complete the set with a personalized trunk mat or cargo mat. Visit the Design Your Car Mats™ or pages to get started, or shop Car Couture™ if your father would prefer camouflage, subtle two-tone or oriental floor mats. We have 11 patterns to choose from in our luxury floor mat line.
2. Personalized barware
Would your dad fancy a drink? If dad enjoys a martini, is beer connoisseur, or likes to unwind with whiskey, then he would enjoy having his very own barware personalized by theglassfox.com. In addition to pilsner and pub glass sets, they also offer wine glasses, decanters and rock glass sets, a martini gift set, steins, mugs, and more.
You can personalize this gift with an engraved initial, monogram, or name. They offer a range of type face choices and promise to process your order in five business days. Shipping costs extra and the price is based on the amount you spend. They ask that you allow 10 days from the day of purchase to receive your order, so keep that in mind if you buy a Father's Day gift here.
3. Personalized golf balls
Is your dad a golfer? If so, help him more easily identify his ball on the course with personalized gold balls. There are a lot of sites that offer personalized balls, but golfgalaxy.com will add your custom message for free.
You can choose from the top brands, including Titleist, Callaway, Taylormade, and more, then add a monogram, name, or any sort of message you'd like. They have four text colors to choose from, and the choices vary by brand, but you can have up to three lines of 10-20 characters worth of text added to each ball.
The site also offers free shipping, but they don't guarantee delivery in time for Father's Day unless you pay for one of the faster shipping options.
4. Personalized cufflinks
Cufflinks.com, as the name of the website suggests, specializes in high quality cufflinks, but they offer more gifts that can be personalized for your dad this Father's Day. Whether you pick a money clip or business card holder, a flasks or a bottle opener, just about everything on their website can be personalized.
They even sell gift packs, such as the three-piece set that includes cufflinks, a tie bar, and a money clip -- each piece can be engraved with a custom message, initials, or a monogram. These pieces would add a bit of personalized style and class to any formal look.
After you decide on the perfect product you can enter as many as 10 characters for each piece and choose from one of eight fonts. This site includes free shipping on all orders of $50 or more and most products ship the same day the order is received, though extra time is required for engraving. You should expect your order in five-seven business days.
5. Gift certificates
If you like the idea of a personalized gift, but aren't quite sure what your dad might like, then consider a gift certificate. At GG Bailey, we offer gift certificates of various amounts that can be used on any of our products, from our custom floor mats in the Design Your Car Mats™ section and the luxury floor mats of our Car Couture™ line to our home and pet products.
If you give a gift certificate, your dad can visit our site and design their own custom floor mat himself, ensuring he gets the perfect fit and style for his vehicle. And remember, we are offering free ground shipping* for Father's Day, so all orders place now are shipped for free. Click here to see gift certificate options.
Comment below to share your own ideas or let us know what you think about our list.
*Free ground shipping offer includes contiguous U.S. addresses only.