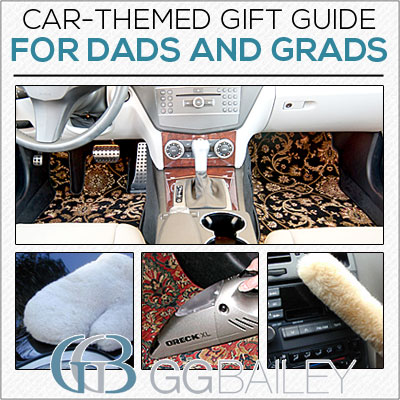 Father's Day is coming and graduation season is already underway, so chances are you will be looking for a unique gift for a dad or grad soon. If the person you're shopping for is an automobile enthusiasts, then we have a gift guide that you will enjoy.
AT GGBailey.com, we produce custom fit, custom designed car floor mats, so we are always paying attention to the car-themed marketplace, looking out for cool products to include in our holiday gift guides. We always include our personalized and luxury quality car mats from our own Design Your Car Mats™ section and our Car Couture™ line, but we also make sure to give you a varitety of ideas that fit most budgets and tastes.
And now, just for Father's Day, we are offering free ground shipping* on all orders. Even if you are shopping for yourself instead of buying a gift, you won't have to pay for shipping. Just pick the free ground shipping option during the check out process to save.
1. Luxury car mats
If your dad owns a vehicle he is proud of, whether it is a brand new ride or a show car, he would appreciate custom fit, luxury quality floor mats from our Car Couture™ line for Father's Day. Did the graduate in your life receive a new car as a gift? Custom floor mats would be a perfect addition.
Our Car Couture™ section features nine woven carpet options, from camo and animal inspired patterns to a pair of oriental options, and a few others in between. These heavy, thick, woven carpets, not printed, which means the designs won't fade out or wear away. Printed designs are often just stamped on top of the carpet and will fade or disappear entirely as time goes on. On the other hand, woven designs like ours permeate the entire carpet.
We custom fit all our floor mats to your exact year, make, model and sub-model of vehicle. We can custom make car floor mats for all makes and models, so if you don't see your vehicle in the selection process, then feel free to contact us. We are constantly working to add the newest cars to our inventory, but if there is something special you need, just let us know. After all, a new car needs great floor mats.
If you think your father or your graduate would prefer something in a solid color, then you have to check out our Design Your Car Mats™ line. You can design and personalize a set of car mats by picking carpet color, edging type and color, heelpad shape and color, and add a custom embroidery or logo. There may be only four steps to design a one-of-a-kind set of personalized car mats but there are thousands of possible design combinations.
Regardless of which kind of car mat you choose as a Father's Day or graduation gift, remember that we are currently offering free ground shipping* on all orders.
2. A watch for dad
If your dad is a sports car aficionado then he would love to have an Autodromo watch, as each one is inspired by the dashboard gauge of a 20th century European sports car. Made with stainless steel cases and perforated leather straps, each piece features a minimalist design that stands out without being overly flashy.
Autodromo also makes sunglasses and driving gloves, if you want to splurge and give a complete car-theme gift set. Each watch comes with a 100% satisfaction guarantee and a limited two year warranty. Just be sure to check out the fine print.
3. Time to graduate
Part art, part inspiration, these three cool clocks from Uncommon Goods would be great graduation gifts. The Auto Timing Chain Wall Clock would be perfect for a new dorm room, new office, or even a cubicle. The Desk Clock version would look good in an office space or on a desk too.
The artist who designed these, Steven Shaver, said he was inspired by domestic car parts found in salvage yards and calls his work "part art." Each one is handmade in California, and he individually signs the back of each finished clock.
4. Quality cleaning products
A clean car equals a happy driver, and auto enthusiasts enjoy taking care of the vehicles, so they would enjoy gifts that help them get the job done.
First, for the outside, our Sheepskin Washmitts, made of 100 percent Merino sheepskin, are soft enough to be ideal for dusting, polishing and washing your car without worrying about damaging the paint. Available in black or grey, our washmitts can be used both wet and dry and with any soap that is safe for vehicle paint. Simply rinse your mitt afterward and it will last a lifetime.
For the interior, we also offer a Sheepskin Duster, ideal for safely removing dust from your car dash, and our Oreck XLAUTO Car Vacuum. This lightweight sleek silver vacuum plugs into the cigarette lighter and has a 15-foot cord for reaching into the trunk and other hard-to-reach places.
As with our custom car mats, all of these items will be shipped for free during our Father's Day special.
5. Tailgating kit
Does your grad or dad like to grill out? Of course they do. And with football season only a few months away, the this King Kooker tailgating kit is a great car-themed gift idea and a nice value as you get 16 quality pieces for about $53.
This 16-piece utensil set helps make sure the tailgaters on your list will have every cooking tool they need. A spatula, tongs, a fork, a spoon, a ladle, a cleaver, a cutting board and even a knife sharpener are included. All utensils are made of durable stainless steel and feature stay-cool Bakelite handles for an easy grip.
Best of all, this kit can be used at home too, so whether your dad or grad takes it on the roaad or uses it in the backyard, you are giving a gift they will use a lot.
6. Car site gift certificate
If you are having trouble making up your mind, then a gift certificate might be the best gift idea for you. At GG Bailey, we offer gifts certificates of various amounts that can be used on any of our products, from our custom floor mats in the Design Your Car Mats™ section and the luxury floor mats of our Car Couture™ line to our home and pet products.
If you give a gift certificate, your dad or grad can visit our site and design their own custom car mat, ensuring they get the perfect fit and style for their vehicle. They do not expire and can be used at any time for anything on our website, including shipping costs. But remember, we are offering free ground shipping* for Father's Day, so all orders placed now are shipped for free. Learn more about our gift certificate options.
A lot of sites offer gift certificates, but always be sure to check the fine print.
*Free ground shipping offer includes contiguous U.S. addresses only.