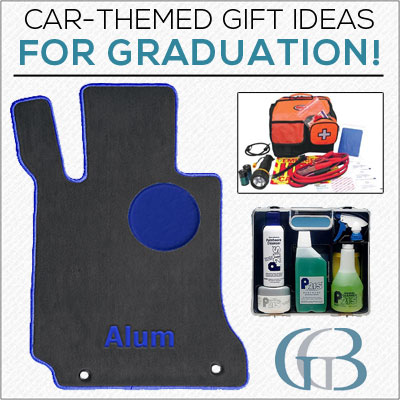 Whether you know someone graduating from high school or college this month, you can help them celebrate post-ceremony with a gift that's sure to delight the overachiever in your life.
Because we make custom designed car floor mats at GG Bailey, we created a graduation gift guide focused on car-themed gifts. We begin of course with the custom-fit, personalized floor mats from our own Design Your Car Mats™ section and the stylish, luxury quality car mats from our Car Couture™ line, and work through five gift ideas that anyone who takes pride in their degree and pride in their vehicle would enjoy.
We use only the finest materials available on the market for all of our products. We do not buy excess carpet inventory from the residential carpet industry to make our mats. All of our carpet is custom designed, in order to meet the same rigid specifications that OEM mats demand. The heelpad and backing are equally manufacturered to our own unique specifications. All other components have been developed and tested over 30 years of supplying to the most demanding high-end automotive market in the industry.

1. Custom car mats
Any graduation gift guide for car enthusiasts would be incomplete without the personalized car floor mats from our Design Your Car Mats™ line. Just make sure you know the year, make and model of your graduate's vehicle to design custom floor mats they will be proud of.
There are only four steps to design a unique set of personalized car mats but thousands of possible design combinations. Choose one of 11 carpet colors, one of 41 edging options, a heelpad shape and color, and then personalize it. You can choose an embroidered name or message of up to 10 characters (including spaces) or add a traditional monogram, single letter monogram, or initials. We have two font styles available -- block text or script -- and 18 color choices. If you prefer an embroidered image instead, we have 16 colorful logos to pick from, ranging from sports and aquatic themes to pink ribbons. Click here to see more details for each of the four steps.
Our personalized floor mats make great gifts, and we can make custom-fit floor mats for all makes and models, so if you don't see the vehicle you want listed in the drop down menus, please contact us. You can even personalize a trunk mat or cargo mat with a custom message or monogram! All mats are made and shipped within two business days, so you won't have to wait long to get your hands on this custom gift.
The sames goes for our Car Couture™ line. If your graduate would prefer to have leopard, zebra, camouflage, or oriental car mats, this is the section for you. We have 10 patterns to choose from in our luxury floor mat line.
2. Car detailing kit
If your graduate truly cares about his or her car, then you know they love to keep it as clean as humanly possible. You can help them achieve the ultimate shine with a car detailing kit from Top of the Line. The PS12 Deluxe Car Care Kit comes with everything your graduating car enthusiast will need to bring their vehicle to showroom shine with auto shampoo, wheel cleaner, paintwork cleanser, and a paste wax for a flawless shine without rubbing or buffing.
Also included are a wheel sponge and a terry pad to apply the paintwork cleanser. This is an all-in-one-kit that will allow your graduating friend or family member to make their vehicle look like new. The kits costs about $85 but includes free shipping.
3. Hot Road travel mug
You can give your graduating car aficionado the Hot Rod heated travel mug and they'll thank you and think of you all year long while sipping behind the wheel. This automotive-styled insulated mug comes in candy apple red or midnight glossy black and features a 12-volt adapter to keep beverages warm. An analog gauge keeps tabs on the interior temperature, and underneath is an on-off switch and an LED indicator.
Will your graduate be joining the workforce and commuting to work? What better way to send them out into the world than with a car-themed travel mug containing their favorite hot beverage? Think Geek sells the mug for $24.99. It uses an included DC adapter to plug into a cigarette lighter to maintain the heat and it holds eight ounces.
4. Roadside emergency kit
The ideal gift for the high school graduate who is preparing to leave home for the first time, an emergency kit to keep in their car can be quite handy. This one from Bell includes a set of eight-foot jumper cables, a flashlight with two D batteries, a 55-piece detachable first aid kit, a two-in-one screwdriver, 10 cable ties, a help sign, a 24-inch tie down, a rain poncho and an emergency document form. All this comes in a carrying bag with adjustable internal compartments and no-slip fasteners to secure it in a car's trunk or hatch area.
It is a bargain at less than $20 and includes all the necessary tools and equipment to assist in most minor roadside situations.
5. Navigation device
Your graduate has already accomplished a lot, but they still have a lot of road left ahead of time. Help them find their way with a Garmin Nuvi 3597LMTHD. Perfect for the stylish driver who would prefer their GPS navigation in a discrete device; Garmin's flagship Nuvi 3597 is second to none. It's slim and pocketable, and boasts a big, bright screen that's as sharp as its knife-edged design.
It features a five-inch, high resolution display, detailed maps, free lifetime updates, traffic and weather alerts, voice-activated navigation, and Bluetooth and Smartphone Link capabilities. With its elegant styling and ultra-slim profile, Nüvi 3597LMTHD reflects a refined aesthetic that suits the interior of any vehicle. A powered magnetic mount will securely hold and charges the Nüvi 3597LMTHD as your graduate drives.