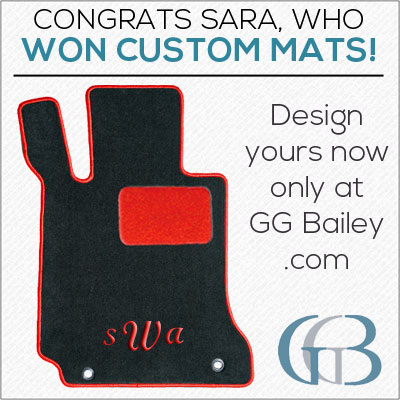 Last month GGBailey.com hosted its first custom-fit, custom designed car floor mat giveaway of the year, and the interest was amazing! We were glad to see so many of you sign up for a chance to win a personalized set of car mats that you would design yourself.
Ultimately though, there could be only one winner, and the randomly chosen person was Sara in South Carolina. You can check out her design in the image at right. If you entered the giveaway but did not win, check your email inbox for a special offer from GGBailey.com. You'll be pleasantly surprised with what we have sent you!
If you didn't sign up, you can join our email list for notification of future giveaways, as well as other specials like free shipping offers and discount codes. Plus, we regularly post custom gift guides and automotive news, so there is always something interesting and useful to read about on our blog.
When you custom design your own car mats with GG Bailey's patented Design Your Car Mats™ system, you get to pick each element to make the mat truly yours. You chose a carpet color, edging style and color (or pattern!), heelpad shape and color, and embroidery color, font, and message (or add a logo instead!).
As you can see in the photo of Sara's custom designed car mats, she picked a black carpet, red serged edging, a red rectangle heelpad, and she decided to have a red monogram embroidered into her driver and passenger mats.
Not sure which carpets would be best for your vehicle? Ask for a free swatch kit to see samples of all our carpets, including those in our Car Couture™ luxury line, in person. That way you can see for yourself which custom carpet color choice best compliments your vehicle.
With Sara's order, as with all orders, we custom made and shipped her one-of-a-kind floor mats in two business days or fewer. Her mats were made using top quality carpet and our exclusive foam backing to ensure a product that will resist stains and last for the long haul while also staying safely in place.
If your vehicle has a built-in locking mechanism, we include the grommet holes to fit your vehicle system. If not, we include our patented Mat-Loc™ Clips Retention System to help you secure your car mats for maximum safety.
There are only four steps to custom design your car mats, but there are thousands of possible design combinations. Get started right now and your new personalized car floor mats could be on the way in only two business days.