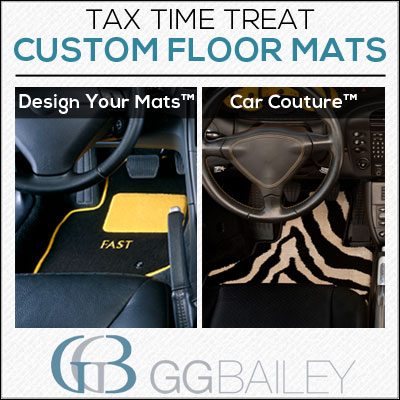 It's tax season, which means you might be expecting a little extra money coming your way. Why not use that extra cash to treat yourself to a bit of luxury and style with custom car floor mats from GGBailey.com?
We have two ways for you to add a unique and personalized touch of style to your car, truck, or SUV: Design Your Mats™ and Car Couture™.
The Design Your Mats™ section of our website allows you to customize your car floor mats from start to finish. There are only four steps to the design process but thousands of possible design combinations. You get to choose everything from carpet color and edging to custom embroidery.
Our Car Couture™ section features patterned carpet choices. The heavier, woven carpet provides a soft feel and a statement design. Choices range from animal inspired patterns and oriental designs to plaid and subtle two-tone options.
Read more about our custom floor mat options below and consider giving yourself and your vehicle a stylish treat for tax season.
Design Your Mats™
Your car should reflect your own style, and with GG Bailey's Design Your Mats™ system, your auto floor mats can be uniquely yours. Choose carpet and edging colors, give your mats extra protection with a matching heel pad, and finish off the design with an embroidered message, monogram, or a logo. Plus our stain-resistant, luxury-quality mats are custom-fit for your vehicle.
Our products are made with the highest quality materials. When you Design Your Mats™ with our many different features and options you can be sure your custom floor mats will be beautiful and durable. There are four steps to the custom design process, and each step presents a variety of options to choose from, so there are thousands of potential combinations.
The first step to design your own custom car floor mats is to pick a carpet color. We have 10 colors to choose from, including several shades of brown, beige, an grey. We also have pink, if you want to add a bright color to your mats. If you are unsure which carpet color might be best for your car, truck, or SUV, you can request a free swatch kit to see samples of each of the carpet choices in person.
After you have picked your carpet, the next step is to choose your edging. We offer two types of edging: serging and binding, which also includes reflective and ribbon edging. Binding is a smooth fabric edge and serging is a stitched yarn edge. Both work great and present a finished look you will be proud of, so you can't go wrong with either style. In all, there are 41 edging options when you design your car floor mat.
The third step is to add some optional protection and choose a heelpad. This is an exclusive option that helps prevent wear and tear on your car floor mats with an extra thick carpeted pad that goes under the heel area on the driver's side mat. All of our heelpads are applied with a special finished edge. They come in two styles – rectangular or round – and are available in 19 different colors.
Heelpads are the best way to protect your floor mat from daily wear and extend the life of your new custom car accessory. Click here to read more about the benefits of adding a heelpad when you design your custom-fit car floor mat.
The fourth and final step is to personalize your car floor mat however you'd like. Our personalized embroideries are available in block or script lettering and in 18 color choices that are directly embroidered into the carpet. You can choose a custom word or slogan up to 10 characters (including spaces), your initials, the classic look of a traditional monogram, or our new single letter monogram.
Your custom designed car floor mats will be made and shipped in business days or fewer!
Car Couture™
Our Car Couture™ section features nine luxury carpet options, from animal inspired patterns to a pair of oriental options, with a few others in between. These are woven carpets, not printed, which means the designs won't fade. Printed designs merely sit on top of the carpet and will fade or disappear entirely as time goes on. On the other hand, woven designs like ours permeate the entire carpet.
Other important features include:
Elegant, luxurious heavy weight carpet
Woven carpets are 100% polypropylene fiber for superior stain resistance
Two-tone mats are produced from 100% nylon that meets factory specifications
Matching serged edge
Specially engineered backing to prevent mat movement
Ready to ship in two business days or fewer
As with our Design Your Mats™ option, we custom fit all our floor mats to your exact year, make, model and sub-model of vehicle. We can custom make car floor mats for all makes and models, so if you don't see your vehicle in the selection process, then feel free to contact us.
We work with the best carpet makers in the world to design our own carpets, ensuring a top quality product that will last. Every car floor mat features an exclusive foam backing and grommet holes that work with your vehicle's existing locking system. If your vehicle does not have a locking system, we include our exclusive Mat Loc Clips™, which allow you to secure the mats in place.
To get started, simply visit our Car Couture™ page and choose your year, make, model, and submodel, then decide if you want a full set of floor mats, fronts only, or a trunk or cargo mat. Then choose the pattern you like best. We'll custom make and ship your luxury floor mats in two business day or less.
If you like the carpets of our Car Couture™ line, then you should know we also have Car Pet Mats, Home Mats, and Pet Placemats in the same carpets. You can coordinate your style in your vehicle and around your home!