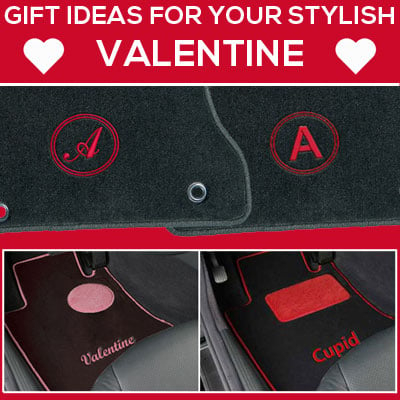 At GGBailey.com, we have always considered our custom designed, personalized car floor mats to be a fashionable accessory for any vehicle, so if your Valentine likes fashion then we have some great gift ideas for you.
Our Design Your Car Mats™ section is the only place on the internet where you can custom design all the elements that make up your floor mat to match your personal style, then add a custom embroidered message, initials, or monogram to complete the look. Do you prefer a stylish oriental, plaid, or animal pattern? Then the luxury woven floor mats from our Car Couture™ line are perfectly suited for your fashion sense.
And now, just in time for Valentine's Day, we are offering new embroidery options:Single Letter Monograms! Choose from a script or block letter and color, and it will be surrounded by a double line circle to really make the embroidery on your floor mats stand out.
Only available from GGBailey.com, you can now add a high quality single letter monogram encircled by double lines to your custom designed floor mat. As always we offer 18 colors to choose from. So, pick a color, then choose either script or block monogram and type in the letter you want followed by an * so that we know you are requesting this special design. Click here to see more detail, including ordering instructions.
If you decide to shop GGBailey.com for your Valentine's Day gifts, then you should know we are offering FREE ground shipping* on all orders right now. So if you buy anything on our website you get free shipping. Not only is GGBailey.com the only place on the internet where you can custom design and personalize your floor mats, but we can make custom-fit floor mats for all makes and models.
As always, all orders are processed in just two business days, so you won't have to wait long to receive your unique gift from GGBailey.com. Click here to see the FedEx Ground delivery schedule so you can be sure you place your order in time.
Scroll down past the photo of our new Single Letter Monogram option to check out our 5 Valentine's Day Gift Ideas for the Stylish Driver, then comment at the bottom to let us know what you think or to share your own ideas.

1. Custom designed car floor mats
If Valentine loves fashion and their vehicle, then our custom designed car floor mats make the perfect gift. There are only four steps to design a set of personalized floor mats but thousands of possible design combinations. You pick from one of 10 carpet colors, choose one of 41 edging options, then pick an optional heelpad shape and color, and then personalize it.
You can choose an embroidered name, or message of up to 10 characters (including spaces), or add a traditional monogram, single letter monogram, or initials. We have two font styles available -- block text or script -- and 18 color choices. If you prefer an embroidered image instead of custom text or a personalized monogram, we also have 16 logos to choose from. Click here to see more details for each step.
Each set of designed mats are one-of-a-kind, and we can make custom-fit floor mats for all makes and models. You can even personalize a trunk mat or cargo mat with a custom message or monogram! All mats are made and shipped within two business days, so you won't have to wait long to get your hands on this unique gift.
Design Your Car Mats™ to get started and create a personalized gift that the fashionable driver in your life will love. Another stylish option, our Car Couture™ floor mats are perfect for anyone who likes patterns. Our luxury quality, woven patterns include: zebra, tiger, leopard, camouflage, oriental floor mats, plaid, and more. We have 10 patterns to choose from and every order is custom made to custom fit the vehicle perfectly.
If you choose Car Couture™ floor mats, then you should know we also make Car Pet Mats in the same patterns. Available in two sizes and same 10 patterns, our Pet Car Mats give your pet a cushy seat that protects vehicle seats from dirt, debris, and claws in style.
To finish off the interior makeover with style and comfort, add our sheepskin seat products. GGBailey.com's Sheepskin Seat Vest Cover and Sheepskin Bucket or Bench Seat Cushion products are available in seven colors, universal fit for all seat types, and they are every bit as durable and elegant as they are comfortable.
Our thick, deep Sheepskin pile provides natural springy comfort allowing air flow, making seating cool in Summer and warm in Winter. The patented trim cut allows your seat to show, which pleasantly accents your leather or fabric seats. All of our Sheepskin products are made from the highest quality 100% Merino Sheepskin and with non-skid backing.
2. Luxury auto brand accessories
In addition to making some of the world's finest automobiles, several of the top brands also make fashion accessories, and those items would make great gifts for the fashionable driver on your list.
Bentley Motors offers two styles of limited edition, hand-crafted handbags. Each bag is created from the same hides used by Bentley craftsmen to furnish the cars' renowned interiors, and every bag bears a single unique identifying number. The Barnato, which comes in four colors, is made of calfskin and finished with a quilted interior. The Continental, also in four colors, is leather and represents the first Bentley Continental made in 1952.
If your fashionable Valentine prefers something a bit sportier, Ferrari has a long list of items available. From shoes, caps, and sunglasses to keychains, scarfs, and jewelry, there are lots of accessories that feature the famous Italian stallion. You can shop by item, size, color or price. Just keep in mind that these items are being shipped from Italy, so taxes and custom fees will be due, and you might need to rush your order if you want it in time. Ferrari dealerships also carry accessories.
3. Driving sunglasses
The serious driver knows that not all sunglasses are created equally, and the serious fashionista knows that not all sunglasses are fashioned equally. As the writers at gearpatrol.com explain, driving sunglasses should be polarized, cover your eyes to the front and to the sides, and have thin enough frames not to obstruct yourperipheral vision. But that doesn't mean driving sunglasses can't look good too, and that link above includes five pair of stylish shades that fit the bill. Ranging from $142 for the Serengeti Livorno Polarized sunglasses to $269 for the Maui Jim Kapalua pair, their list does a great job of describing the perks of each one and includes links to purchase online.
If you would like to browse more than five suggestions, then petroleyewear.com has a collection you will enjoy. They have more than 20 different driving sunglass models in three different categories, so there is sure to be something that will make a great gift for the fashionable driver in your life.
Or if you prefer to stick with the driving theme, Porsche makes sunglasses too.
4. Driving shoes, gloves
The concept of driving shoes was introduced by an Italian company in 1963. The idea was that gentlemen would put on the flexible leather shoes while driving so as to not wear the soles of their shoes. The driving shoe later morphed into a leather moccasin with little rubber pebbles on the bottom, which made the shoe flexible and allowed for a good grip on the pedals. Nowadays the driver shoe is less about function and more about style, representing a bold fashion sense that harkens to a different era.
Zappos.com offers a wide range of men's and women's driving shoes in leather and suede and in a variety of colors and styles. You can shop for a gift by size, brand, color, material, or a long list of other factors. The site offers free shipping, and perhaps more importantly, free returns should the fit not be perfect.
Once you have the driving shoes, you might as well consider the driving gloves to match. Suixtil, which has several collections of auto racing inspired clothing, makes two types of driving gloves: the leather Endurance Race Gloves and the leather, knit, and suede Grand Prix Race Gloves. Inspired by classic auto racing, both styles are exceeding stylish and highly functional.
5. Gift Certificates
What better way to show your Valentine that you care about their style then by giving them the gift of GG Bailey so they can design their own custom floor mats?
We offer gift certificates of various amounts that can be used on anything we sell, from our custom floor mats in the Design Your Car Mats™ section and the luxury floor mats of our Car Couture™ line to our home and pet products.
If you give a gift certificate, your Valentine can visit our site and design their own custom floor mat, ensuring they get the perfect fit and style for their vehicle. Our gift certificates start at $50 and there is no limit to the number you can purchase. They do not expire and can be used at any time for anything on our website.
Comment below to let us know what you think or to share you own. And don't forget, we have FREE ground shipping* on all orders for Valentine's Day!
*Free ground shipping offer includes contiguous U.S. addresses only.