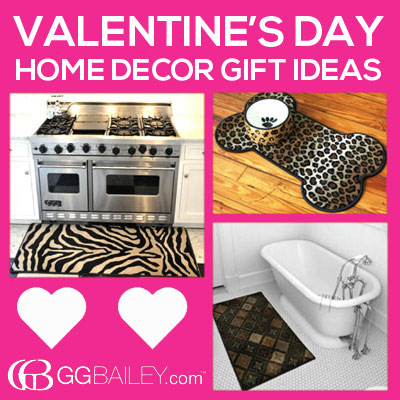 Valentine's Day is a celebration of love. If your Valentine loves home decor, then we have some gift suggestions you will enjoy.
At GGBailey.com, we are best known for the custom designed, personalized car floor mats of our Design Your Mats™ line and the stylish, luxury floor mats from our Car Couture™ line, but we do more than custom-fit car floor mats. Our car floor mats are great and we're just as proud of the other products on our website:
We have partnered with the top home designers in the country at Stark Carpet to bring you our home couture as well as our Car Couture™ line of carpets. Stark Carpet has created carpets for the great homes in the United States, including the White House. You can coordinate your fine carpets with our accent mats at entryways, in the kitchen or bath, or even with your pet placemat.
Browse all of the sections of our site, and if you see something you like, go ahead and add it to your cart because as our gift to you, we're offering FREE ground shipping* on all orders for Valentine's Day.
As always, we process all orders in just two business days, so you won't have to wait long to receive your unique gift from GGBailey.com. Click here to see the FedEx shipping options to make sure your gift arrives in time for Valentine's Day.
Scroll down to see our gift idea list, then comment at the bottom with your thoughts or share your own ideas.
1. Home mats and pet placemats
Any list of home decor Valentine's Day gift ideas would be incomplete without the inclusion of home mats and pet placemats from GGBailey.com. In addition to sheepskin rugs, we have home carpet mats available in medium (30"x17"), large (48"x25"), extra large (57"x25"), and double door sizes (72"x32").
There's no need to sacrifice fashion for utility when you can get a GG Bailey mat that protects your floors in high-traffic areas while adding style that complements your fine decor. Whether the desired style is traditional, contemporary, or a little of both, you'll find the right fit among our 11 designs of Car Couture™ luxury-weight carpet.
Our woven polyurethane carpets come in Beige Chariot, Topkapi, Red or Black Oriental, Beige Plaid, Camouflage, Leopard, Zebra, and Tiger. Our Subtle Style carpet, available in beige and grey, is specially made with high-quality nylon yarn that is cut to create a simple and elegant two-tone pattern. Our two-tone carpets also have a Pink Ribbon version, which features a breast cancer awareness-style pink ribbon. Sales of those products benefit the Breast Cancer Research Foundation. See examples of the patterns by clicking here.
Made with stain and mold-resistant fibers, all of our home mats are perfect for kitchens, bathrooms and undercover entryways. Use them anywhere you want to add style and protection. Each mat is finished with a matching serged edge and a non-slip foam backing that's gentle on fine floors, so no rug pad is required.
The same patterns and carpets that we make our home mats with can also be used to make pet placemats. The rectangle pet placemats come in two sizes: small (10.5x19") and medium (13"x24"), and we also have a shape with our Bone Pet Placemat (29"x17"). Our pet placements feature all the same benefits as our home mats and treat your four-legged friends to an upgrade in style.
2. Personalized photo art
Fans of GGBailey.com know that we love personalized gifts, because when you take the time to add your own design or style to something it really shows the recipient how much you care. This Love Framed Print from PersonalCreations.com is adorable and allows you to add your name and the name of your Valentine.
The images features four black and white photos of found objects that appear to spell out the word "LOVE" along with the two names, up to 10 characters each, you add to make it personal. It comes with a black frame that measures 8"x16". Just keep in mind the time required to personalize this gift, as the earliest possible arrive date is typically six days after you place your order.
3. Candle of the Month
Candles make wonderful home decor gifts because they are both decorative and produce lovely scents any of your rooms. A membership to the Candle of the Month club would give your Valentine a gift that keeps on giving throughout the year. Your Valentine will receive two candles every month -- one standard pillar and one large pillar -- handpicked for its beauty, seasonality and aroma.
There are four options to choose from: three month, six month, or 12 month memberships, or the Candle of the Season Club, which sends candles to your Valentine each spring, summer, fall and winter.
Each memberships comes with a personalized gift announcement, and there is still time to join for February. Just keep in mind, this gift may not ship in time for Valentine's Day.
4. Flowers that last forever
Flowers are one of the staple gifts for Valentine's Day, and SilkFlowers.com allows you to give beautiful arrangements that will last forever. They have dozens of options for Valetine's Day, from tulips and roses to orchids and calla lilies. Each arrangement arrives in a beautifully designed box with a personalized card, fully assembled and arranged.
The site offers a 10 year satisfaction guarantee and they have options to fit just about any budget. Their express shipping for Valentine's Day has ended, so pay attention to delivery dates to be sure you get your gift on time.
5. Gift certificates
Gift certificates are great because they allow the recipient to choose the products that best compliment their decor and sense of style. At GG Bailey, we offer gifts certificates of various amounts that can be used on anything we sell, from our custom floor mats in the Design Your Car Mats™ section and the luxury floor mats of our Car Couture™ line to our home and pet products.
Our gift certificates start at $50 and there is no limit to the number you can purchase. They do not expire and can be used at any time for anything on our website. Gift certificates are great as last minute gifts.
That completes our list of five gift ideas for home decor lovers. Comment below to let us know what you think or to share you own. And don't forget, we have FREE ground shipping* on all orders for the holiday season!
*Free ground shipping offer includes contiguous U.S. addresses only.