There are a lot of websites out there selling a lot of different car parts, and sometimes it is tricky to know what the difference is between what appear to be similar items.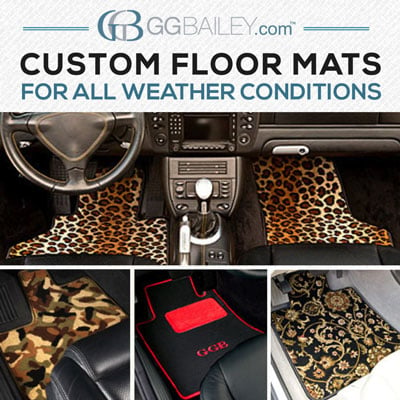 This is also true about automotive floor mats, so we thought we'd take the time to answer some common questions and explain what makes GG Bailey car mats the best available.
The custom designed floor mats from our Design Your Car Mats™ section, as well as the luxury car floor mat patterns in our Car Couture™ line, obviously add style and a personalized touch to your vehicle, but the most basic function of a car floor mat is to protect your vehicle's interior.
Our mats are made of top quality material and resistant to stains, so they help hide dirt and absorb moisture so your car always looks good even in severe weather conditions.
Our personalized floor mats are also safe, because we make sure they don't move under foot, even when you track in dirt, debris, rain, snow, or ice. We ensure that our mats stay put using three different methods:
Fit -- Our car floor mats are custom made to fit your make and model perfectly. This means your custom floor mats will fit the shape of your vehicle floorpan exactly like the factory mats.
Backing -- Our specially design Open Cell Foam™ backing adds an anti-slip backing that prevents the mat from moving, regardless of weather conditions, and it works without poking holes in your vehicle carpet like some mats.
Clips -- Our one-of-a-kind Mat-Loc™ Clips allow you to lock your custom floor maps into place and ensure they won't move underfoot.
Additionally, our carpets are design for and manufactured for use in automobiles, so you can trust the quality will last. Our parent company, Racemark International, makes car mats for the best brands in the world, and GG Bailey mats are produced with the same materials using the same processes.
Our carpets are soft, yet sturdy and durable. Read more below about the different custom floor mat options and find the perfect style for your vehicle.
Why Custom Car Floor Mats from GGBAILEY?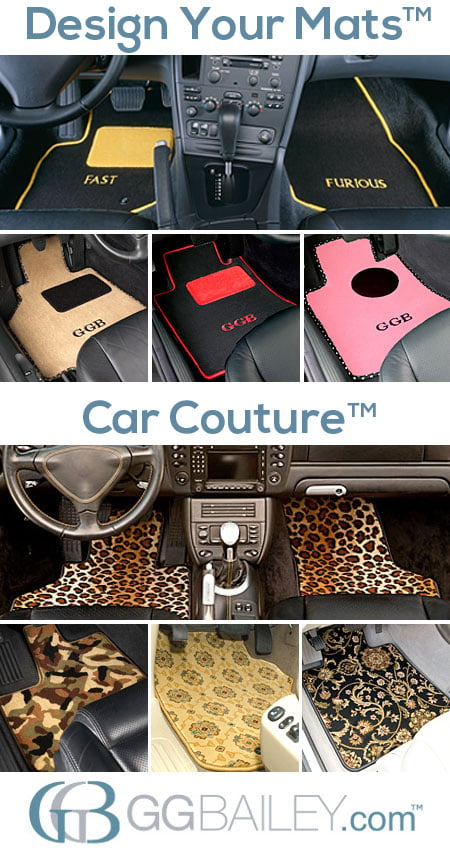 At GGBailey.com we make custom-fit car floor mats that you design yourself. There are only four steps to design a set of personalized floor mats but thousands of possible design combinations. You pick from one of 10 carpet colors, choose one of 41 edging options, then pick an optional heelpad shape and color, and then personalize it.
You can add an embroidered name, or message of up to 10 characters (including spaces), or add a monogram or initials. We have two font styles available -- block text or script -- and 18 color choices. If you prefer an embroidered image instead of custom text or a personalized monogram, we also have 16 logos to choose from. Click here to see more details and examples for each step.
Every set of designed mats is one-of-a-kind, and we can make custom-fit floor mats for all makes and models. You can even personalize a cargo or trunk mat with a custom message or monogram! All of our mats are made and shipped within two business days, so you won't have to wait long to get your custom floor mats. Design Your Car Mats™ to get started.
Another stylish option, our Car Couture™ floor mats are perfect for anyone who likes patterns. Our luxury quality, woven patterns include: zebra, leopard, camouflage, oriental floor mats, plaid, and more. We have 10 patterns to choose from and every order is custom made to custom fit the vehicle perfectly.
If you choose Car Couture™ floor mats, then you should know we also make Car Pet Mats in the same patterns. Available in two sizes and same 10 patterns, our Pet Car Mats give your pet a cushy seat that protects vehicle seats in style from dirt, debris, and claws in style.