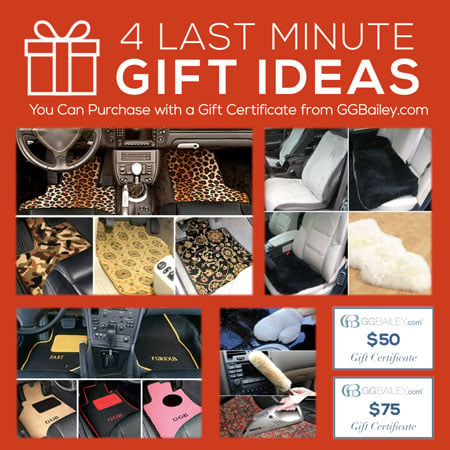 The holidays are almost here, and believe it or not there is still time to get a great gift from GGBailey.com. You buy custom-designed, personalized car floor mats and have them in time for Christmas if you use the overnight shipping option, or you can buy a gift certificate and let the recipient design their own custom-fit car floor mats.
Gift certificates are great because they allow the recipient to choose or design the products that best compliment their sense of style. At GG Bailey, we offer gifts certificates of various amounts that can be used on anything we sell, from our custom floor mats in the Design Your Car Mats™ section and the luxury floor mats of our Car Couture™ line to our home and pet products.
Our gift certificates start at $25 and there is no limit to the number you can purchase. They do not expire and can be used at any time for anything on our website. Gift certificates are great as last minute gifts.
Read more about our various product offerings below or click here to see our gift certificate options.
1. Custom designed car floor mats
If someone on your holiday gift list loves fashion and their vehicle, then our custom designed car floor mats make the perfect gift. There are only four steps to design a set of personalized floor mats but thousands of possible design combinations. You can still personalize your floor mats today and choose overnight shipping to have them in time for Christmas.
Or give a GGBailey.com gift certificate and the person you give it to can pick one of 10 carpet colors, choose one of 41 edging options, then pick an optional heelpad shape and color, and then personalize it.
They can choose an embroidered name, or message of up to 10 characters (including spaces), or add a monogram or initials. We have two font styles available -- block text or script -- and 18 color choices. Or if they prefer an embroidered image instead of custom text or a personalized monogram, we also have 16 logos to choose from. Click here to see more details for each step.
Each set of designed mats are one-of-a-kind, and we can make custom-fit floor mats for all makes and models. The person on your gift list can even personalize a trunk mat or cargo mat with a custom message or monogram! All mats are made and shipped within two business days, so they won't have to wait too long to get their mats you gave them with a GGBailey.com gift card.
Design Your Car Mats™ to see how the process works and to create a personalized gift yourself. Another stylish option, our Car Couture™ floor mats are perfect for anyone who likes patterns. Our luxury quality, woven patterns include: zebra, leopard, camouflage, plaid oriental floor mats, and more. We have 10 patterns to choose from and every order is custom made to custom fit the vehicle perfectly.
2. Home mats and pet placemats
In addition to custom car floor mats, anyone who receives a gift certificate from GGBailey.com can also shop for home mats and pet placemats. And you can still get these on time if you choose the overnight shipping option. We have home carpet mats available in medium (30"x17"), large (48"x25"), extra large (57"x25"), and double door sizes (72"x32").
There's no need to sacrifice fashion for utility when you can get a GG Bailey mat that protects your floors in high-traffic areas while adding style that complements your fine decor. Whether the desired style is traditional, contemporary, or a little of both, the person on your gift list will find the right fit among our 11 designs of Car Couture™ luxury-weight carpet.
Our woven polyurethane carpets come in Beige Chariot, Topkapi, Red or Black Oriental, Beige Plaid, Camouflage, Leopard, and Zebra. Our Subtle Style carpet, available in beige and grey, is specially made with high-quality nylon yarn that is cut to create a simple and elegant two-tone pattern. Our two-tone carpets also have a Pink Ribbon version. Sales of those products benefit the Breast Cancer Research Foundation. See examples of the patterns by clicking here.
Made with stain and mold-resistant fibers, all of our home mats are perfect for kitchens, bathrooms, entryways, and stairways. Use them anywhere you want to add style and protection. Each mat is finished with a matching serged edge and a non-slip foam backing that's gentle on fine floors, so no rug pad is required.
The same patterns and carpets that we make our home mats with can also be used to make pet placemats. The rectangle pet placemats come in two sixes: small (10.5x19") and medium (13"x24"), and we also have a shape with our Bone Pet Placemat (29"x17"). Our pet placements feature all the same benefits of our home mats and treat your four-legged friends to a upgrade in style.
3. Car cleaning supplies
If you have someone on your list that likes to keep a clean car, then they could use a gift certificate to purchase one of several products, or you can use the overnight shipping option to get any of these items on time for the holidays.GGBailey.com offers three quality cleaning tools anyone who like a clean vehicle would appreciate.
First, for the outside, our Sheepskin Washmitts, made of 100 percent Merino sheepskin, are soft enough to be ideal for dusting, polishing and washing your car without worrying about damaging the paint. Available in black or grey, our washmitts can be used both wet and dry and with any soap that is safe for vehicle paint. Simply rinse your mitt afterward and it will last a lifetime.
For the interior, we also offer a Sheepskin Duster, ideal for safely removing dust and debris for your car dash, and our Oreck XLAUTO Car Vacuum. This lightweight sleek silver vacuum plugs into the cigarette lighter and has a 15-foot cord for reaching into the trunk and other hard-to-reach places.
4. Sheepskin products
If the person you're considering giving a GGBailey.com gift card to likes to drive in comfort with an added touch of style, than they might consider our Sheepskin Seat Vest Cover or Sheepskin Bucket or Bench Seat Cushion. These products can still arrive on time for the holidays when you choose the overnight shipping option. Available in seven colors, our sheepskin seat accessories are universal fit for all seat types and they are every bit as durable and elegant as they are comfortable.
Our thick, deep Sheepskin pile provides natural springy comfort allowing air flow, making seating cool in Summer and warm in Winter. The patented trim cut allows your seat to show, which pleasantly accents your leather or fabric seats. All of our Sheepskin products are made from the highest quality 100% Merino Sheepskin and with non-skid backing.
The same material is also used to make sheepskin rugs. Our sheepskin rugs are great for use next to beds, in lounging spaces and for resting babies, and they are also great for covering chairs, including your Adirondack Chair for cool lounging.