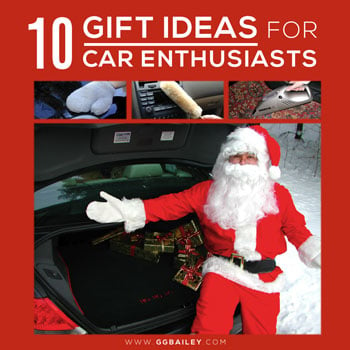 The holidays are just around the corner and the shopping season is running at full speed. Chances are at least one person on your gift list is an auto enthusiast, and if so, then we have some great gift ideas for you.
Starting with the custom-fit, personalized floor mats from our very own Design Your Car Mats™ line and the stylish, luxury floor mats from our Car Couture™ line, we have focused on unique ideas that are sure to please the car enthusiast in your life. Best of all, many of these gift ideas can be customized for the recipient.
If you like the GGBailey.com items on the list, then you should know we are offering FREE ground shipping* for the holiday season. No coupons or promo codes required. All you have to do is select the free shipping option when you check out.
So, enjoy our 10 gift ideas for car enthusuasts below, and let us know what you think in the comment section or share your own ideas. And if you plan to hit the road for the holidays be sure to check out our Top Ten Tips for Holiday Road Travel.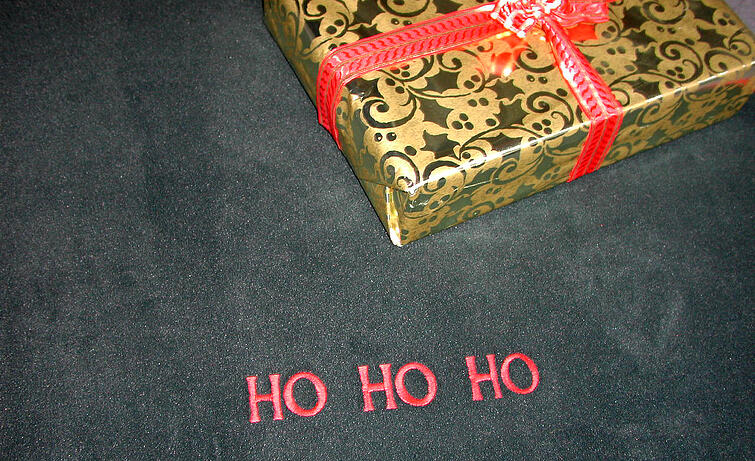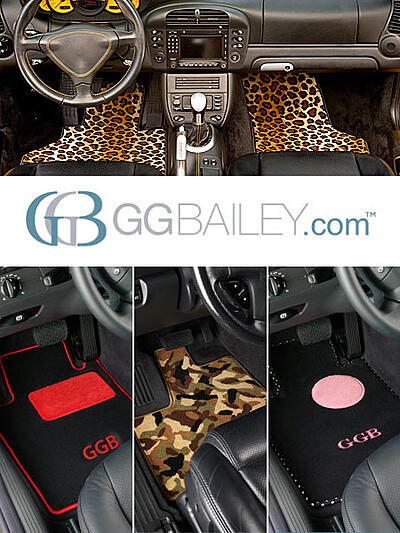 1. Custom floor mats from GGBailey.com
Any gift list for car lovers would be incomplete unless we included our own personalized car floor mats from our Design Your Car Mats™ line. Just make sure you know the year, make and model of your friend or family member's vehicle to design custom floor mats they will love.
There are only four steps to design a set of personalized floor mats but thousands of possible design combinations. You pick from one of 10 carpet colors, choose one of 41 edging options, pick a heelpad shape and color, and then personalize it. You can choose an embroidered name or message of up to 10 characters (including spaces) or choose a monogram or initials. We have two font styles available -- block text or script -- and 18 color choices. If you prefer an embroidered image instead of custom text or a personalized monogram, we also have 16 logos to choose from. Click here to see more details for each step.
Our personalized floor mats make great gifts, and we can make custom-fit floor mats for all makes and models. You can even personalize a trunk mat or cargo mat with a custom message or monogram! All mats are made and shipped within two business days, so you won't have to wait long to get your hands on this custom gift.
Click the buttons below to Design Your Car Mats™ or shop Car Couture™ if you prefer to give leopard floor mats, zebra floor mats, camouflage floor mats or oriental floor mats. We have 11 patterns to choose from in our luxury floor mat line.
2. Travel beverage mug form
Contigo
Spilling coffee or some other beverage in a car can be disastrous. It will ruin the carpet floor mats and could burn the driver, which is a serious safety issue. Pick up a good travel mug for your favorite driver and let them know you care about their safety and the vehicle's interior.
It's an inexpensive solution that will be appreciated by any traveling coffee drinker. The Contigo Autoseal West Loop Stainless Steel Travel Mug with Easy-Clean Lid should do the trick. Available from Amazon, it comes in nine color options: black, stainless steel, green, lilac, berry, gunmetal, latte, midnight blue, and polar white.
3. Quality cleaning products
A clearn car equals a happy driver, and auto enthusiasts enjoy caring for the vehicles so they would enjoy gifts that help them get the job done.
First, for the outside, our Sheepskin Washmitts, made of 100 percent Merino sheepskin, are soft enough to be ideal for dusting, polishing and washing your car without worrying about damaging the paint. Available in black or grey, our washmitts can be used both wet and dry and with any soap that is safe for vehicle paint. Simply rinse your mitt afterward and it will last a lifetime.
For the interior, we also offer a Sheepskin Duster, ideal for safely removing dust and debris for your car dash, and our Oreck XLAUTO Car Vacuum. This lightweight sleek silver vacuum plugs into the cigarette lighter and has a 15-foot cord for reaching into the trunk and other hard-to-reach places.
4. Car magazine subscriptions
There are literally hundreds of magazines out there for auto enthusiasts, with themes ranging from racing and off road performance to luxury cars and concepts. Magazine subscriptions make great gifts because the issues keep coming all year long. Whether it's Automobile Magazine, Road & Track, Car & Driver, or Autoweek, you can find a good deal on a subscription on this website. They have more than 60 titles to choose from.
5. Protect the seats
If the car enthusiast on your gift list is also a pet owner, then they would certainly enjoy a GG Bailey Pet Car Mat. Available in two sizes and 10 patterns, our Pet Car Mats give your pooch a cushy seat that protects your interior from dirty paws and debris in style.
Made from the same carpets of our Car Couture™ line, the pet car mat can be matched to a set of custom-fit, luxury floor mats or purchased as a stand alone item. Choose any of the 11 designs of luxury-weight, stain-resistant carpets. For a bold look, our woven polyurethane carpets come in both traditional and contemporary designs. Our Subtle Style carpet, available in beige or grey, is specially made with high-quality nylon yarn that is cut to create a simple and elegant two-tone texture. All our mats are made with the best materials to resist stains
We also have pet placemats available in the same patterns.
To add some comfort and protect the seats of the driver and passengers, you can give a Sheepskin Seat Vest Cover or Sheepskin Bucket or Bench Seat Cushion. Available in seven colors, our sheepskin seat accessories are universal fit for all seat types and they are every bit as durable and elegant as they are comfortable. They add style and luxury to a vehicle while also being functional.
6. A picture is worth a thousand words
If you car loving friend or family member has a prized vehicle they love to show off, then they would love a personalized gift that turns their vehicle into a work of art. Find a photo they have of their vehicle or sneak a good one when you have the chance, and then load it up to any of a dozen sites to have it printed on T-shirts, coffee mugs, mouse pads, and more.
But to really impress, check out the services offered by Canvaspop.com. They will print your image on canvas, and they have a ton of custom options to make sure you get it just right. From sizing and editing to special effects, they will help you create a great gift.
7. Turn their phone into an auto mechanic
GoPoint Technology's BT1 plugs into the vehicles computer and connects to a smartphone to allow drivers to closely monitor everything about the favorite car or truck. It actually measures the efficiency of a vehicle and tells you when fuel economy is running low relative to your driving habits. For safety's sake and peace of mind, the BT1 will speak with your vehicle to interrupt the dreaded check engine light.
With versions for Android and Apple products, the BT1 can turn your smartphone or tablet into a mechanic. At only $150 (the apps are free), it is sure to help save the recipient money.
8. Autodromo watches
Any sports car aficionado would love to have an Autodromo watch, as each one is inspired by the dashboard gauge of a 20th century European sports car. Made with stainless steel cases and perforated leather straps, each piece features a minimalist design that stands out without being overly flashy.
Autodromo also makes sunglasses and driving gloves, if you want to splurge and give a complete set.
9. AAA 77-Piece Warrior Road Kit
This is great gift for the new driver on your list, as this kit features all the essentials in case of an emergency breakdown. If fits well in the trunk or cargo area of all vehicles and includes everything from an air compressor and jumper cables to a first aid kit and three-piece fleece set for staying warm in the winter weather.
Frequent drivers never know where the road may lead or what may happen, so help them be prepared with a gift like this. LifeLine First Aid -- a leader in the field of first-aid and disaster readiness products -- has teamed up with AAA to bring you a line of high quality Road Assistance Kits. Featuring both first-aid and automotive emergency items, these practical all-in-one kits can help protect you in the event of an automobile breakdown or personal injury.
10. Gift certificates for car sites
Still stumped? Gift certificates might be the answer. At GG Bailey, we offer gifts certificates of various amounts that can be used on any of our products, from our custom floor mats in the Design Your Car Mats™ section and the luxury floor mats of our Car Couture™ line to our home and pet products.
If you give a gift certificate, your loved one can visit our site and design their own custom floor mat themselves, ensuring they get the perfect fit and style for their vehicle. Our gift certificates start at $50 and go up to $350. They do not expire and can be used at any time for anything on our website, including shipping costs. But remember, we are offering free ground shipping* for the holiday season, so all orders place now are shipped for free. Click here to see gift certificate options.
A lot of sites offer gift certificates, but always be sure to check the fine print.
That wraps up our list of gifts for car enthusiasts! Comment below to let us know what you think and to share your own ideas.
*Free ground shipping offer includes contiguous U.S. addresses only. There is an additional fee for deliveries to Alaska, Hawaii, and Canada.