The right carpet can really tie a room together. When coordinated with your home decor, high-quality entry, kitchen and bath carpet mats add a splash of color and texture. They also prevent slippage while providing a warmer and more comfortable surface for your feet than wood or tile floors.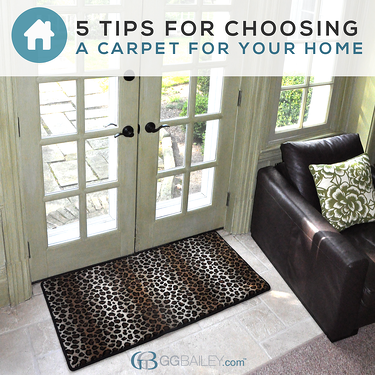 With so many carpet design options, choosing the best materials, colors and patterns can be a daunting task. So how do you go about choosing the best mat for your home? We've compiled 5 tips to help you do exactly that!
1. Coordinate Your Carpet Pattern with Your Home Decor
The carpets in your home should complement your fine décor. Consider the style of your other home furnishings and accents – is the aesthetic more traditional, contemporary or eclectic? Think about the mood or tone you are aiming to create in the room – blue and green colors create a calm, peaceful setting while red and golden shades can make a large room feel cozier. Meanwhile, neutral colors like beige and tan make a small space seem larger.
Also consider whether you want the mat to be a focal point in the room or if you want it to make a more subtle impression. Our Subtle Style carpet, available in Beige and Grey, is a simple and elegant two-tone pattern that delicately complements any style of room. For rooms where you want your carpet to make a bold statement, you'll find the right fit among our 11 designs from our couture line of carpets.
Our woven polyurethane carpets are made from the same materials as our luxury car mats and come in several different patterns and colors. These include: Beige Chariot, Topkapi, Red or Black Oriental, Beige Plaid, Camouflage, Leopard, Zebra, and Tiger. We also carry Sheepskin rugs, made from the highest quality 100% Merino Sheepskin for cool comfort and ultimate luxury. These work beautifully next to beds, in lounging spaces and for resting babies.
2. Invest in Carpets Made from High Quality Materials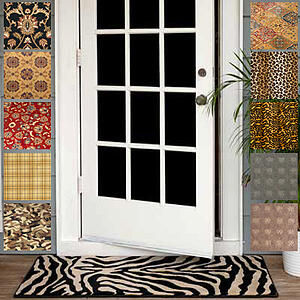 Your carpet is going to get a lot of foot traffic over the years. You want a floor mat that will stand the test of time, made fomr the highest quality materials. GG Bailey's woven carpets are made from plush-but-strong polypropylene fibers. This material extends the durability of your carpet, while making it naturally stain resistant, mold resistant and wear resistant.
Beyond the durability of the carpet itself, the quality of the component materials impacts the look of your carpet over time. With lower quality mats, designs are printed on the surface of the carpet, leading them to fade or completely disappear with time. This is why all of our carpets are woven, meaning the designs permeate the entire carpet. You don't have to worry about placing a GG Bailey mat in a high-traffic area, since they were designed to be able to weather natural wear and tear.
You also want to make sure that your mat stays in place. While other carpets require purchasing a rug pad separately, GG Bailey's mats are kept in place by their built-in non-slip foam backing and matching serged edging. This high quality finish and our stylish woven patterns make your home mats a luxury item that will last a lifetime.
3. Try Before You Buy with a Carpet Swatch Kit

Before committing to the design of your carpet, take it for a test run. GG Bailey can send you a free swatch kit that lets you examine the colors, patterns and feel of our mats before you make your purchase.
Our carpet swatch kit also allows you to see how well different designs would coordinate with the style of your home décor. GG Bailey gives you the convenience of online shopping with the added benefit of seeing a product with your own eyes.
You can't go wrong with our authentic designs and beautiful colors and a swatch kit makes it even easier to make the best choice. If you want to feel confident about your carpet purchase – start by ordering our free swatch kit.
4. Choose a Carpet that Makes Dirt Disappear
Cleaning your carpet can be a hassle, so you want to choose one that won't look dirty in between washes. Our woven mats trap dirt and dust and our patterns are designed to camouflage everything from spills to footprints.
Choose a dark color or pattern for maximum dirt disguise. Our Black Oriental woven mat is our most popular option and will help guarantee that your floor mats always look great, even when you're putting off your carpet cleaning chores.
5. Browse the Web for Carpet Design Inspiration
Explore your options by browsing search engines, social networks and shopping sites. Run a search on visual platforms like Google Images, Pinterest or Tumblr and scroll through the results until you find something that catches your eye. There are also some great home decor blogs to visit for carpet inspiration. Some of our favorites are The Inspired Room, Apartment Therapy, and Design Sponge.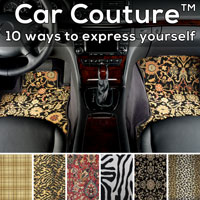 Visit your favorite online retailers that offer carpets and browse through their products. You can view all of GG Bailey's home mats and pet mats on our website, and customize each with our different color and pattern options. All of these carpets can also be found on our Pin it to Win it board on Pinterest. Check it out for carpet ideas and repin any items you like for a chance to win one of them!
Also consider extending our couture carpets to your car with our wide selection of stylish and customizable car mat options. Our Car Couture ™ luxury car mats are the perfect way to add a splash of your own style to your vehicle. From Zebra to Camouflage to Oriental, you can't go wrong with one of our 10 gorgeous designs of high-quality, woven or two-tone carpet. You can also customize your car mat with our Design Your Mats™ system. Choose carpet and edging colors, add embroidery or a logo, and give your mats extra protection with a matching heel pad.
Did we miss any of your favorite carpet buying tips? Let us know in the comments!