Racemark International recently received the Toyota Quality Alliance 2013 Gold Supplier Award from Toyota Motor Sales, U.S.A., Inc. The Gold Supplier Award is presented to top parts and accessories suppliers who have consistently demonstrated their commitment to product development, product quality, operational quality and product support. This is the second time Racemark has received the Gold Award from Toyota.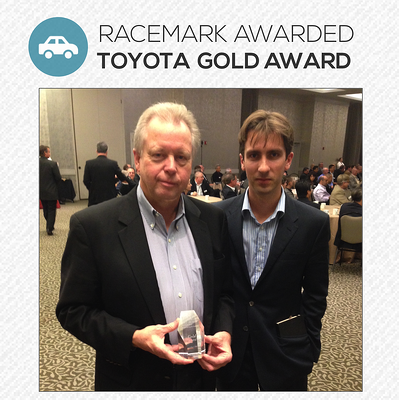 Racemark supplies automotive floor mats to many top automotive brands including Bentley, BMW, General Motors, Honda, Hyundai, Kia, Mercedes-Benz, Maserati, Mitsubishi, Toyota, and Volkswagen. Racemark created the first carpet floor mat in the industry in 1974 and is the leader in floor mat innovation. Racemark has production plants in New York, Georgia, Switzerland and Hungary.
"It is a great honor for Racemark to be recognized by Toyota especially since Toyota sets the highest standards in our industry. I greatly admire Toyota's focus on the customer. Superior quality is a given and is never compromised. The leaders in the Toyota organization we work with also explore new and innovative ways to offer more to the customer," said Ginger Cannon Bailey, CEO of Racemark International and GG Bailey.com. "I recall being part of a marketing session with suppliers focusing on how to reach female customers. The Toyota marketing team said, 'wouldn't it be great to have pink in our product lineup?" I knew we were the right partner since we had pink products. In a very male dominated industry, Toyota gets it. They think about all their customers, including women, and they have amazing women on their management team."
To see the full range of floor mats manufactured by Racemark visit our online webstore at GGBailey.com.
Through the website's Design Your Car Mats™ section, anyone can design a solid color floor mat and choose from many carpets, edgings, and heel pad designs. Each mat can also be personalized with names or monograms. There are more than 500,000 possible design combinations, and floor mats can be made to fit any car make and model and are manufactured in two business days.
Pink is one of the most popular colors year round. GG Bailey recognizes Breast Cancer Awareness Month every October by donating 10% of every order that includes pink carpet, pink serging, a pink heel pad, pink embroidery, or a Pink Ribbon logo to the Breast Cancer Research Foundation.
In addition, the company offers Car Couture™ floor mats, which come in woven carpet leopard, zebra, tiger, oriental, plaid, and camouflage designs.