The following is a letter from GGBailey.com CEO Ginger Cannon Bailey:
I am Ginger Cannon Bailey and I'm writing to introduce you and your fellow car club members to GGBailey.com.
Right now, only for car club members, we are offering a 10 percent discount off your entire order. And if you order before Oct. 25, you can also get free ground shipping!
To take advantage, car club officers can request access here and once approved they will be provided a link to share with their members. If you aren't a club officer, you send this link to your club's officers and ask them to sign up.
Our custom fit car mat is the only factory qualified mat offered outside the dealer network. Our parent company, Racemark International, created the first carpet floor mat in the industry in 1974. We have continuously supplied the most prestigious car manufacturers in the world for more than 40 years. Our plants are in New York, Georgia, Switzerland and Hungary. Other mats offered in the aftermarket have not passed the rigorous quality tests that distinguish our mats.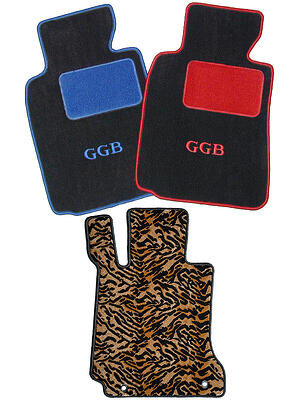 We make to order every mat and ship in two business days. Our luxury woven Car Couture™ mats were the first in the marketplace and have the finest authentic designs and colors. Our Design Your Mats™ offers the most choices to configure exactly the way you want your floor mat to look. From pink carpet and heel pads to Preppy Binding to real monograms, GGBailey.com has features you cannot find anywhere else.
Our tested automotive carpet ensures long life and colors that meet the standards of the car manufacturers. Our backing and retention systems (Mat Loc Clips™ or grommet holes to match the factory in-floor system) prevent mat movement for maximum safety. We make mats for all makes and models, but if you don't see your vehicle listed, we can custom make a set of mats just for you.
At the end of the day, we strive to make the best possible product because we love cars, understand safety, and value style.
Enjoy! And thank you for considering GG Bailey.
Happy driving!
Ginger Cannon Bailey
CEO and Co-Founder, GGBailey.com
Read more about GGBailey.com below:
Here's what GG Bailey is all about:
Over the decades, our family and our businesses have developed a reputation for excellence and innovation in automotive accessories, and both Racemark and GGBailey.com have become leaders in the car floor mat industry. At our core, we will always be an American-made, family-owned and operated business.
Engineering
At GG Bailey, we do not cut corners to speed up production. Instead, we have developed our own manufacturing system for producing beautiful car mats that meet our high engineering standards while also allowing for shipment in just two business days.
Design
We take pride in the GG Bailey materials and methods. We design our own carpet, we work with the leading suppliers, and we make sure each of our custom patterns fits the exact contours of your vehicle.
Style
At GG Bailey, we want your car mats to fit your style as beautifully as they fit your car. We are the first OEM-standard supplier of personalized car mats, offering carpet, stitching, binding, logo, and embroidery customization.
Innovation
Our innovative, entrepreneurial team of auto enthusiasts is dedicated to making floor mats for the automobile consumer who understands the importance of safety and style. Over the years, we have developed the heelpad to protect mats from additional wear, open-cell foam backing to prevent slipping, and the Mat-Loc (TM) retention system to secure the mat in place.
Experience
GG Bailey is dedicated to the quality of each product as well as the quality of your experience. GG Bailey has excellent customer service and is willing to work with its customers.